Samaritan's Purse volunteers are cleaning up in New Orleans-area communities after deadly storms passed through the south, spawning powerful tornadoes.
U.S. Disaster Relief
013622
Samaritan's Purse volunteers are hard at work in New Orleans-area communities where an EF-3 tornado carved a long path of destruction near the Lower Ninth Ward–an area widely known after Hurricane Katrina's devastation there in 2005.
VOLUNTEER IN ST. BERNARD PARISH
The twister last week churned for more than 11 miles, wrecking homes in the Gretna community in Jefferson Parish and in Arabi and New Orleans East in St. Bernard Parish.
"Samaritan's Purse pulled up with an army of people. It was such a rapid response my head was spinning!"
—Homeowner Glenn Mastio
Volunteers are busy cleaning up yards, clearing fallen trees and other debris, and tarping damaged roofs. As our teams had the privilege of assisting families, they also offered encouragement to families.
"We're reminding homeowners that they're not alone. That there's somebody out there who cares," said volunteer Kathleen Wood. "And that God loves them."
Please continue to pray for hurting communities in Louisiana and Texas as they continue to pick up the pieces of their lives.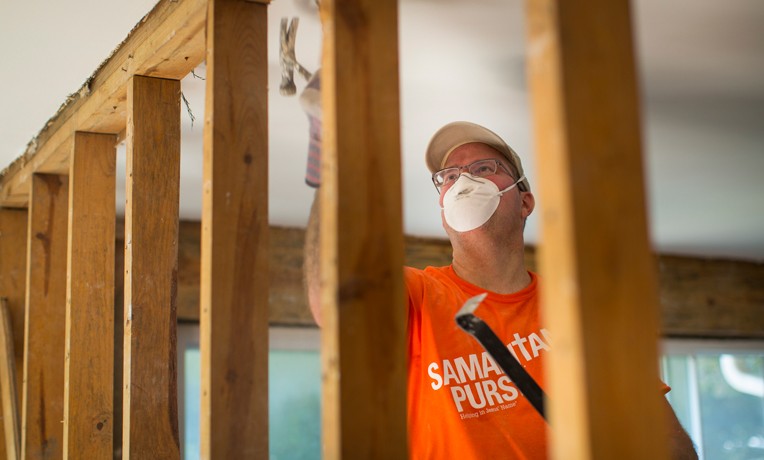 U.S. Disaster Relief
Samaritan's Purse mobilizes and equips thousands of volunteers to provide emergency aid to U.S. victims of wildfires, floods, tornadoes, hurricanes, and other natural disasters. In the aftermath of major storms, we often stay behind to rebuild houses for people with nowhere else to turn for help.
---
U.S. Disaster Relief 013622