Samaritan's Purse teams continue to work among the ashes in Hawaii's grieving communities.
U.S. Disaster Relief
013622
Residents said the wildfires seemed to erupt all across Maui. Amid trees and homes, it sprouted deadly flames as fast as the hurricane winds sweeping the island at 80 mph.
The same day that Lahaina was consumed along the island's western coast, the fires spread to the town of Kula, just east and about 3,000 feet up.
One Kula homeowner we met said they fought the blaze with every jug and bottle of water they could find until they "ran out of water. The pumps that bring water up the mountain had lost power."
The wildfires quickly spread through the mountain valleys into neighborhoods on the side of the Haleakala volcano—catching many homes ablaze.
"All of a sudden we saw the fire take a right turn and then it went up the gulch walls and started burning houses in Kulalani down below," said Kula resident Faith Mori, describing the terrifying scene of watching her brother's home catch flame. "It turned around and came back up the gulch. The fire was coming for us."
Faith, her family, and countless Kula residents packed what they could and fled. This was the story for thousands of Maui families escaping a burning paradise. It was the deadliest U.S. wildfire in more than 100 years—at least 115 people confirmed dead and hundreds more still missing.
Volunteers Arrive in the "Mori Valley"
Several days after, Faith returned home to the devastation, to the charred landscape of a once-lush hillside she affectionately calls the "Mori Valley."
"This is our family land," she said. "My father had four children and four acres. He gave us each a piece of land, and we built on it."
Miraculously, her home had survived but many other homes were gone, including her brother's, along with the dozens of tropical plants, including avocado and macadamia trees, planted by their father decades ago.
"All of a sudden we saw the fire take a right turn and then it went up the gulch walls and started burning houses."
Against that scorched backdrop, Faith said color began to return in the distinctive orange shirts of Samaritan's Purse volunteers who were busy cutting charred trees and removing debris from the Mori property. It was work that would have taken Faith and her husband, Derrick, weeks to complete.
"You're all covered in soot and exhausted but you tell us that you're the ones that are blessed," Faith said to some of the volunteers working on her property. "That's really quite amazing—it's quite amazing. We thank you guys from the bottom of our hearts. Thank you for digging deep, and for the grace you all have in serving us."
More than 300 homeowners have reached out to us for help with cutting down fire-dead trees and with clearing debris from their properties. Volunteers also began sifting among the ashes of homes to help residents recover treasured belongings not claimed in the blaze.
Billy Graham chaplains have also been working in communities to offer spiritual encouragement and emotional support, sharing the hope of the Gospel with families grieving lost loved ones and destroyed homes.
Beginning a New Life in Christ, Together
As relief efforts continued on the Mori property, chaplains and volunteers were able to share the Gospel with Faith and her husband, Derrick.
After the work was finished, the team gathered around the couple to give them a Bible signed by every volunteer who worked on their land. This was when a Maui local, also a Samaritan's Purse volunteer, took the opportunity to ask deeper questions about their relationship with God.
"You're all covered in soot and exhausted but you tell us that you're the ones that are blessed. That's really quite amazing—it's quite amazing."
We praise God that these few questions created the opportunity for the couple once again to hear the Gospel. Faith prayed with the team, recommitting her life to following Jesus Christ. Derrick prayed to receive Jesus Christ as his Lord and Savior.
And of course one of the local volunteers just happened to have a ukulele, which he started to strum, leading the group in worship. They rejoiced with praises to God for the transformational work He is doing on the island.
The next day, Faith found our team and shared, "that Bible—I love that Bible. It's not with the other books. It is sitting on my nightstand. Mine is on my side of the bed and his is on his.
"You know, we have lots to thank God for. I'm realizing that when you go through this kind of stuff, you wonder why. But it's good to just be thankful for what you have. For us, He spared our lives and we're very, very thankful for that," Faith said.
Join Us in Praying for Maui
Pray that our teams are given more opportunities to serve families and share the Gospel of Jesus Christ in Maui. Pray for those grieving the loss of family, friends, co-workers, classmates, and neighbors. Pray for parents as they help their children navigate the trauma from witnessing horrific tragedy and loss of life.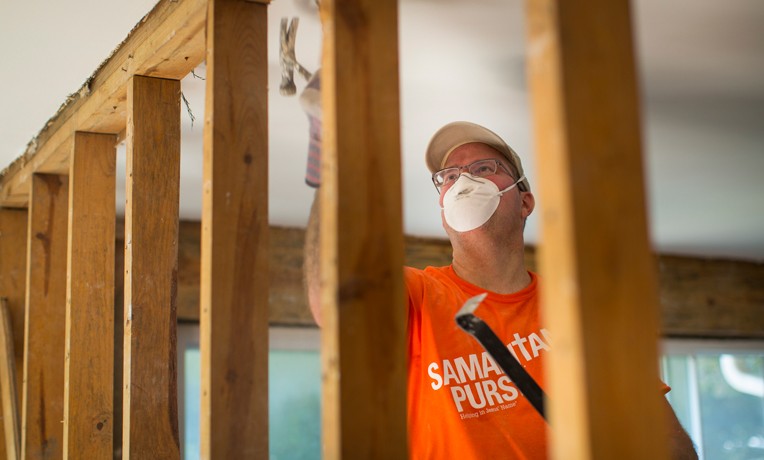 U.S. Disaster Relief
Samaritan's Purse mobilizes and equips thousands of volunteers to provide emergency aid to U.S. victims of wildfires, floods, tornadoes, hurricanes, and other natural disasters. In the aftermath of major storms, we often stay behind to rebuild houses for people with nowhere else to turn for help.
---
U.S. Disaster Relief 013622