Our volunteer teams are still serving in Jesus' Name in the aftermath of Hurricane Sally.
U.S. Disaster Relief
013622
Riding out Hurricane Sally through the foreboding darkness of night was terrifying for Marilyn and Steve Hobbs and their neighbors in Foley, Alabama.
"You lay awake and you hear all the wind and the noise. You wait a little bit, and then you hear something else hit the house," Marilyn said. "And you do this for hours."
The powerful Category 2 storm that hit the Gulf Coast was especially scary for the Hobbs' adult son who has Down Syndrome and lives with them.
When daylight finally arrived, the family couldn't even see their backyard through the porch door and windows for all the downed tree limbs. A huge tree had also landed on top of their shed.
The couple said they have been through hurricanes before, but Sally was by far the worst for them. The storm toppled trees, dumped up to 30 inches of rain in some communities, and left residents without power for days.
Samaritan's Purse volunteers worked hard in Jesus' Name to help Marilyn and Steve move forward after the devastating storm, and they're doing the same for hurting homeowners all across Baldwin County.
"The Lord is working through these volunteers," Marilyn said. "Samaritan's Purse is coming because of the love of God. This means everything."
Across the street, neighbor Laurie Romani also needed some help clearing yard debris and downed trees. Laurie said she heard "thumps" during the night, and while the storm's eye passed over early in the morning, she went outside to find that every single tree in her backyard was gone.
"No one thought it would be this bad," Laurie said.
Laurie served in the Air Force for 16 years and injured her back when a batch of missiles and weapons she was trying to load into an aircraft fell on top of her. She still struggles with pain in her back and both of her knees.
Laurie lives alone and was attempting to do as much of the yard work as possible by herself. But the task proved too substantial for one person, especially with Laurie's injuries. She was grateful when our team showed up to help.
"There is no way I would have been able to get that tree down by myself," Laurie said. "I'm so thankful for you guys. This is just wonderful."
After completing work at Laurie's home, Samaritan's Purse volunteers worked their way down the street and helped other neighbors, including Dan and Elizabeth Ramey and their two teenage daughters. Dan had a feeling throughout the night that the hurricane would leave plenty of destruction in its wake. "I could hear trees falling, and I heard when the tree hit the shed."
Dan and his family have lived in Foley for about eight years and "this was our first major hurricane," Dan said. "We thought it wouldn't come this way, and then it turned on us."
Our volunteers removed the large tree from on top of the shed, helped the Ramseys sort through personal belongings inside, and then hauled to the street broken pieces of the destroyed building.
Serving Hurting People
Samaritan's Purse volunteers are the hands and feet of Christ after a disaster, demonstrating God's love to people in need. Leslie Wilson is a long-time volunteer who joined our team in Alabama last month. She began volunteering about 10 years ago during our rebuild effort in the New Orleans area following Hurricane Katrina.
Leslie said she knew after that first volunteer experience that she had discovered something special. "It's so rewarding. You see the power of His people coming together to help strangers."
At 71, Leslie has overcome health challenges that at one point she expected would severely limit her physical activity. She is grateful to God for healing and for the opportunity to volunteer. "When you do it for the Lord, He gives you the strength you need. He provides the resources."
Leslie plans to continue volunteering and sharing the hope of Jesus Christ with those she meets along the way.
"Volunteering takes you out of your own life, and your own problems, and you can see people hurting so much more," she said. "You can get into their shoes and develop a heart for them. It's amazing how your own problems disappear."
Many more volunteers are needed to serve in Alabama, as well as in Louisiana in the aftermath of Hurricane Laura. Volunteers and staff continue to comply with COVID-19 local federal safety guidelines, including wearing masks and social distancing. Visit spvolunteer.org to learn more.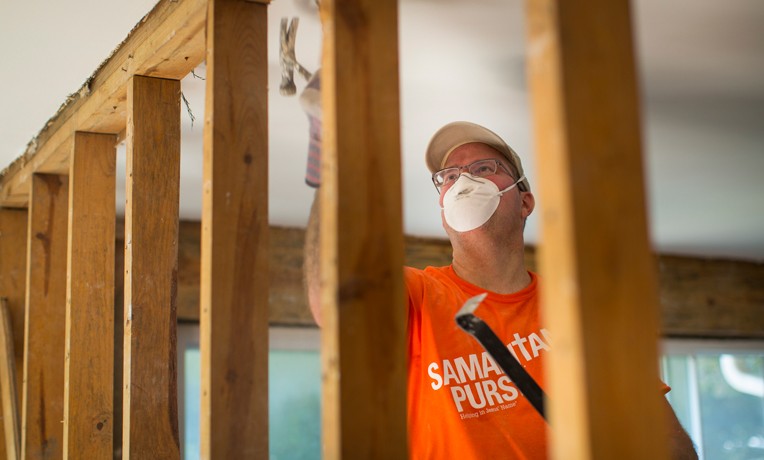 U.S. Disaster Relief
Samaritan's Purse mobilizes and equips thousands of volunteers to provide emergency aid to U.S. victims of wildfires, floods, tornadoes, hurricanes, and other natural disasters. In the aftermath of major storms, we often stay behind to rebuild houses for people with nowhere else to turn for help.
---
U.S. Disaster Relief 013622