Samaritan's Purse volunteers and Billy Graham chaplains enjoyed hands-on training and Biblical encouragement at the 2023 Sharing Hope in Jesus' Name Conference in Orlando.
U.S. Disaster Relief
013622
June Stephens wedged a foot into the handle of the chainsaw and pulled the cord. The power tool buzzed to life. She was learning to safely cut down trees by practicing on a log positioned in the parking area of the Renaissance Orlando.
As one of more than 1,200 attendees at the 2023 Sharing Hope in Jesus' Name conference, a gathering hosted jointly by Samaritan's Purse and the Billy Graham Evangelistic Association, June was there to develop new skills and to sharpen the skills already acquired over seven years and more than a dozen deployments with U.S. Disaster Relief.
In addition to hands-on classes, such as chainsaw operation, tarping, and CPR, attendees also had opportunities to learn about Biblical worldview, apologetics, trauma care, the importance of Sabbath rest, and communicating in crisis. Pre-conference classes included specialized training in crisis intervention.
"I'm a hands-on kind of person, and I want to learn these hard skills. But I'm also learning the soft skills," June said, describing why she and her husband, Mike, decided to attend the conference. "That's ultimately why we're out there serving homeowners. We're ambassadors for Jesus Christ."
And this was a theme echoed throughout the conference—to serve with excellence and bold faith so that hurting people will experience hope in Jesus Christ.
Luther Harrison, vice president of North American Ministries for Samaritan's Purse, praised God and celebrated the 891 people who received Jesus Christ as Lord and Savior during disaster relief and rebuild responses last year.
"There are a lot of great humanitarian organizations, but we are evangelical," Harrison said. "These are opportunities that God gives us to go and share the Good News of Jesus Christ."
Earning a Hearing for the Gospel
Edward Graham, the youngest son of Franklin Graham, shared encouraging words, including about some of what he observed during his visit to see our Emergency Field Hospital and other relief efforts.
"To be able to earn the right to share the Gospel of Jesus Christ, you have to be there," said Edward Graham during his ministry report highlighting the work of Samaritan's Purse around the world. Graham now serves as the ministry's chief operating officer.
"We're not just here for charity or good works," he said. "Wherever we are and whatever we do, we let it be known that we're here for the Gospel of Jesus Christ. God gives us these resources. These are His trucks. They're His semis. It's His blue tarp. And we have the best volunteers in the world because God brings them to us. This ministry could not exist without you."
Inspiring Others
On Saturday of the four-day conference, attendees heard from former Vice President Mike Pence who, with his wife, Karen Pence, served with Samaritan's Purse at multiple disaster sites and visited our work with military couples in Alaska and in relief efforts in Ukraine.
"I'm so grateful for this ministry. The inspirational work that all of you have done across this country and, many of you, across the world for Samaritan's Purse as the hands and feet of Jesus Christ," Vice President Pence told the gathering. "Your faith in action has inspired this country every single day."
Getting More Involved
Several local church partners were also highlighted this year, including David Pleasant, pastor of Citygate Ministries in Ft. Myers, Florida. Pastor Pleasant was introduced at the conference by Franklin Graham's daughter, Cissie Graham Lynch, and her husband Corey, who live in Ft. Myers. CityGate served as our base of operations as we responded there after Hurricane Ian.
"Don't forget when you are walking into those moments of deployment—when you are being God's ambassadors—and you get to that area suffering from tragedy and calamity, the bully of fear might whisper to you 'This is too big for you,'" Pastor Pleasant said during a general session address. "But God is telling you through Scripture that is the very opportunity for Him to show Himself mighty."
Lighthouse Churches like CityGate, where our volunteers deployed from for more than 150 days last year, provide facilities and infrastructure for volunteers and chaplains during deployments. This includes sleeping quarters for teams, kitchen and dining areas, and parking space for our disaster relief units and other vehicles and equipment.
The gatherings and trainings at the conference included opportunities for Lighthouse Church pastors and also Lighthouse Church lay leaders to grow in this vital area of our ministry.
"It's engaging our people to think 'well maybe I can do something like that,'" said Zana Kellum. Zana and her husband, Neil, are serving as Lighthouse Church lay leaders at Christ Chapel Bible Church in Fort Worth, Texas. The couple brought more than a dozen likeminded members of their congregation to Orlando to explore work with Samaritan's Purse. Christ Chapel has also sent teams to a number of our disaster relief responses, including Englewood, Florida.
"Samaritan's Purse allows us to get our people involved in something that's much bigger than they would have ever seen before," Zana said. "People come back from deployments and say 'I cannot believe that much good is going on because you do not hear it on the news.'"
Going Into the Harvest Field
During the final general session, attendees enjoyed a special time of Communion after hearing from Franklin Graham's son, Will Graham, vice president and associate evangelist of the Billy Graham Evangelistic Association, who shared from Matthew 9:35.
"The harvest is ripe and the multitudes are ready to make decisions," Will Graham said. "It's the most important decision they'll ever make. The harvest is ripe but the laborers are few. There are people around us who desperately need Jesus Christ. We need to tell them about Jesus. Now."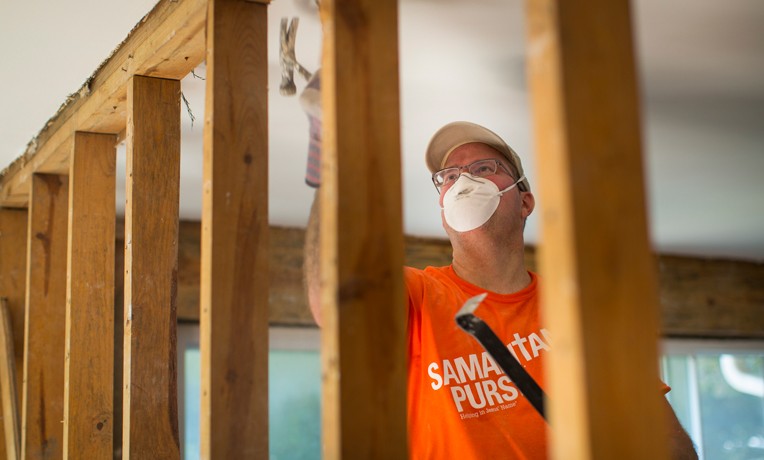 U.S. Disaster Relief
Samaritan's Purse mobilizes and equips thousands of volunteers to provide emergency aid to U.S. victims of wildfires, floods, tornadoes, hurricanes, and other natural disasters. In the aftermath of major storms, we often stay behind to rebuild houses for people with nowhere else to turn for help.
---
U.S. Disaster Relief 013622