Through Samaritan's Purse livelihoods programs, families are seeing a new and brighter path forward.
Livelihood and Vocational Projects
013970
Nyalong, 35, serves as a leader among mothers in Kangkoi, a village in Mayendit County, South Sudan. For the past year, she has been training many women on matters of health and nutrition. She herself has five children, ages 4 to 16.
She's also helping to guide other families in growing food, strengthening their finances, and developing small businesses, all while she is learning herself through a Samaritan's Purse livelihoods program.
Through our village savings and loans association and income-generating activities programs, Nyalong and others are learning to implement key economic practices that will help turn their farming efforts into new sources of income.
"I established my kitchen garden, and now my family enjoys fresh vegetables," Nyalong shared excitedly.
In previous years, she spent hours each day making charcoal out of pieces of wood and grasses—an enterprise that brought in only a few dollars a week. Now though she is seeing a new path forward for both her and her children, and it excites her to help empower other women in Kangkoi.
"I sell the excess vegetables that we don't eat, and it is helping me to make money to raise my children, pay their school fees, and have put some money towards building my small business for my home and future planning," she said.
Through this programming, Nyalong went from selling bags of charcoal and struggling to find a job to now doubling her monthly income through sales at her small shop.
"Before Samaritan's Purse gave me this knowledge, my life was difficult. I was looking for a job to feed my children, but I was finding it very difficult to get a job," she said. "I am so grateful."
"Teach me Your way, O LORD; I will walk in Your truth; unite my heart to fear Your name." —Psalm 86:11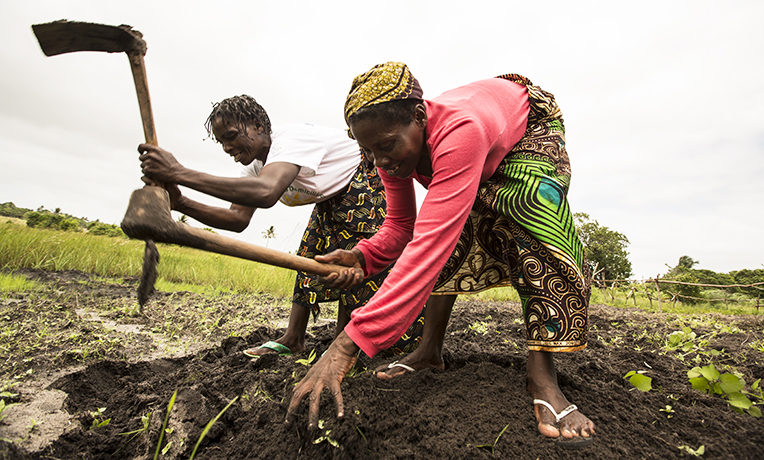 Livelihood and Vocational Projects
By improving farm and garden harvests, increasing the productivity of livestock, opening up access to markets, and providing training in business and job skills, we help households and communities make the transition from subsistence living to income generation, securing a better future.
---
Livelihood and Vocational Projects 013970