Some military couples dig deeper in the Word, others put their faith in Christ for the first time while in Alaska for Week 3 of Operation Heal Our Patriots
Well under 1 percent of the U.S. population has gone to fight in Afghanistian or Iraq since 9/11. Those who have been seriously injured in combat or combat-related activities make up an even smaller group. So when couples arrive together in Alaska for a week of biblically based marriage enrichment through Operation Heal Our Patriots, the significant ties of military service and war wounds quickly bond them together. Many have similar injuries and can tell familiar-sounding stories of heartbreak and struggle.
Yet each couple is, of course, unique. They come from different cultural backgrounds and different regions of the country. Some are in their late 40s, some are in their early 20s, and many lie in between. Many have children; some do not. They each have different religious stories as well.
Last week, the third of the Operation Heal Our Patriots summer season, several of the couples already had a personal relationship with Christ before they arrived. They came to Samaritan Lodge "to dig in deeper both with their relationship with their spouse and their relationship with Christ," said Chaplain Jim Fisher, one of the retired military chaplains on our staff.
Other couples did not know the Lord before coming but left spiritually changed forever. Retired Army Staff Sergeant Brien Costello and his wife, Casey, were among that group. Last week they received Jesus Christ as their Lord and Savior, were baptized together in Lake Clark, and committed their marriage to God in a public ceremony along with five other couples.
"We never went to church," Casey said. "We came with open hearts and were able to accept God together … It was a life-changing experience."
Brien was medically retired from the Army in January 2015. During his career, he served four combat deployments to Iraq as a truck driver, spending at least part of every year from 2003 to 2011 in that country. Various blasts and explosions have left him with post-traumatic stress disorder, traumatic brain injury, chronic neck and back pain, and arthritis in both knees. He uses a cane for mobility.
Brien's time overseas, plus his injuries and recovery, put great stress on the couple's marriage. Their time in Alaska gave them Bible-based tools to strengthen that relationship.
"We weren't in the best place [before], but, after the week, it's brought us a lot closer," Casey said.
She and Brien, who will celebrate their 16th wedding anniversary next week, both grew up in Maryland in nonreligious homes. They only knew a little about God and even less about the Bible. But last week they came to know the Lord personally. Their goal now is to find a church for themselves and their four children near their home in central Florida, about 45 minutes north of Orlando.
When asked about their hopes for the future, the couple responded quickly.
"To grow closer together, " Brien said.
"And share with our kids what we learned," Casey added.
Casey was especially thankful to the chaplains for their input on raising children. She loved hearing their own stories and learning from them.
"I think that was great of the chaplains to share that part of their lives," she said.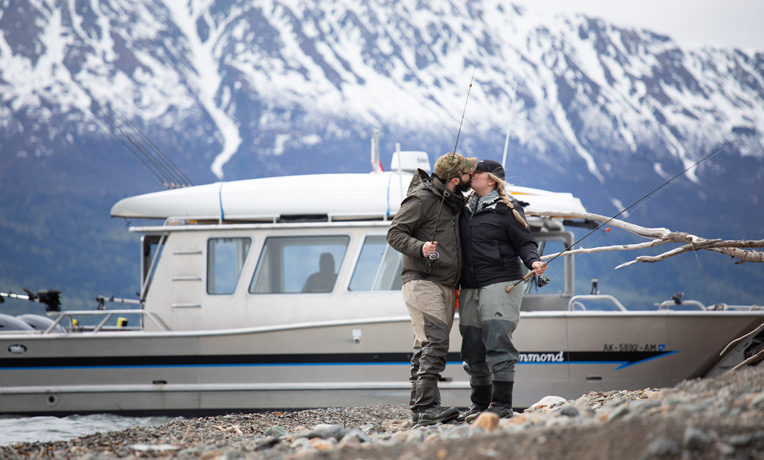 Bless the Marriage of a Military Couple
Operation Heal Our Patriots helps military couples build a strong spiritual foundation during a week of Biblically based workshops, relationship-building wilderness activities, and individual care by our retired military chaplains. We offer all this free of charge to these American heroes as a token of our appreciation for their service and sacrifice. Your gift will help us cover the costs—including transportation, lodging, activities, and long-term Family Care—so that we can help them find hope in the Lord.
---
Operation Heal Our Patriots 013960
Suggested Gift: $60