As we mark the 15-year anniversary of Hurricane Katrina, Samaritan's Purse volunteers are responding to Louisiana in the wake of Hurricane Laura
U.S. Disaster Relief
013622
The streets of Lake Charles, Louisiana, were filled with destruction and silence in the 24 hours after Hurricane Laura made landfall. Families who fled the storm were terrified to return home and those who stayed were in a state of shock, their homes ripped apart or ambushed by falling trees.
"Following a disaster, you usually hear chainsaws running, you see power crews up and down the street, but here in Lake Charles that hasn't happened," said Clay Steelman, Samaritan's Purse program manager on the ground in Lake Charles. "So many people evacuated and were afraid of the storm surge that they just haven't been able to make it back yet."
Samaritan's Purse is responding to the great need in four southwest Louisiana locations—Lake Charles, Jennings, DeRidder, and DeQuincy.
The Category 4 storm struck under the cover of darkness—creating widespread devastation and displacing hundreds of families. Yet, as the sun rose on August 27, Samaritan's Purse was on the way to Louisiana from our Southwest Ministry Center in Coppell, Texas, with a Disaster Relief Unit and additional support equipment ready to aid hurting families.
VOLUNTEER IN LOUISIANA LAKE CHARLES | DERIDDER | JENNINGS | DEQUINCY
On the 15-year anniversary of Hurricane Katrina's landfall, Samaritan's Purse sent out the first group of volunteers on Saturday to help Louisiana families recover from one of the strongest storms since to hit the state's coast.
"Just seeing once again after 15 years, the amount of help and volunteers coming down. It just continues to pile in just like it did back then," said homeowner Garrison Worthington, expressing gratitude for the overwhelming response of people arriving to be a part of recovery efforts.
A Flood of Compassion
Samaritan's Purse volunteers arrived at Garrison's property Saturday to clean up in the aftermath of Hurricane Laura's landfall, which brought deadly storm surge and 150 mile-per-hour sustained winds. The devastating power had uprooted and toppled a monstrous oak onto his family's home, leaving a gaping hole some ten feet in diameter.
Praise God that Garrison's parents and sister had evacuated to nearby Houston to stay with family. Initially intending to stay and ride out the storm, Garrison also decided to evacuate as Laura quickly intensified to a Category 4. He gathered what he could of his family's years of mementos and valuables and fled to the coast of Alabama.
"The worst thing was leaving Wednesday morning knowing that I'm probably coming back to a completely changed city—completely different than what I knew and loved," Garrison said. "That I would probably come back to a house that would never be the same."
When he returned, his worst fears were confirmed. Not only was his home damaged, but all of his neighbors' homes within a several-mile radius. The rest of his family stayed in Houston, leaving him to face the brunt of the clean-up and emotional toil alone.
But he wasn't alone. An army of volunteers had arrived to ensure that homeowners like Garrison wouldn't have to face things by themselves.
As Samaritan's Purse volunteers began to remove the tree and tarp the roof, the weight on Garrison's shoulders too began to dissipate. When his mother Amy saw a photo of volunteers dressed in orange, cleaning up their home, she finally allowed herself to cry. They were tears of relief and gratitude: "This is the first time I've cried since the storm hit."
'You're Not Alone'
In 2016, Delia Viator's Lafayette, Louisiana, home filled with nine inches of water after an unexpected storm flooded her community. She and her husband along with their nine animals chose to remain in their home, helping their impacted neighbors.
Still, they had to completely gut portions of their home—removing water-logged drywall and flooring. The floodwaters not only forced Delia to strip her home down to the bare bones, but she feels like God used the experience to do the same in her heart.
"I call it 'the cleansing,' Delia said. "I had a lot of sin in my life and God just brought me down to the studs and opened me up and changed me."
In the two years following the flood, the Lord renewed her heart and prepared her with that experience so that she could serve others. "One of my morning devotionals was one that said you don't have to go through a hurricane to serve," Delia said. "At the bottom it said Samaritan's Purse. So I went to the website and that's when Hurricane Michael had recently hit."
Delia signed up to volunteer with Samaritan's Purse in Panama City—helping families hardest-hit by the storm. Now in Louisiana she is helping families in her home state recover from the devastation caused by Hurricane Laura.
"This is my very first time on the first team coming in this soon after a disaster and just seeing everything as is," Delia said, describing the unbelievable devastation she witnessed before cleanup had started. "That's been a little bit shocking and heartbreaking."
Though their disasters were different, she wants families to know that they are not alone and that God loves them.
"These are Jesus' people that we are serving. Jesus does love them even if they might not feel like it," Delia said. "I want to serve in Jesus' Name first and foremost—that's why I'm here, because God loves them and they are not forgotten."
Please continue to pray for these impacted families as we help them remove downed trees, clear debris, tarp roofs, and remind them that God loves them and they are not forgotten.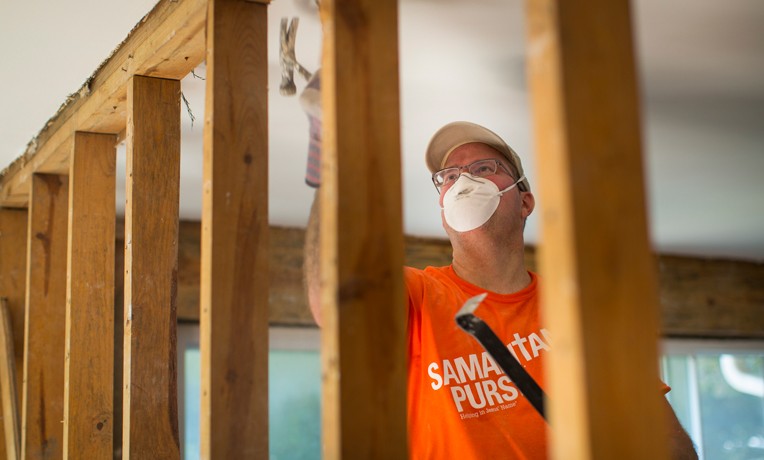 U.S. Disaster Relief
Samaritan's Purse mobilizes and equips thousands of volunteers to provide emergency aid to U.S. victims of wildfires, floods, tornadoes, hurricanes, and other natural disasters. In the aftermath of major storms, we often stay behind to rebuild houses for people with nowhere else to turn for help.
---
U.S. Disaster Relief 013622