The founder of My Pillow traveled to Fort Myers neighborhoods where Samaritan's Purse teams are hard at work helping homeowners in Jesus' Name.
U.S. Disaster Relief
013622
Mike Lindell, founder and CEO of My Pillow, Inc., encouraged hurricane survivors and relief volunteers in Florida today. He handed out pillows in a very hard-hit community where Samaritan's Purse is working.
He said, "People are asking 'Is there any hope?' Samaritan's Purse is always there when disasters come, and they bring hope—such a wonderful organization."
He met with homeowner Lenny Egan, a 79-year-old disabled veteran. Orange-shirted Samaritan's Purse volunteers are tarping his roof and cleaning up storm debris from his yard.
"Samaritan's Purse is always there when disasters come," he said.
"I'm sorry for what you have gone through," Lindell told him, "but you've got Samaritan's Purse now."
Lindell also met with an army of our volunteers from Florida churches.
VOLUNTEERS NEEDED: FORT MYERS | ENGLEWOOD | PUNTA GORDA
Samaritan's Purse has three bases of relief operations in Florida right now to help clean up after deadly Hurricane Ian, which struck the coast on Sept 28 as a fierce Category 4 storm. Volunteers are serving as the hands and feet of Jesus Christ, assisting homeowners by tarping roofs, removing storm debris, and mucking out flooded houses.
In Fort Myers, we've been at work since Oct. 1, operating from Citygate Ministries. We're also based out of local churches in Punta Gorda and Englewood. We will continue working for weeks to come.
Please pray for those who are hurting and recovering after Hurricane Ian. Pray also for our teams as they offer relief in many ways and point homeowners to the hope of the Gospel.
We thank God for the thousands of volunteers from many states who have already served with us. We also give Him praise for the scores of residents who have received Jesus Christ as their Lord and Savior so far during this response.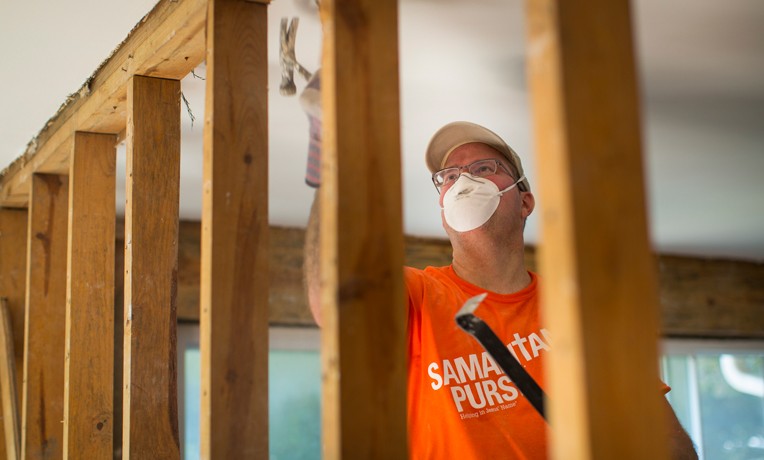 U.S. Disaster Relief
Samaritan's Purse mobilizes and equips thousands of volunteers to provide emergency aid to U.S. victims of wildfires, floods, tornadoes, hurricanes, and other natural disasters. In the aftermath of major storms, we often stay behind to rebuild houses for people with nowhere else to turn for help.
---
U.S. Disaster Relief 013622