Husbands and wives reconnect with God and each other during a special weekend in Orlando.
Bless the Marriage of a Military Couple
013960
Meeting in Orlando for this year's Operation Heal Our Patriots Reunion, more than 400 military couples were inspired, challenged, and encouraged by powerful speakers and workshop leaders who pointed to Christ for healing and restoration.
The gathering heard from prominent Christian leaders including former Secretary of State Michael Pompeo; Lt. Gen. (Ret.) Jerry Boykin; Capt. (Ret.) Ken Bevel, pastor at Sherwood Baptist Church; and baseball legend Darryl Strawberry. Samaritan's Purse President Franklin Graham and his son Edward Graham, vice president of operations, spoke as well and met with couples.
"The reunion allows us to come together as a family and enjoy fellowship with one another," said John Pryor, program director for Operation Heal Our Patriots. "It also enables our alumni to sharpen skills they learned in Alaska by attending workshops that focus on marriage and spiritual refreshment."
The annual event reunites alumni who have joined us at Samaritan Lodge Alaska for a week of Biblically based marriage enrichment training. Operation Heal Our Patriots focuses on veterans wounded in combat after 9/11 and their spouses.
God's Power to Forgive Sin and Heal Wounds
Strawberry kicked off the event Friday night with a message focused on God's power to forgive sin and heal wounds.
"Jesus is the only one who can bring you to a place of freedom and victory over everything," Strawberry said, as he told the crowd how Christ freed him from addictions to alcohol and drugs that enslaved him for years. He said the Lord has given him a lasting peace and purpose that he never found on the baseball diamond, despite winning four World Series titles. "Better than anything you will ever receive is a walk with Jesus. I challenge you this weekend to go deeper with Him."
"Jesus can bring you to freedom and victory."
Franklin Graham followed Strawberry on stage and asked the couples if they knew Jesus Christ as their Savior. "Jesus Christ came to this earth for one reason and that was to take our sins," Graham said.
He then invited anyone who didn't know Christ to receive Him into their lives—and many in the packed ballroom responded to the Gospel call.
Ken Bevel, who served in the Marines and is now a pastor in Albany, Georgia, continued the theme of forgiveness and restoration. Bevel, who's also appeared in the films "Fireproof" and "Courageous," said he was facing a general court-martial when he realized his need for Christ and surrendered his life to Him.
"The only thing the Lord is looking for in you is to be a willing and surrendered vessel," Bevel told the attendees. He said he knew that for many in the room that life didn't turn out the way they had planned. But he encouraged them to see their lives from God's perspective and be thankful, even for the challenges they have faced.
"If the Lord allowed it, He's using it," Bevel said. "If He's using it, you need it. And if you need it, you can be grateful for it."
A New Identity
On Saturday night, Edward and Kristy Graham discussed the struggles they faced when Edward decided to leave the U.S. Army after serving 16 years and come to work at Samaritan's Purse.
Their identity had been the military and suddenly it was gone. But Edward came to realize that his true identity wasn't as an Army Ranger, but rather as God's child who was being called by Him to serve in a different capacity. He then encouraged his fellow veterans to be proud of their military service but to not let it define them.
"If the military is what you're holding on to, it will leave you empty and cold," Edward said. "I want your identity to be in Christ Jesus, our Savior."
Former Secretary of State Mike Pompeo next addressed the veteran couples and thanked them for their service and also admitted that he struggled with finding a new identity when he left the military and re-entered civilian life at Harvard Law School.
"The thing that kept me grounded each day was knowing that there was something bigger, and it was my Savior, Jesus Christ," Pompeo said. He then encouraged the men and women to stand strong in their faith, regardless of the difficulties they are facing.
"No matter where you are in your life this evening, no matter what struggles are before you, God's grace is with you and will continue to be with you," he said. "And no matter what the struggle is you are almost certain to fail if you try to face it alone. You will only succeed at pushing back against that challenge, against that demon, against that difficulty, by walking alongside of Him."
Family Care Goes Above and Beyond
The reunion is a vital component of our Family Care program, which is a year-round, lifetime commitment we make to the military husbands and wives who attend weeklong marriage training with us in Alaska. Through a team of chaplains, we provide ongoing care, support, and encouragement for the more than 1,380 couples who have come through the program.
Jordan and Jessica Hargrove are particularly thankful for Family Care. They went through training in Alaska last October, and God used the week to draw them closer together, as they acquired communication tools that helped strengthen their marriage. But when they left Alaska and returned to their home in Kentucky, they admitted it was easy to fall back into old habits. But Family Care was there to help.
"The biggest surprise on coming home was finding out that you now have all of these resources behind you, starting with the regional chaplains," Jessica said, who attends a chaplain-led Bible study. "There's this huge family of support."
Finding additional support and camaraderie with fellow veterans were big reasons Jordan and Jessica attended the reunion. And Jordan encouraged other alumni to attend next year, even if it is out of their comfort zone. Jordan suffers from post-traumatic stress disorder and traumatic brain injuries from encountering 16 IEDs in Iraq and is 100 percent disabled.
"Normally, something like this reunion would be really tough," Jordan said. "But it's other veterans who are going through the same thing and they understand. That makes it easy to be here."
A new Family Care initiative that focuses on discipleship was introduced at the reunion, and 31 Key Leader couples were introduced. Their purpose is to connect with and help other Operation Heal Our Patriots alumni in their areas.
Ben and Heidi Hebert are two Key Leaders. They shared that their time at Samaritan Lodge Alaska in 2013 saved their marriage and introduced them to a saving faith in Jesus Christ. Now, they want to give back by serving other veteran couples.
"We have been through some very traumatic experiences in our marriage and God has provided us with some very loving, very faithful people who walked alongside of us," Heidi said. "And now God has called us to do the same thing; just to love on couples and walk alongside of them through the good times and the bad times of life."
All reunion couples had the opportunity to attend breakout sessions that addressed a variety of subjects, such as finances, parenting, marital intimacy, and finding hope in the midst of grief. They were also encouraged to serve on disaster relief deployments through Team Patriot, a program in which Operation Heal Our Patriots alumni can serve U.S. homeowners who have been affected by natural disasters.
Warriors for Christ
On Sunday morning, , Lt. Gen. (Ret.) Jerry Boykin received a standing ovation from the veterans when he was introduced as the reunion's final keynote speaker. He began by thanking the courageous men and women for their service and sacrifice, and then presented five concepts that "capture what we are supposed to be as Christians." He reminded his listeners that God saved them through the blood of Jesus Christ, but not just so they will go to Heaven when they die.
"He's redeemed you so you can be warriors in His Kingdom," he said. "Yes, God is in control, but He uses us as his army. We need to ask God, 'How can I serve You?'"
One of the five concepts Boykin emphasized was Semper Fidelis (Always Faithful), the motto of the U.S. Marine Corps. "You've got to be faithful to the calling God has put on your life," he urged everyone. "You've got to be willing to say, 'Here am I Lord, send me.'"
After Boykin finished his remarks, the reunion concluded with a heartfelt, soaring rendition of the National Anthem. It was a fitting finale, led by a chorus of 800-plus wounded patriots and their spouses who have sacrificed so much to keep America the land of the free and the home of the brave.
Please pray for these veterans and their spouses as they return home that they would continue to grow strong in their faith and in their marriages. Also pray for the 170 couples who are scheduled to attend a week of marriage enrichment in Alaska this summer.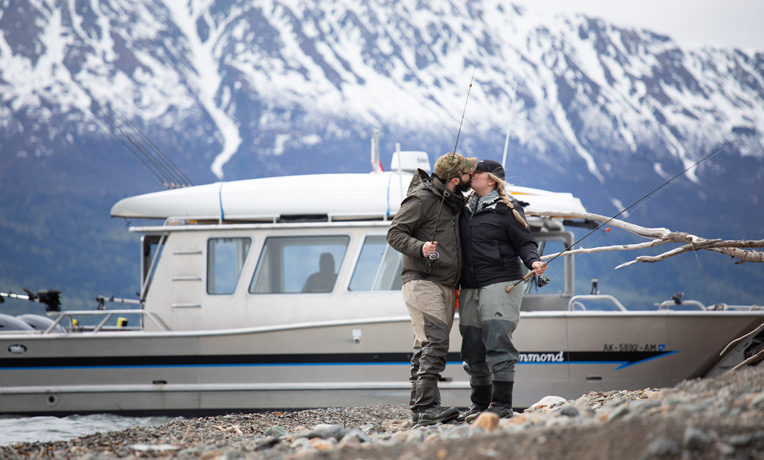 Bless the Marriage of a Military Couple
Operation Heal Our Patriots helps military couples build a strong spiritual foundation during a week of Biblically based workshops, relationship-building wilderness activities, and individual care by our retired military chaplains. We offer all this free of charge to these American heroes as a token of our appreciation for their service and sacrifice. Your gift will help us cover the costs—including transportation, lodging, activities, and long-term Family Care—so that we can help them find hope in the Lord.
---
Operation Heal Our Patriots 013960
Suggested Gift: $60