Samaritan's Purse is partnering with local churches to bring emergency food and the compassion of Christ to remote villages.
In the morning heat, they boated out. Pastor Benjamin sat on the bow, looking over the muddy lake toward his village. A small group of local church leaders packed into the hull.
Just weeks ago, this lake didn't exist. The river bordered bright green rice paddies. Rice is life for nearly every family here in the Ayeyarwaddy delta of Myanmar—planting, harvesting, eating, and selling. But life turned upside down this year.
The worst flooding in recent memory destroyed paddies from the north of the country all the way down to the delta. It has been devastating even in areas where some annual flooding is expected. Food is so scarce that people are eating the seeds they had stored for planting. Worse, in some villages the storehouses also flooded.
"The water rose up immediately," Pastor Benjamin said of his village, Ladi Chaung. "We had to move to the [relief camp] area as quickly as possible."
Over 200 families evacuated two hours away to higher ground. "As a leader of this village, I was very worried," he said.
They returned to find the roads turned into waterways and the paddies invisible. The polluted water also affected the fishermen's livelihoods. The pastor said the disaster has taken a toll, but he finds encouragement reading about the hardships Job overcame in the Bible.
"All the difficulties, all the calamities compared to Job, it's very minor," he said. "I also have the strength to rely on God."
Strength in Numbers
In the hull of the long-tail boat, Reverend Mahn Benson leaned against a life jacket. His church, Yangon Baptist, had sent an emergency food supply for Ladi Chaung village the night before, and his team was on the way to assist with the distribution.
They are one of the churches partnering with Samaritan's Purse to bring relief to flood victims.
"In everything we do, we pray and we seek God first, so it's a wonderful privilege that we met with Samaritan's Purse," he said. "We can work together hand-in-hand to become the light of the world, the salt of the earth, and to become the Good News."
After two hours, the boat pulled up to the village as schoolchildren in their white and green uniforms sang in unison from the recreation building. Markings several feet high on the poles revealed the flood's height.
The distribution began from a bigger blue boat near the center of the village. One-by-one, families rowed up to have bags of rice and boxes of oil placed in their canoes. They received a month's supply to help meet immediate needs as they plan for the future.
Just as the distribution came to an end, the daily downpour started. Reverend Benson and his team said their goodbyes and headed out past children peeking around window frames and dangling their feet above the water.
In the afternoon rain, they boated back. Pastor Benjamin again sat at his perch. He has learned firsthand how powerful it can be when the Church works together in times of crisis.
"The church is the body of Christ," he said. "We have come to realize the importance."
More Valuable than Sparrows
In Chin state, a two-hour plane ride northwest of the delta, Reverend Mang Sum stood in the middle of mud-stained Nan Chaung village shouting "Hello? Hello?"
Brown trees sagged. Debris rested on top of fences. Carts and latrines were overturned. The only sounds were of birds chirping, water draining from a pipe, and the reverend's unanswered call.
While families in the low-lying delta had water up to their roofs lingering for weeks, here in the hills, villagers experienced flash flooding that rushed in and wiped out vegetation, homes, and bridges. It redirected the paths of rivers. Large portions of the riverbank crumbled into the water, along with the houses built on top.
"This kind of disaster is very new for this region," Reverend Sum said. "They don't know what to do."
All of the nearly 800 villagers in Nan Chaung were displaced. They moved into nearby towns, sleeping in cramped quarters and cooking meals in one big group.
The village leader's wife, 47-year-old Zung Len, cried as she spoke about trying to take care of their five sons. "I wish to go home as soon as possible. I don't want to stay here with kids and crowded people. It's a big problem for me. I wish to go home as soon as possible," she repeated.
Zung is a Christian, along with most of the other villagers. Through her tears, she said she still believed God would bless them.
Dam Nun Ting, 31, also expressed concern about the wellbeing of her six children. She holds onto the belief that God has not abandoned them and referenced Matthew 10:29-31: "Are not two sparrows sold for a copper coin? And not one of them falls to the ground apart from your Father's will. But the very hairs of your head are all numbered. Do not fear therefore; you are of more value than many sparrows."
Disaster Doesn't Discriminate
Reverend Sum and his team from the Myanmar Baptist Convention have been working in Chin State to bring emergency food and encouragement to those in need. Where the roads are washed out, they use ox carts to transport the supplies.
"I heard that so many people are hurt in the landslides and flood. It makes me cry in my heart," he said. "I didn't know how to help them. But at that time, I wrote to the partners and asked them to help. I have no money to help them, but the only thing I can do is to ask the partners to help them. That's all I could do."
Samaritan's Purse was one of those partners, and together we have helped provide food for thousands of families, including those from Nan Chaung.
In Myanmar, many religious groups have a habit of only providing aid to their own members. Instead, our partnership is meeting needs for whole communities, whether they are predominately Buddhist, Muslim, Hindu, or Christian.
"Disaster has no discrimination," Reverend Sum said. "We help the human being, the affected people."
The Power of Not Passing By
In Rakhine State, a sensitive area that is strongly Buddhist, providing help to all people in need has opened doors for the local church.
Although Rakhine borders the Bay of Bengal, serious flooding is rare. An 82-year-old resident said she had never experienced a disaster like this in her lifetime.
"They were broken. They have nothing left," Charity Nyunt, the prayer coordinator of Sittwe Baptist Church, said. "They don't even have clothes to change. They don't have soap."
Villagers said they watched boat after boat pass by. None were stopping to help. Then Charity and our partners from Sittwe arrived.
"We just went into the village, and they are so grateful for that," she said. "They feel love and care from the Christians."
Our team saw evidence of this when the villagers allowed us to pray for people in the Buddhist monastery.
"Because of this disaster, their hearts have been softened," Charity said. "I see a lot of reconciliation because of this in villages."
She is also encouraged by how the flood response has created opportunities for the local church to bring the hope of Christ into Rakhine.
"I really appreciate Samaritan's Purse for empowering us so that we could help the people and the churches there," she said. "More doors are open for them. I am excited about it."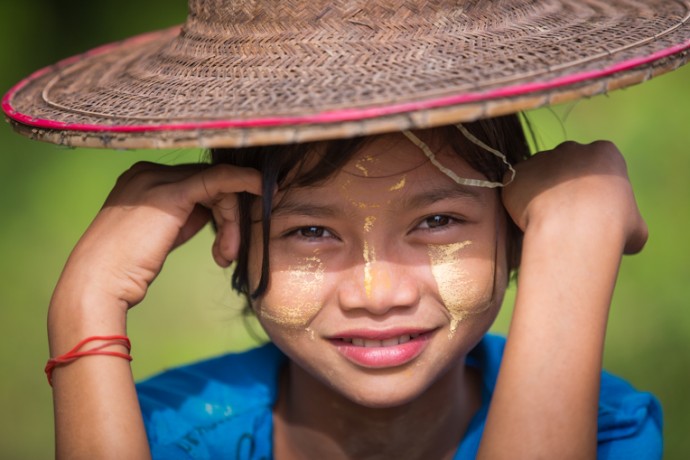 Myanmar Projects
Samaritan's Purse is helping people in rural, impoverished areas of Myanmar. Our maternal and child health program assists young mothers by teaching essential nutrition practices and improving obstetric care. Our teams are working to combat human trafficking through education and prevention programs. Your gift also helps meet desperate needs for water and sanitation projects, and other assistance.