Months of ministry came to a close on Oct. 8 as final group of veterans and their spouses find healing in Christ while in Alaska.
Bless the Marriage of a Military Couple
013960
Samaritan's Purse recently welcomed our final group of military veterans and their spouses to Alaska for the close of the 2021 Operation Heal Our Patriots summer season. Nine couples experienced the wilderness of Alaska, participated in Biblically-based marriage classes, and had the opportunity to connect with God and each other.
Former Army Staff Sergeant Mike Paulk and his wife Dana were scheduled to come to Samaritan Lodge Alaska in August, just weeks before their 13th wedding anniversary. After an especially trying period, they were both desperate to find their way back to each other and the love they used to share.
They learned about Operation Heal Our Patriots separately, each finding information on social media. After Dana applied, she told Mike about the program only to find out that he had also submitted an application on the exact same day. They took it as a sign—one so strong that Dana committed to staying with Mike until after their week in Alaska.
"I was ready to give up. I was done," Dana said. She viewed their week in Alaska as a last-ditch effort. If it didn't work, their marriage was over. Then, their trip had to be rescheduled for reasons beyond their control. The delay–from August until the first full week of October–ended up being providential, a wakeup call that only God could orchestrate.
In those extra weeks, Mike and Dana realized they wanted to make their marriage work. They just didn't know how. Their scars were deep, and their marriage was in trouble. In 2017, their family faced an incredibly challenging season. It opened with their son being attacked by a dog and almost killed. Next, Dana gave birth to their youngest son three months early, which led to spending three months in NICU taking care of him. Then, Mike almost died after suffering a brain injury during an Army function.
"We lost faith. [Our circumstances] challenged our faith to the breaking point," Mike said.
Dana put it this way: "You become numb. You turn everything off."
They had spent years together, but they didn't know how to move forward.
When they arrived at the remote lodge in the wilderness of Alaska, they were fighting for their marriage. At Operation Heal Our Patriots, they didn't just find tools to help them navigate their relationship. They found renewed faith in Jesus Christ.
"When you find your faith again, it frees up all that stress and anxiety that you hold onto and you see life and your situation clearer than you ever have," Mike said. This spiritual insight reminded them that not only do they want to be together, but God wants them to be together.
"For us, I can say this saved our marriage. One hundred percent—it saved our marriage. I love this man," Dana said. "He's my best friend, and I got to remember that and find that again. It saved our marriage. I will be forever grateful because I could have walked away."
Finding Complete Healing
Army Sergeant Ryan York and his wife Jen also found more at Operation Heal Our Patriots than they expected. Ryan was medically retired after 13 years in the Army. He deployed two times with the military, including a 15-month tour in Iraq. During this deployment, he was stationed at the hospital where, for months, all he saw was non-stop casualties. He saw American soldiers, Iraqi nationals, women and children whose lives were destroyed by the war. It took a toll on him.
He described returning home to his wife as awkward. The trauma he had witnessed weighed heavily on his mind. Meanwhile, Jen had established a new routine at home, making the transition difficult on both of them. "Neither one of us wanted to address those things," Jen said. "It was easy to just kick it under the rug, and say 'it's OK.'"
When Jen applied to Operation Heal Our Patriots, she was excited for the chance to participate in a faith-based program. Living in the Bible Belt, she believed in God, but she didn't have a personal relationship with Him. She knew something was off, but she didn't know how to find the missing piece.
"I didn't really know why I would want to walk with God," Jen said.
During their week in Alaska, both Ryan and Jen learned more about what it means to have a personal relationship with Jesus. Towards the end of the week, they took a step of faith and each prayed to receive Christ as their Lord and Savior. Together, they were baptized in the icy waters of Lake Clark, and they chose to rededicate their marriage to God and each other.
"We came ready for healing," Jen said. They walked away from the week in Alaska with both the tools to strengthen their marriage and faith in Christ.
Over the course of the final week, six individuals committed their lives to Christ, four were baptized, and six couples rededicated their marriages to God.
One hundred and fifty couples attended Operation Heal Our Patriots during this year's season in Alaska, stretching from May 30-Oct. 8. We praise God for the changed lives represented in 72 salvations, 74 baptisms, and 75 marriage renewals. It was a summer of healing and transformation.
Although the couples' time in Alaska is over, the journey has really just begun. Samaritan's Purse will continue to minister to each couple through the Family Care outreach of Operation Heal Our Patriots, which includes opportunities for service, mentoring, counseling, training, and fellowship. Please pray that God will continue to work in their lives in wonderful ways.
"And I am sure of this, that he who began a good work in you will bring it to completion at the day of Jesus Christ." – Philippians 1:6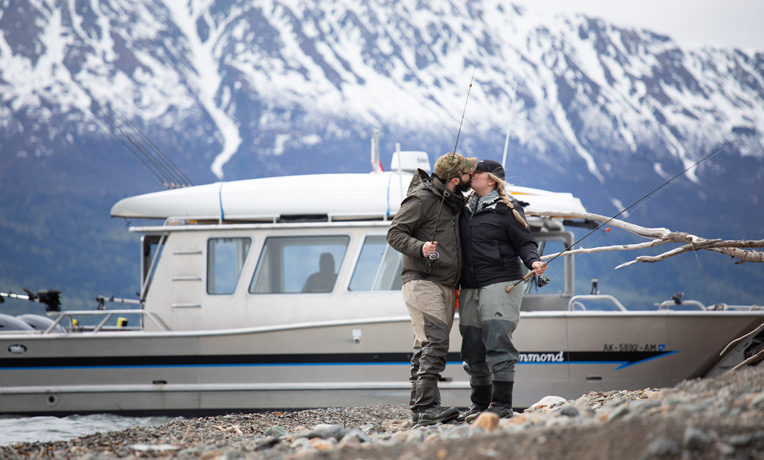 Bless the Marriage of a Military Couple
Operation Heal Our Patriots helps military couples build a strong spiritual foundation during a week of Biblically based workshops, relationship-building wilderness activities, and individual care by our retired military chaplains. We offer all this free of charge to these American heroes as a token of our appreciation for their service and sacrifice. Your gift will help us cover the costs—including transportation, lodging, activities, and long-term Family Care—so that we can help them find hope in the Lord.
---
Operation Heal Our Patriots 013960
Suggested Gift: $60