After sustaining an injury in Afghanistan that resulted in the loss of both of his legs, Staff Sergeant Ken Patterson shared his Godly attitude with others
Staff Sergeant Ken Patterson, USA (Ret.), is the type of person anyone would put at the top of a party invite list. He's outgoing, he's friendly, and he's full of fun. People can't help but smile around him.
His good-natured humor helped put staff and other couples at ease during a recent marriage retreat in Port Alsworth, Alaska. Ken was participating in Operation Heal Our Patriots, the Samaritan's Purse ministry to military couples with a spouse injured or wounded in combat activities after 9/11. A double amputee wounded in Afghanistan in 2010, Ken tried a variety of activities and quickly made friends. He was an encouragement to all he met, including an 8-year-old boy in the town who also happens to be an amputee. The two talked about all the things they
can
do.
GOD'S HEALING LOVE: See how military couples are enjoying outdoor adventures, marriage enrichment classes, daily devotions, and time with each other through Operation Heal Our Patriots.
Perhaps Ken's jovial personality is innate, but it's certain that life's circumstances have forced him to work hard at staying positive.
Ken's Longest Day
Give
It was October 12, 2010, just two weeks before he was scheduled to return home to the embrace of his wife, Jessica, and their son, Jonathan, in Savannah, Georgia.
Ken was to go on a routine mission to deliver water and additional troops to a remote Afghan National Army (ANA) post near the Pakistani border. It was nothing out of the ordinary.
"It turned out to be the longest day of my life," said Ken, who had previously served three combat tours in Iraq.
Things began as planned. The Chinook helicopter landed on the side of a mountain, and the soldiers made their drop off. Then the situation suddenly got crazy. The supposedly friendly ANA base had been overrun by Taliban fighters, and they started firing at Ken and his fellow troops. The resupply mission became a desperate fight for survival.
These soldiers were neither expecting nor equipped for a firefight. Most of the rocket-propelled grenades launched at them missed, but one skidded and came up through the bottom of the aircraft, clipping Ken's lower extremities. The aircraft caught fire and they had to evacuate, seeking shelter in a mountain crevice.
Ken's fellow soldiers—heroes who saved his life—carried him to the hideout.
"My body felt like it was on fire," Ken said. "The more blood I lost, the more my body felt like it was on fire."
Nevertheless, he said he "started making jokes, trying to be funny." He prayed to God for his family and for forgiveness. He felt at peace.
His worst fear was that the Taliban would come over the hill and drag him and his buddies into Pakistan. When he heard gunfire drawing closer, he feared the worst. What he heard, however, was the sound of an Apache attack helicopter responding to the soldiers' distress call.
Their sister airship, a Black Hawk helicopter, arrived to evacuate everyone about 10 minutes after the attack. Ken thinks he was down to about 2.5 pints of blood in his body. (A normal adult has about 10 pints.)
"I kept saying, 'I just want to lay down [in the helicopter],' but they knew if I laid down I wasn't going to wake back up," Ken said. "So, they wouldn't let me go to sleep. You could see them smacking the dirt off me, they were hitting me so hard."
When they arrived at the forward operating base in Asadabad, Ken was given morphine. He remembers his body transitioning from hot to cold. He fell asleep and woke up in Germany. His right leg was still in Afghanistan.
His left foot and ankle were amputated in increments in Germany and then in Texas where he arrived October 15. Jessica and their son were there to meet him. For almost three years the family lived near the Center for the Intrepid, the Army's state-of-the-art rehabilitation center in San Antonio, until this June when they moved to Florida.
Life's Not Over: Getting Active
Ken struggled terribly for the first six months or so after his injury. The physical challenges were only part of it.
"I was real angry," he said. "I was bitter. I was depressed about the situation. I was just mad and just unfocused until I started to do more activity."
But after the Army sent him to a sports camp in Birmingham, Alabama, in 2011, his attitude began to change. He was challenged and inspired as he watched other amputees playing competitive sports without complaining. Wheelchair basketball and swimming would soon become his new activities of choice.
Slowly, the fun-loving Ken reemerged as he realized his negativity was getting him nowhere. It wasn't helping his family either.
"They're the only ones who stood by me during the whole time," he said. "So, they're the only ones who would suffer from me being upset or depressed about me losing a couple limbs."
Though struggles remain, now Jessica and Ken focus on the positive and on the future.
"We try to spend a lot of quality time [together], just trying to make up for the last two years," Ken said. "Most of our days we just spend trying to put this all behind us, just trying to move forward."
Testing the Limits in Alaska
When they were given the opportunity to attend an Operation Heal Our Patriots marriage retreat this July, Ken saw it, among other things, as a chance to continue his rehabilitation and explore new possibilities.
"When I came to Alaska I really wanted to test my body a little bit more and see how far it can go and try to push it to the limits," he said.
He hiked in Katmai National Park, he fished, he kayaked, and he climbed in and out of small planes. He avoided skipping over submerged rocks, but Ken overcame most other challenges.
"The kayaking is great. I absolutely love, love kayaking," he said in typically enthusiastic fashion. "I thought I would hate it. Thought I would flip over and drown. I didn't do either."
On their first full day in Alaska, Jessica too seemed nervous as she and Ken pushed off from shore in a kayak. As they toured the bay together, Chaplain Dan Stephens called out to the couple, "How's that marriage enrichment coming along?"
"It's great," Ken said. "I feel enriched."
Back on dry ground, when asked her opinion of the experience, Jessica kept her answer brief but positive: "Fun," she said.
The next day, Ken and Staff Sergeant Arthur Coleman, USA (Ret.), also enjoyed paddling a two-seater.
"People called us Team America, you know, but we don't need that title," Ken said.
"I like to see him getting out, trying different things," said Jessica, who met Ken while she was serving in the Army. "I always tell him, yes, he lost his legs, but we can still do things. It may be a little slower or we may have to do it differently. But I like to see him out doing things and not thinking life is over."
During their retreat, the Pattersons also appreciated learning insights and biblical perspectives on marriage from the chaplains.
"My favorite Bible verse is Philippians 4:13," Jessica said, referring to Paul's statement, "I can do all things through Christ who strengthens me" (NKJV). "But it wasn't until [Ken] got injured that I felt like it related to me."
While pushing Ken's wheelchair in the early stages of his recovery, she took comfort from that verse, knowing Christ was present with them.
Focusing on the Bible is always beneficial, Ken said.
"My relationship with God has helped a lot," he noted. "All I can do is turn all my problems over to Him. Otherwise, I just walk around frustrated and angry all the time."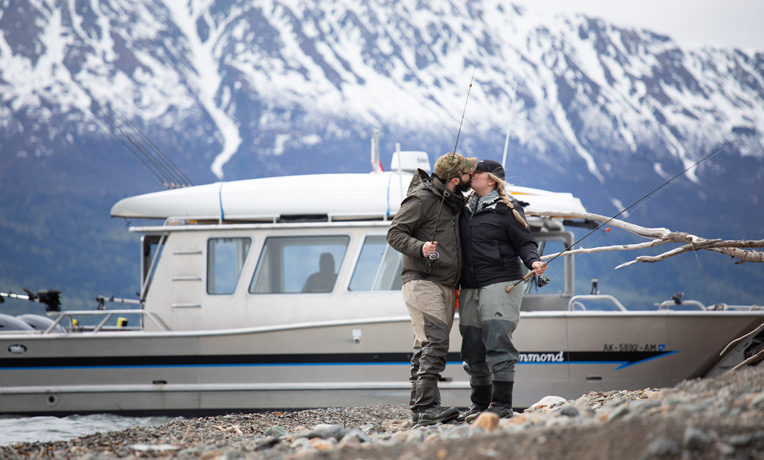 Bless the Marriage of a Military Couple
Operation Heal Our Patriots helps military couples build a strong spiritual foundation during a week of Biblically based workshops, relationship-building wilderness activities, and individual care by our retired military chaplains. We offer all this free of charge to these American heroes as a token of our appreciation for their service and sacrifice. Your gift will help us cover the costs—including transportation, lodging, activities, and long-term Family Care—so that we can help them find hope in the Lord.
---
Operation Heal Our Patriots 013960
Suggested Gift: $60