More than 500 military couples have come to Alaska for marriage enrichment training through the Samaritan's Purse project since 2012.
Ten military couples arrived Sunday, August 30, in Alaska for Week 14 of this year's Operation Heal Our Patriots program—putting our four-season total at 506 couples.
"Operation Heal Our Patriots focuses on healing the marriages of those wounded in service to our nation," retired Marine Brigadier General Jim Walker said. He is the Executive Director of Operation Heal Our Patriots.
"While ministering to 500 couples is a milestone, we recognize that there are many more couples who suffer from the wounds of war. We look forward to working with more couples each summer and continuing to work with them in future years through our aftercare program."
Operation Heal Our Patriots flies military couples to America's last frontier for a week of Bible-based marriage enrichment training at a pristine location on Lake Clark. Samaritan Lodge Alaska staff and volunteers provide a loving Christian atmosphere for husbands and wives as they enjoy guided activities such as fishing, hiking, and wildlife viewing. Our retired military chaplains share the Gospel, offer daily devotions, and facilitate eight sessions of marriage classes. The chaplains also provide personalized counseling to individuals and couples as requested. An aftercare program is in place to follow up with these patriots for years to come.
The project is open to married couples in which a spouse has been injured or wounded in combat or combat-related activities after the terrorist attacks of September 11, 2001. Participating couples (so far) have ranged in age from their early 20s to late 40s, hail from 45 different states, and represent the U.S. Army, Marines, Navy, and Air Force. Many of the veterans have served multiple deployments to Iraq or Afghanistan or both. Some have been shot, some have lost limbs, a high percentage of participants have survived improvised explosive attacks, and numerous ones have seen their comrades killed in battle.
Wounded while serving in Afghanistan, Army Corporal Joseph Silvestri attended Week 11 this year with his wife Heather and recommitted his life to Christ during that time.
"I was able to get past a lot of anger and hatred I had from military experience and seeing stuff happen over there and things I had to do," he said.
The couple from Baytown, Texas, also renewed their marriage vows in Alaska.
"It's strengthened my marriage tremendously," Joseph said of Operation Heal Our Patriots. "It really just improved my life tenfold. Thank you very much."
Spiritual Harvest and Continued Growth
We thank God for the spiritual harvest He has given since the program started in 2012. More than 210 couples have rededicated their marriages to Christ and each other. Nearly 200 individuals have received Him as Savior and Lord. Over 220 have been baptized in Alaska.
"Seasons change quickly in Alaska," Chaplain Jim Fisher said, in reference to the newly fallen snow that dusted Mount Tanalian on Monday. "In the same fashion, couples come to Samaritan Lodge seeking change in their relationships. Change comes when Jesus transforms individuals and reconciliation is experienced through the power of the Cross."
Marine Sergeant John Margaritondo of Tarpon Springs, Florida, trusted Christ as his Lord and Savior during Week 5 this year. He and his wife Amanda also rededicated their marriage to God and each other.
"I've been really struggling with Jesus in general since Afghanistan," John said before he was baptized in Lake Clark. "I thought that I wasn't worthy of forgiveness for the things that I'd done over there. But Chaplain helped me see the way. I'm ready to give my life to Jesus."
In 2012, there were only 12 weeks of summer programming at Samaritan Lodge. This year there will be 16, including one week for Canadian military couples. The number of cabins has expanded since our first year and now we can accommodate 10 couples each week. A new chapel was also constructed on the grounds in 2013. Applications to the program have risen significantly each year.
"After two years of construction, renovation, and development, Samaritan's Purse opened the doors to our first couples in 2012—Operation Heal Our Patriots took flight," Samaritan Lodge Alaska Program Manager Mark Lang said. "Each of the following years I have been blessed to witness how God is working through our wonderful chaplains, guides, staff, and volunteers to reach our wounded veterans and their spouses in Jesus' Name. Over and over again we hear testimonies of departing couples who say that this week has saved their marriage."
Prayer Focus:
Please pray for the remaining military couples who will be traveling to Alaska this summer. Ask God to open their hearts to His healing love.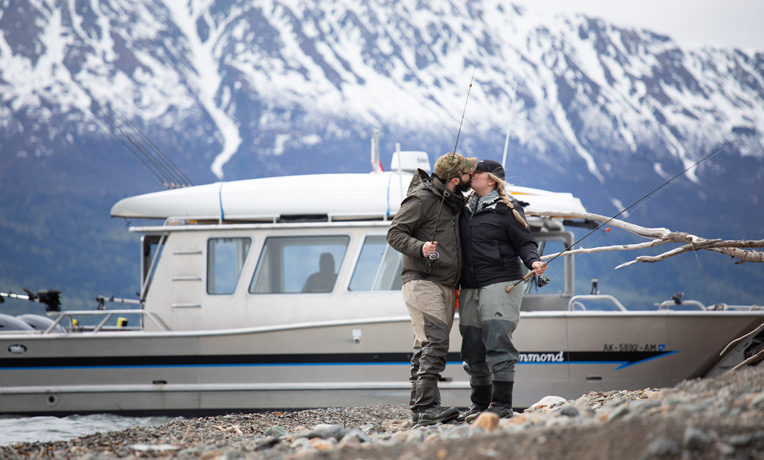 Bless the Marriage of a Military Couple
Operation Heal Our Patriots helps military couples build a strong spiritual foundation during a week of Biblically based workshops, relationship-building wilderness activities, and individual care by our retired military chaplains. We offer all this free of charge to these American heroes as a token of our appreciation for their service and sacrifice. Your gift will help us cover the costs—including transportation, lodging, activities, and long-term Family Care—so that we can help them find hope in the Lord.
---
Operation Heal Our Patriots 013960
Suggested Gift: $60