After receiving a brand new home to replace her tornado-ravaged one in 2012, Sharon Delbridge traveled to Oklahoma to help others just like her.
Just even talking about it brought her to tears.
But Sharon Delbridge wasn't crying over the memories of the catastrophic tornado that ripped through her Tuscaloosa neighborhood in 2011. Or even the day she received her beautiful, brand new home from Samaritan's Purse free of charge in March 2012.
Support Our U.S. Disaster Rebuild Efforts
What touched Sharon's heart the most was how strangers were willing to donate their time and energy to help repair and rebuild someone's home.
"I've never had a lot of people in my life who loved God like these people do," she said. "I really am just so amazed and thankful."
And now, she was one of them.
"I'm learning to love like Christ does," Sharon said. "Samaritan's Purse serves everyone, and I want to do the same thing."
Sharon joined a team from First Baptist Church in Tuscaloosa —the congregation that housed our rebuild efforts there—to assist in our rebuild project in Oklahoma City.
Tornadoes battered central Oklahoma in May 2013, and earlier this year we launched a repair and rebuild project in the Oklahoma City area.
While she knew she wanted to help, especially after feeling so blessed by her brand new home, Sharon admitted she felt a little out of her comfort zone. The Tuscaloosa resident described herself as shy, not one to say much and certainly not talented in the area of home repair.
But despite her reservations and nerves, she joined the church team—even though she didn't know most of them because she belongs to a different church—and used half of her vacation time for the year so she could serve in Oklahoma.
"I just wanted to come to do something for someone who was in the same situation as I was in," she said. "I was so blessed by Samaritan's Purse and everything that was done for me. How could I not do something?"
Others on her volunteer team have made comments about how incredible it is for a former rebuild recipient to dedicate her time to give back. But Sharon said the real heroes are the people who serve others without being blessed first.
"I just feel like [those volunteers] are the ones who are special," she said. "I had every reason to come here. They haven't had the help I have had, and they do it from the goodness of their hearts."
While in Oklahoma, Sharon helped paint the home of a young couple, the Reeves. Painting the interior of a house was something she has had experience with. She did it with Samaritan's Purse volunteers who rebuilt her own home in Tuscaloosa.
"I just have to say how special it is to me when the homeowners do come and help. I know it's not easy to come," said Michael Todd, program manager for the project. "It means a lot to know people are appreciative of what God has done through Samaritan's Purse."
Sharon hopes to return sometime soon to help again if she is able to use what little vacation days she has left. In the meantime, as she approached the end of her week in Oklahoma, she thought about what to sign in the Bible for the homeowners she was serving.
She said she's thinking about using her favorite verse, "I can do all things through Christ who strengthens me" (Philippians 4:13, NKJV). After all, through surviving the storm to hopping on a bus with some strangers to volunteer in a way that was out of her comfort zone, Sharon has found a new strength she never knew she had.
"I don't dream about [how terrible the Tuscaloosa tornado was] now, or have any bad times anymore where I think about that part of it," she said. "Instead I think about how God has blessed me."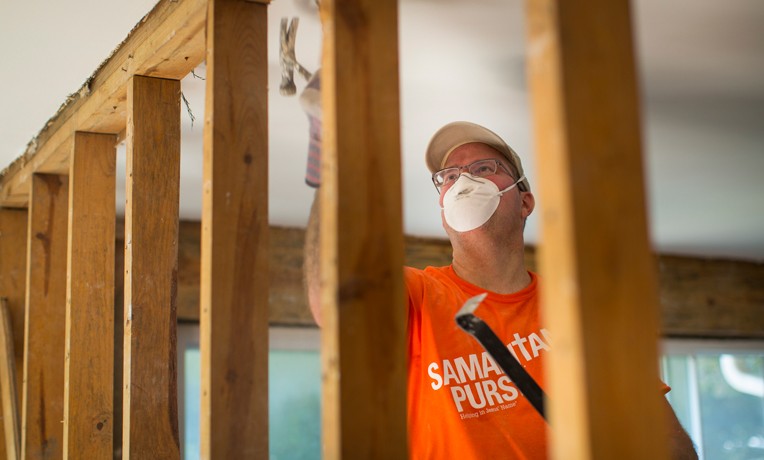 U.S. Disaster Relief
Samaritan's Purse mobilizes and equips thousands of volunteers to provide emergency aid to U.S. victims of wildfires, floods, tornadoes, hurricanes, and other natural disasters. In the aftermath of major storms, we often stay behind to rebuild houses for people with nowhere else to turn for help.
---
U.S. Disaster Relief 013622