Military couples commit their lives to Jesus Christ during marriage enrichment week in Alaska
On a rainy, fall-like afternoon, Israel and Rosa Santiago debated on whether to go out onto the cold waters of Lake Clark, Alaska or spend some time resting in their cabin on the grounds at Samaritan Lodge.
Israel was up for a bout with the oversized lake trout and magnificent grayling that inhabit the glacier-fed waters, while Rosa leaned toward relaxing in their small, hand-built cabin.
In the end they both suited up in their waterproof waders and went fishing.
"Rosa told me that whatever we do, we do as a couple," Israel smiled and said.
It was a terrific turn of events for the sturdy Army veteran from Colorado Springs, who put in more than 25 years of service before medical retirement. He was injured when he was tossed over 60 feet in the air after a mortar blast pounded his post in Balad, Iraq. That led to recurring bouts with nightmares, memory loss, vertigo and other issues characteristic of post-traumatic stress disorder (PTSD). Both Israel and Rosa admitted that they came to Alaska through Operation Heal our Patriots as a last resort—their last chance at restoring and healing their marriage.
God did that and more. Much more.
A Perfect Plan
On just their second day at the weeklong marriage retreat for combat wounded veterans and their spouses, Israel and Rosa both gave their hearts to Jesus Christ. They were baptized in Lake Clark on Friday.
"We've been going through some really rough times, and when we came here, we both know this was a week we had to make it work or just walk away from each other," Israel said.
"God had his plan for us, and we gave our lives to Jesus."
That plan included God's impeccable timing.
"We applied to come to Operation Heal our Patriots last year, but it didn't work out," Israel said. "Then we applied again this year, and it didn't happen. We didn't know what to do. But someone had to cancel, and we got the call to come."
"This was the perfect time to surrender to God," Rosa beamed. "We are so grateful and happy and appreciate the prayers of the staff here at Operation Heal our Patriots."
Eyes and Hearts Opened
The helping hands and warm hearts of the Samaritan's Purse staff, as well as the kindness of local residents upon their arrival, also played a large role in helping Jonathan and Alex Stephenson of New Braunfels, Texas, experience the love of Christ.
"We were just overwhelmed by the love we saw and felt from the moment we stepped off the plane and were met by so many great people," Alex said. "I was in tears."
Jonathan's left leg had been amputated below the knee after his motorized vehicle was struck by an improvised explosive device in Iraq. The blast also fractured several vertebrae and left him with a traumatic brain injury.
"I can't tell you how much this has brought us together," said Jonathan, a retired Marine sergeant. "We've been just so humbled and blessed to be here. It's opened our eyes in so many ways."
Not only were they brought closer to each other, but they were brought into a new relationship with the Lord. Both surrendered to Christ after requesting a meeting with one of the retired military chaplains who lead the marriage enrichment seminars each week at Operation Heal our Patriots.
"All the beauty and love we saw here made sense," Alex said. "We found out that Someone does love us and that Someone is God. Jonathan and I have talked about faith before, but we didn't give Him the time He deserved. Now, this has brought a whole new shift."
Saving Marriages
The penultimate week of Operation Heal Our Patriots was also a week to remember for veteran Marine Staff Sergeant Tyler Hall of Montgomery, Texas.
After taking shrapnel in his back while in Iraq, Tyler entered a new phase in his life by becoming a Texas law enforcement officer. It was a natural, seamless transition. "I just changed one uniform for another" he said. "I was built to serve and protect."
Tyler surrendered his life to Jesus Christ during his time at Samaritan Lodge and was baptized by chaplains Jim Fisher and Dan Stephens in Lake Clark's chilled waters. "This was a week I will never forget," he said.
Week 15 saw five people come to saving faith in Christ. Five couples renewed their marriage vows, and eight men and women were baptized.
Addressing the couples as they prepared to return home, Franklin Graham emphasized the continuing care they will receive in the months and years to come. "We don't really say goodbye, because we will be following up on you later," Graham said.
"Our chaplains and staff are available to each of you 24/7. We have a reunion each year for all the couples who attend Operation Heal Our Patriots, and I hope you will come and join us. We thank you for your service to the nation, and we remember the 15th anniversary of 9/11, we know that the battle against Islamic extremists is not over."
With the fifth season of Operation Heal Our Patriots concluded for U.S. military couples, 57 people received Christ as Savior and Lord, 82 were baptized, and 75 couples renewed their marriage vows over 15 weeks this year. A 16th and final week remains for Canadian military couples, ending September 16.
Perhaps retired Air Force Staff Sergeant Dustin Heger of Palmer, Alaska, best summed the ministry of Operation Heal our Patriots when he said; "Thank you for believing in the sanctity of marriage. The military has one of the highest divorce rates in the world, and you guys are saving marriages."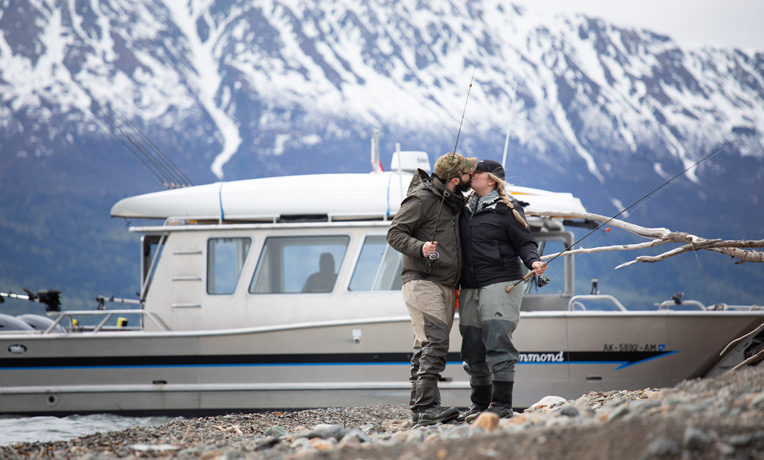 Bless the Marriage of a Military Couple
Operation Heal Our Patriots helps military couples build a strong spiritual foundation during a week of Biblically based workshops, relationship-building wilderness activities, and individual care by our retired military chaplains. We offer all this free of charge to these American heroes as a token of our appreciation for their service and sacrifice. Your gift will help us cover the costs—including transportation, lodging, activities, and long-term Family Care—so that we can help them find hope in the Lord.
---
Operation Heal Our Patriots 013960
Suggested Gift: $60