Samaritan's Purse has deployed experienced staff to support our local partners and country office as the Ebola death toll rises and new suspected cases emerge.
Fight Infectious Diseases
013901
Samaritan's Purse has deployed staff to the Democratic Republic of the Congo, where 83 confirmed cases of Ebola hemorrhagic fever have been identified and 47 confirmed deaths from the disease have been reported, as of Aug. 26. This response supports our country office staff there and others already at work in the region.
Our current focus is on preparedness, and we have provided training and equipment to a hospital in the Democratic Republic of the Congo, a longtime Samaritan's Purse partner through World Medical Mission. In addition, our country office team is also being trained on infection protection and control practices, as well as the proper use of personal protective equipment.
Working with the country's Ministry of Health, Samaritan's Purse field staff will begin community awareness campaigns throughout villages in the region, where fear and superstition related to Ebola can pose additional threats to residents' safety.
Basic training on effective handwashing, establishment of screening facilities at entrances to buildings and health facilities, and education on Ebola's signs and symptoms can help limit exposure and eliminate the spread of infection, according to Samaritan's Purse Medical Technical Advisor Megan Vitek.
Samaritan's Purse is prepared to set up an Ebola treatment center and to deploy additional staff and supplies to support the Democratic Republic of the Congo, if needed.
This most recent Ebola crisis (declared Aug. 1) follows an outbreak in the northwestern part of the nation, which only resolved in late July after claiming 33 lives—more than 2,000 miles west of the current outbreak epicenter. According to the Centers for Disease Control and Prevention, this is the 10th Ebola outbreak in the country since 1976.
Samaritan's Purse brings critical experience with Ebola crisis management and treatment to the Democratic Republic of the Congo, based on our work in Liberia during the 2014 West Africa outbreak. A number of our international staff received Ebola preparedness training at our facilities in Wilkesboro, North Carolina, from Aug. 15-17. Several representatives from the 2014 response were present at this event.
Please pray for the people of Democratic Republic of the Congo and for Samaritan's Purse teams as we work during this latest outbreak.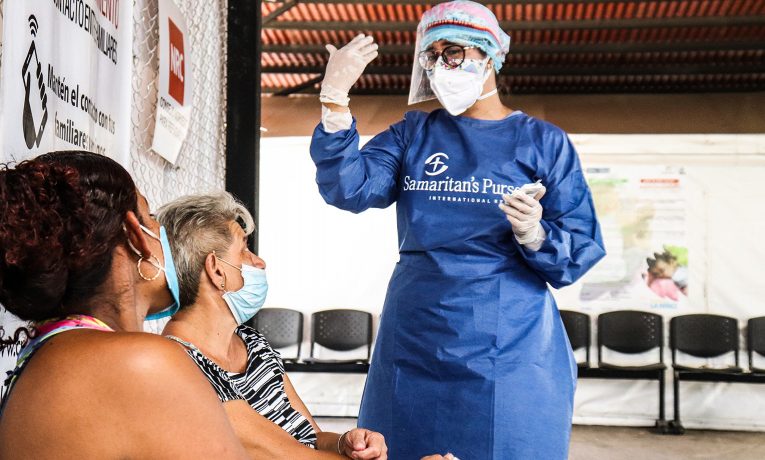 Fight Infectious Diseases
Samaritan's Purse does not shy away from the challenge of infectious disease and provides care and relief in Jesus' Name to those who are suffering. It is critical to be ready to respond quickly when these outbreaks occur, and we often work alongside our worldwide network of missionary hospital partners. We also carry out public health initiatives aimed at preventing the spread of disease and protecting vulnerable populations, which can include providing PPE, clean water, and needed food. Your gift enables us to help people in a variety of ways as communities battle illnesses such as COVID-19, Ebola, malaria, cholera, tuberculosis, diphtheria, or HIV/AIDS.
---
Infectious Diseases Fund 013901