Franklin Graham dedicated 16 homes built by Samaritan's Purse in Mayfield, Kentucky, to the glory of God. New homeowners were overjoyed!
U.S. Disaster Relief
013622
On December 10, 2021, a catastrophic EF-4 tornado sliced through Mayfield, Kentucky, carving up over 1,300 homes, businesses, and churches into heaping mounds of broken bricks, splintered lumber, and twisted metal. Samaritan's Purse quickly responded to the devastation, helping homeowners in Jesus' Name to begin to rebuild their lives in this tight-knit community. More than 2,000 volunteers served more than 700 families during the initial cleanup.
"After the storm, I was here on Christmas Eve and we served a dinner," Samaritan's Purse President Franklin Graham told those at the Sept. 29 dedication of 16 homes in the New Hope Acres community. "We began to look at the despair and the hopelessness that so many people were going through. I was talking to the Lord and asking what can we do, how can we help? How can we help make a difference? God provided the funding and we realized He wanted us to do something. We decided to come here and build 60 homes. We come here today not only to thank God but to dedicate this property, these houses and the families who will be living here, we dedicate them all to God and His glory."
Graham went on to clearly explain how the still-under-construction community got its name. "There were so many people here who had no hope and this is the new hope right here," he said. "And that hope is found in God and His Son Jesus Christ. We wanted a place in this community that spelled out hope."
More than 1,600 additional Samaritan's Purse volunteers have helped with the Mayfield rebuild project so far.
Mayfield Mayor Kathy Stewart O'Nan also spoke at the dedication, acknowledging the many ways Samaritan's Purse has helped her city. "On December 12 [2021], the Mayfield fire chief said to me that Samaritan's Purse was coming and that's an army," she said. "To realize they were headed our way, this army that was going to help us recover, was a comforting thought. And they've been comforting us ever since. This army has become a part of our community. Their footprint will forever be upon us and you will forever be in our hearts."
A Fresh Start
Latasha Hayes and her husband Dennis received one of the newly completed homes. They survived the tornado by huddling with eight other friends and family members in their house. She said it sounded like a train, and she remembers yelling "take cover, take cover, take cover."
After the storm passed, they all stood up. The room they were in was the only one in the house still standing. On one wall, they realized there was a cross still standing. They knew God had protected them. That cross will now take a prominent place in their new home.
"We shouldn't have made it out, so we were blessed to walk out of something so devastating," Latasha said. She and Dennis are now overjoyed for a fresh start in a new family home, which they own free of charge!
Megan Williams, another new homeowner, said she cried and thanked God when she heard that Samaritan's Purse was giving her a new home. "Since the tornado I've felt like I've just been in a race but the finish line kept getting pushed further away," she said. "But now it's here and my shoulders are a whole lot lighter. It was breathtaking when I walked in here today. I had never heard of Samaritan's Purse before, but now I'll never forget y'all. I've gotten close to so many people from Samaritan's Purse. They've been wonderful. The journey's been long but it's worth the wait. I can't say thank you enough to Samaritan's Purse. This house is a blessing. God is good."
Foundations of Hope
All families receiving a new home participated in "Foundations of Hope," a 6-week course designed and facilitated by local Mayfield churches for first-time homeowners to grow in their financial management skills and other aspects of disaster recovery.
Each of the new houses is fully furnished. There are two-, three-, and four-bedroom layouts. Each home has a storm room, which can withstand an EF-5 twister. In addition to the 60 homes in New Hope Acres, Samaritan's Purse is building 21 additional homes in the greater Mayfield area—14 of these houses have already been completed. We are also providing furniture replacement for 100 families and installed 174 in-ground storm shelters capable of withstanding an EF-5 tornado.
Please continue to pray for the people of Mayfield, Kentucky, and for our rebuild teams as they work to get more families back into homes.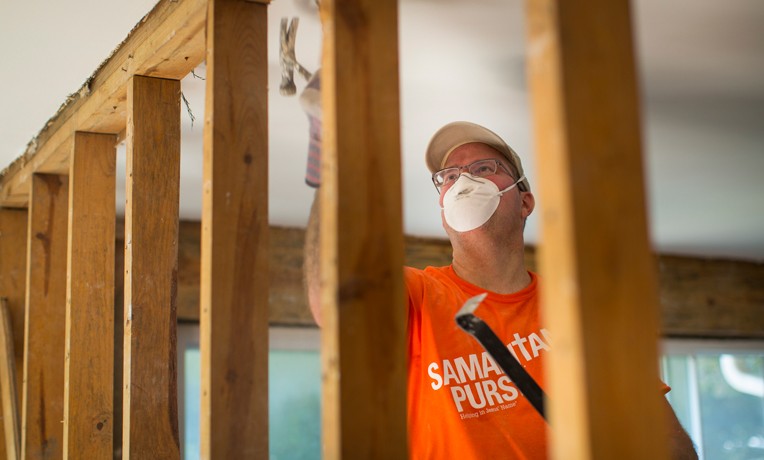 U.S. Disaster Relief
Samaritan's Purse mobilizes and equips thousands of volunteers to provide emergency aid to U.S. victims of wildfires, floods, tornadoes, hurricanes, and other natural disasters. In the aftermath of major storms, we often stay behind to rebuild houses for people with nowhere else to turn for help.
---
U.S. Disaster Relief 013622