The final home dedication in Joplin, Missouri, marks the end of a program that restored hope to victims of the terrible twister that devastated the city two years ago
On May 22, 2011, an EF-5 tornado devastated Joplin, Missouri. The deadly twister carved a wide swath of destruction, taking out whole neighborhoods. Entire house and trees were gone, leaving behind a huge debris field.
Two years later, signs of recovery are everywhere. The city has made amazing progress. The debris is gone, and new houses are sprouting up.
Several of the new homes were either built or repaired by Samaritan's Purse.
We responded immediately after the storm. Over the next six weeks, we organized nearly 6,500 volunteers to help 755 families with debris clearing. The work didn't end when the disaster phase was over. We stayed to rebuild and repair homes for at least 20 families.
On July 19, Lacy Tasker and her son, Davis, moved into their new home. It was the last of 15 homes rebuilt from the ground up. Another eight homes were repaired as part of the project. While our staff has now pulled out of Joplin, the impact of the storm and their work will remain for many years to come.
At the final dedication ceremony, more than 50 people crowded into Lacy's new living room. She was presented with a Bible and journal signed by the staff and volunteers, a special red key to her new house, and a certificate listing all of the costs involved in the construction of her home marked "paid in full" in red.
The gathering seemed like a big reunion. Lacy's family attended, but there were also many others. The office staff and the last week's volunteer teams all turned out, as well as community members involved the project. Many of the others who had received houses also came, rejoicing that the last of their number could now move into her new home. They greeted one another with hugs, revealing the tight-knit community within the Joplin rebuild.
The joy was evidence of God's faithfulness to the storm victims, and a stark contrast to the terrifying moments when the tornado struck.
Lacy and Davis, age 8, lived with her grandmother, who she cared for. When the siren first went off that evening, Lacy said she looked outside and did not see any indication of a tornado. But a moment later the sky outside was black. The twister was hitting and she and Davis had to seek shelter immediately. There was no time to move her grandma, who was blind and bed-bound.
When Lacy stepped out of her basement after the storm passed, she said there was not a soul in sight.
"I felt like the tornado was alive and might come back," she said. "I was in shock, but I prayed to never forget what that moment felt like, having a better perspective on life."
She knew her grandmother had not made it through the storm. The fireplace had fallen onto the bed where she lay.
"It's like God placed His hand over her and just took her home," Lacy said. "She had been praying to go for a long time – not like that, but she was ready."
During the first few months after the tornado, she had a lot of change to deal with.
"Davis got used to seeing me cry," she said. "Change can be really hard and painful—but it can also be good. God makes all things good. He changes people by the tornado. I'm not going to say He sent it, but He definitely used it. God blessed our lives, and we were so grateful – even before we knew that Samaritan's Purse was rebuilding our house."
Lacy found out about the Samaritan's Purse rebuild program from Darlene Harper, a friend who also had her home rebuilt. Darlene encouraged her to apply, but Lacy was not so sure.
"I had a huge, really supportive family," she said. "So I thought I wouldn't turn the application in, because other people needed it more."
But when one of our staff followed up with her, she decided to proceed. Her application was approved, but since she came in toward the tail end of the project, she still was not sure it would actually happen.
"The whole time between my approval and the start of work, I kept waiting for another call saying they couldn't do it … that they had run out of money and were leaving town," she said.
But such was not the case. After 30 work days, Lacy's house reached completion – the fastest rebuild in Joplin.
At times it seemed there was no way to get the house finished before the planned dedication date, but God brought the right people to get the job done. Steve Gahagan, the program manager, said 27 volunteers came the last week, the largest number he had seen during his year at the office.
A handful of those volunteers stayed two weeks. One was Colin Munroe, a pastor from St. Petersburg, Florida. He brought a group from his church the week of July 8, and he felt led to finish out the job.
Munroe said that when he first saw the house, there was no paint on the exterior and the interior had only been partially dry walled. But in two weeks, teams completed both of those steps, painted the interior, laid flooring, and installed the trim, with only a few finishing touches occurring on dedication day.
"It's like a mini Extreme Makeover Home Edition," Munroe said. "It's amazing to see the body of Christ come together in unity to do incredible things. God's power and the unity of the Godhead has been demonstrated through this group."
Gahagan said God worked a miracle to enable the house to have electricity on time. The local utility company initially said it could not come until the following week. So the team started praying—and on Thursday all of the necessary components fell into place.
While Lacy was obviously excited to have a new home of her own for the first time since the tornado, she said the biggest blessing of the whole process was getting to see the servant hearts of the volunteers.
"It's more about giving than about receiving," she said. "God fills up our inner emptiness, and these people have been loving us as God wants each of us to do. We all need help sometimes, and these people have done that."
For many involved, the rebuild did more than provide new homes. It also created a deep sense of community between our staff, volunteers, and the homeowners. Everyone mentioned the relationships that the storm and its aftermath formulated or strengthened.
Gahagan said he had never seen a town recover so quickly from a disaster in his five years on the road with Samaritan's Purse.
"Everyone had a desire to get it done and make it happen," he said. "In no other project have so many of the homeowners been willing to help with the rebuilding of one another's homes. The bonding that has occurred here is definitely a positive outcome of the storm.
"It is always hard to leave friends behind. But I enjoy seeing the keys handed over to the last homeowners. It shows that we have reached completion – that we have done what we came to do."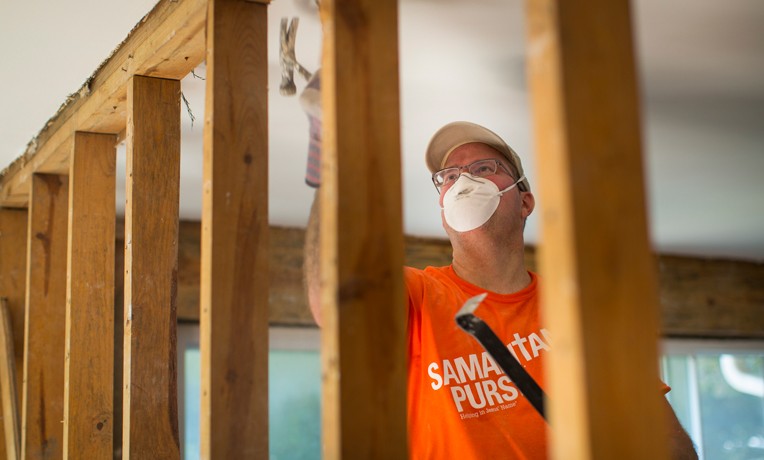 U.S. Disaster Relief
Samaritan's Purse mobilizes and equips thousands of volunteers to provide emergency aid to U.S. victims of wildfires, floods, tornadoes, hurricanes, and other natural disasters. In the aftermath of major storms, we often stay behind to rebuild houses for people with nowhere else to turn for help.
---
U.S. Disaster Relief 013622