Some DeSoto County homeowners are praising God, even in the devastation.
U.S. Disaster Relief
013622
Alonzo and Sarah Lee Thompson were awakened the morning of Jan. 11 when a tornado hit their home and ripped through their community.
"I will never forget it. It sounded like dynamite," Alonzo shared. "I can't explain how it felt, it just happened so quick, and then the lights went out."
In response to devastating storms, Samaritan's Purse urgently deployed teams of volunteers and a Disaster Relief Unit—a tractor trailer stocked with critical relief supplies—to the hardest-hit areas of DeSoto County, Mississippi.
Our team quickly began helping Alonzo and Sarah Lee by clearing debris from their property, removing downed trees, and tarping their roof. The homeowners, both 82 years old and married more than six decades, were grateful for the help.
"God does the fighting for us. We have to get out of the way and let Him be God," Alonzo shared.
With a smile on his face, Alonzo looked out at the volunteers and shared, "It's beautiful. Just like the name of the Samaritan. The priest walked by, the Levite walked by, but the only one that stopped to help was the Samaritan. You guys are the ones doing something. I love that."
Their daughter, Annette, was in the house next door when the storm struck, and she instantly woke up when she heard the tornadoes approaching. Although many people had previously told her to take shelter in the bathroom during a storm, Annette decided to instead sprint for a doorframe in her hallway where she immediately began praying to God.
"I was hollering 'Jesus, Jesus, I rebuke this storm in the name of Jesus,'" Annette shared. "He said and He promises that if we call on His Name, He will protect us."
After the storm passed, Annette joined her parents at the house next door and later returned home to survey the damage. Life-threatening winds ripped her roof away, debris covered the bed she had been sleeping on, and the bathroom where she would have sought shelter was destroyed.
Looking at the hallway where she stood during the storm, Annette remembered the five wooden letters hanging above the doorway, spelling out the Name: J-E-S-U-S. She thanked God and said, "He took care of me."
Samaritan's Purse volunteers helped with yard cleanup for Annette, too, although her home will have to be demolished.
Today, despite losses, the Thompson family continues to praise God for His protection and for sparing their lives from the dangerous storm. Their deep-rooted faith in Christ keeps them trusting God and praising Him for His mercy.
"God is good," Annette said.
Inspired to Serve
Don Breshears and his family were also among at least 200 families overwhelmed by the severe storms and extreme flooding in north Mississippi. Numerous felled trees and debris filled the yard. Quickly responding to their needs, teams of Samaritan's Purse volunteers cleared the damage and helped him recover.
"What brings me to tears is not the damage. It's what you all are doing. The tears I've had are not for my loss. They are for my bountiful gain," Don said, truly grateful for the assistance.
Don and his family have lived on the property since his parents built their first house in 1970. Examining the damage, the family unceasingly praised God for keeping them safe throughout the storm.
As volunteers helped to restore the property, Don personally thanked each one—encouraging them for their dedicated service. At the end of the day, the team gathered together with Don and family to pray and concluded by singing "Amazing Grace."
"This is wonderful," Don shared. "I can't repay you, other than going out and doing the same for someone else. That's what Christ has taught me. [Helping other people] is what we are here for. That's why God put us on this earth, to share His love and to spread it to each other."
Please pray for hurting communities in Mississippi and for our teams of volunteers as we continue to serve families who have lost so much. For more information about volunteering, visit spvolunteer.org.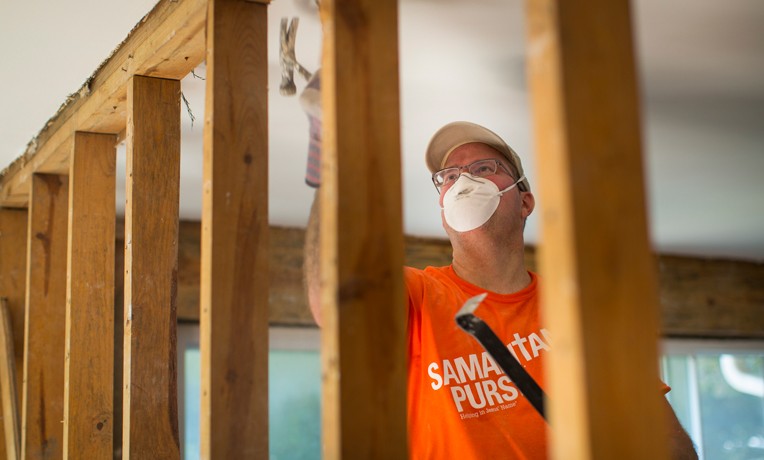 U.S. Disaster Relief
Samaritan's Purse mobilizes and equips thousands of volunteers to provide emergency aid to U.S. victims of wildfires, floods, tornadoes, hurricanes, and other natural disasters. In the aftermath of major storms, we often stay behind to rebuild houses for people with nowhere else to turn for help.
---
U.S. Disaster Relief 013622