Samaritan's Purse has deployed to Shawnee in the wake of violent storms.
U.S. Disaster Relief
013622
Samaritan's Purse has a team and a Disaster Relief Unit (DRU)—a tractor-trailer filled with equipment and tools—deployed in Oklahoma after tornadoes tore through parts of the state on April 19.
The storm system produced more than a dozen tornadoes across the Great Plains, including at least eight confirmed in the Sooner State. Sadly, at least three fatalities were reported. Significant damage was centered around Shawnee in Pottawatomie County. Hundreds of homes and other structures were damaged or destroyed, and power was knocked out for many.
Our DRU arrived in Shawnee on April 21 after traveling from a recently completed deployment in Savannah, Tennessee. Volunteers started work on Saturday, April 22. Our host church is Family of Faith Church, 30 Kin-Ville Road, in Shawnee. Additional volunteer information is available at spvolunteer.org.
As of April 27, more than 120 volunteers have helped more than 50 homeowners. We praise God that three individuals have made professions of faith in Jesus Christ so far during this response.
Samaritan's Purse also continues to work in Arkansas after EF3 tornadoes struck there in late March. We are also responding to flooding in Fort Lauderdale, Florida. We have already completed tornado deployments this spring in Indiana, Tennessee, and Mississippi.
Please be in prayer for all those who are suffering across several states in the wake of violent storms and excessive rainfall. Please also continue to keep our staff members and volunteer teams in your prayers as well.
Note: This story was first published on April 20. It has been updated through April 27-28.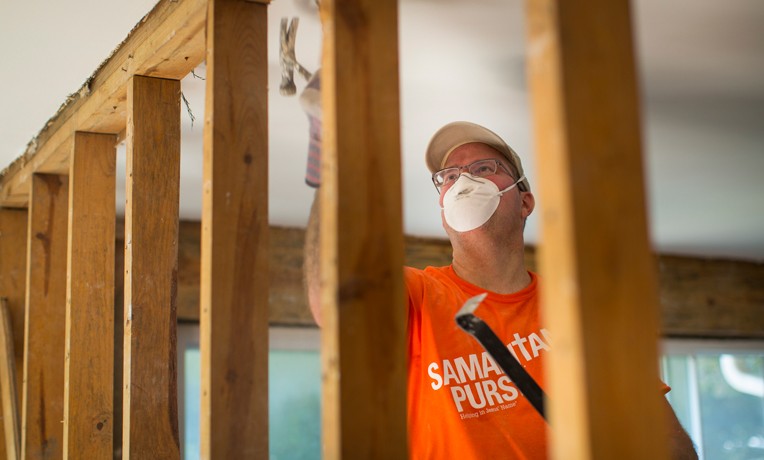 U.S. Disaster Relief
Samaritan's Purse mobilizes and equips thousands of volunteers to provide emergency aid to U.S. victims of wildfires, floods, tornadoes, hurricanes, and other natural disasters. In the aftermath of major storms, we often stay behind to rebuild houses for people with nowhere else to turn for help.
---
U.S. Disaster Relief 013622