Help is on the way for homeowners affected by tornadoes in DeSoto County, Mississippi.
U.S. Disaster Relief
013622
Samaritan's Purse North American Ministries (NAM) is deploying to DeSoto County, Mississippi, where Governor Phil Bryant has declared a state of emergency after two tornadoes caused extensive damage on Saturday morning (Jan. 11). Billy Graham Rapid Response Team chaplains will be joining us on the ground for this response as well.
The National Weather Service reports that the first tornado (southern track) was an EF-1 (86-110 mph) and the second (northern track) was an EF-2 (111-135 mph). DeSoto County, which includes Hernando and Olive Branch, is the second most populous county in the Memphis metro area.
A Disaster Relief Unit—one of our tractor trailers packed with tools and equipment—left NAM headquarters in North Wilkesboro, North Carolina, on Sunday morning and is now in DeSoto County. Samaritan's Purse staff members, in conjunction with local churches, are working hard to prepare an effective response aimed at best helping hurting homeowners.
Our host church is Cornerstone Church in Southaven, Mississippi. Both day and overnight volunteers start Jan. 14.
Strong storms, including multiple tornadoes, felled trees, damaged homes, caused flooding, and killed at least 11 people across the South and Midwest over the weekend.
Please join us in prayer for all those affected by these storms, for our teams, and all those who will be traveling and serving in this relief response.
—
Note: This story was originally published on Jan. 12 and updated on Jan. 13. New information was added regarding the tornadoes in DeSoto County.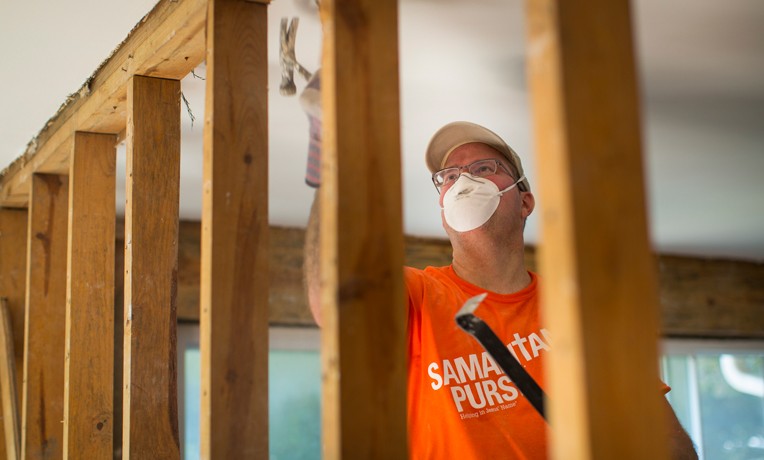 U.S. Disaster Relief
Samaritan's Purse mobilizes and equips thousands of volunteers to provide emergency aid to U.S. victims of wildfires, floods, tornadoes, hurricanes, and other natural disasters. In the aftermath of major storms, we often stay behind to rebuild houses for people with nowhere else to turn for help.
---
U.S. Disaster Relief 013622