Fifty inches of rain fell in 24 hours; now U.S. Disaster Relief is helping homeowners on Kauai. This is our first-ever response in Hawaii.
UPDATE: Local volunteers have started work and those interested in joining us can find out more here. We completed our first work order on May 3.
Samaritan's Purse DC-8 aircraft arrived in Hawaii on May 2, delivering staff and supplies to help homeowners in Jesus' Name after recent flooding. In partnership with community leaders, churches, and local volunteers, U.S. Disaster Relief is working in certain remote communities on the island of Kauai. Tons of supplies are being transferred to trucks and then all-terrain vehicles to reach areas still inaccessible by road.
U.S. Congresswoman Tulsi Gabbard and Kauai Mayor Bernard Carvalho Jr. greeted the airplane on its arrival.
Gabbard said she met Samaritan's Purse President Franklin Graham a few years ago and has kept in touch. She told the audience, "As soon as I got on the phone with him [Graham], within 10 minutes, I was getting a call from Luther Harrison [Samaritan's Purse Vice President of North American Ministries] who was already booking a flight. They got here literally as fast as they humanly possibly could."
Mayor Carvalho also extended his thanks and encouragement. "Thank you for being here," he said. "This is a true example of love and aloha. The coordination, collaboration and cooperation of everyone working together is a wonderful gift to our island."
Pastor Steve Rex of Calvary Chapel North Shore read from Matthew 5 and encouraged volunteers in their work—praying for them and reminding them that they are the salt of the earth and light of the world. "God is behind all of this, and we want to give him all of the glory," he said.
———————
Samaritan's Purse has responded in Hawaii after parts of Kauai were inundated by nearly 50 inches of rain in a 24-hour period in mid-April. After being informed of the need by Congresswoman Gabbard, Franklin Graham traveled there April 26 to see the damage firsthand and begin the arduous task of helping homeowners recover after flooding.
"I've seen the tremendous amount of damage that families in Kauai are facing after torrential rain flooded hundreds of homes, triggered mudslides, and washed out roads," Graham said. "We are here to share the love of Jesus Christ with families in need by helping them physically recover and reminding them that they are not alone."
To increase our capacity on the ground, our DC-8 aircraft flew from Greensboro to Hawaii on May 2 carrying a team of Samaritan's Purse personnel along with a host of tools and supplies to help homeowners in Jesus' Name. We are cleaning out recently flooded houses, sanitizing them, and then helping qualified families to repair their homes. Supplies on the plane included heavy-duty plastic tarp, generators, chainsaws, and other relief equipment.
Kauai Mayor Carvalho personally welcomed Franklin Graham and Samaritan's Purse to assist in recovery efforts on April 26. (He also greeted our plane's arrival on May 2 as noted above.)
Graham's ministry played a key role in the mayor's salvation. In 2015, God used a reporter's question and the Billy Graham Evangelistic Association Internet evangelism ministry to bring Carvalho to faith in Jesus Christ. A few months later the mayor flew to Honolulu to attend Franklin Graham's 2016 Decision America event where he was further encouraged in his faith. Read more about this story on the BGEA web site.
We praise God that there were no reports of fatalities in the flooding, but the issues that some island homeowners now face are daunting. As they struggle toward recovery, pray that they would experience the love of Christ as our staff and local volunteer teams come alongside them.
Hawaii marks the 36th state where U.S. Disaster Relief teams have responded.
Note: A Will Graham Celebration, presented by the BGEA, is planned for Hawaii in March 2019.
Editor's note: This article was originally published on April 30, then revised and updated on May 1-4.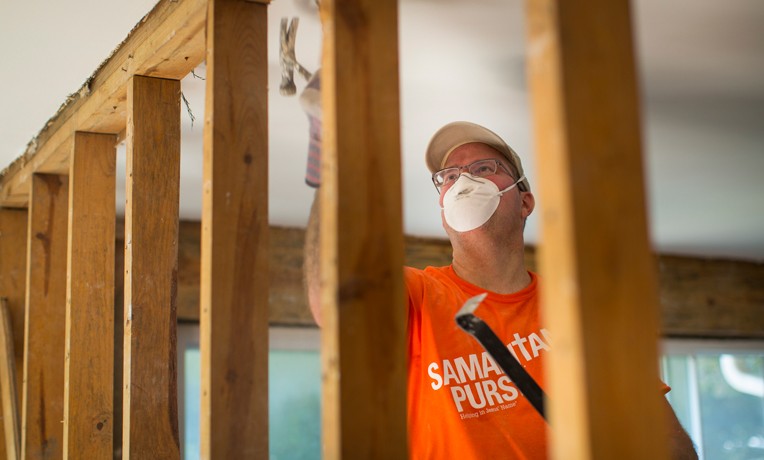 U.S. Disaster Relief
Samaritan's Purse mobilizes and equips thousands of volunteers to provide emergency aid to U.S. victims of wildfires, floods, tornadoes, hurricanes, and other natural disasters. In the aftermath of major storms, we often stay behind to rebuild houses for people with nowhere else to turn for help.
---
U.S. Disaster Relief 013622