As wildfires have devastated parts of both states, Samaritan's Purse has deployed to two areas to help homeowners in the wake of these terrifying blazes.
U.S. Disaster Relief
013622
Samaritan's Purse is responding in California and Oregon as an ongoing rash of deadly fires has engulfed much of the West Coast, killing more than 30 people.
Our staff and a Disaster Relief Unit—a tractor trailer filled with relief supplies and equipment—were deployed Sept. 12 from our West Coast Ministry Center in Fullerton, California, to Santa Cruz County, where dry lightning strike fires have so far burned more than 86,000 acres. The terrible blaze, known as the CZU Lightning Complex of fires, began August 16 and has destroyed more than 900 homes.
Our volunteers are helping homeowners in various ways, including by searching through the ashes to recover valuables and other meaningful items.
Samaritan's Purse President Franklin Graham recently expressed heartbreak over the losses many have suffered as a result of these West Coast fires—including the death of a 1-year-old toddler killed as the family was fleeing the blaze.
"Small towns have been wiped out, and some of the blazes are so strong that firefighters have had to retreat. Many people have lost their homes, and some have tragically lost family members," Franklin said in a recent Facebook post. "Please pray for the many devastated families and for protection for the dedicated firefighters battling these blazes day in and day out."
Samaritan's Purse will also be responding to wildfires in Jackson County, Oregon, where about 3,000 homes have been burned. Disaster Relief vehicles and equipment are on the way to the area. Volunteers will begin working as soon as local officials deem it safe to do so, as the area is currently closed and search and rescue efforts are still underway.
LEARN MORE ABOUT VOLUNTEERING in California and Oregon by going to SPvolunteer.org.
Samaritan's Purse teams will be joined by Billy Graham Rapid Response Team chaplains as we together provide physical relief, emotional care, and share the hope of the Gospel among these devastated communities.
Our base of operations in California will be:
Felton Bible Church
5999 Graham Hill Road
Felton, CA 95018
Overnight housing will be provided at the Mount Hermon Christian Conference Center.
Our base of operations in Oregon will be:
New Life Church of the Nazarene
1974 E McAndrews Road
Medford, OR 97504
Please continue to pray for the many hurting people affected by these devastating wildfires.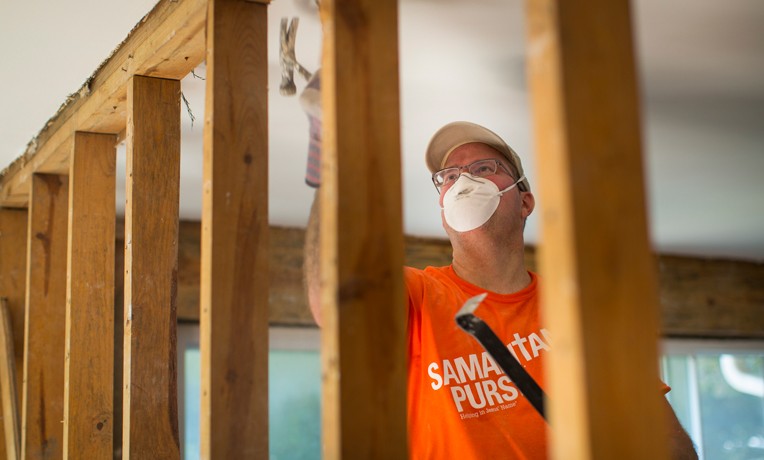 U.S. Disaster Relief
Samaritan's Purse mobilizes and equips thousands of volunteers to provide emergency aid to U.S. victims of wildfires, floods, tornadoes, hurricanes, and other natural disasters. In the aftermath of major storms, we often stay behind to rebuild houses for people with nowhere else to turn for help.
---
U.S. Disaster Relief 013622