U.S. Disaster Relief teams are already hard at work cleaning up tornado-damaged homes and properties in Selma, Alabama, and Griffin, Georgia.
U.S. Disaster Relief
013622
Samaritan's Purse teams are on the ground in Selma, Alabama, and Griffin, Georgia, after a violent and deadly storm system swept across the Southeast on Thursday night, Jan. 12. Two Disaster Relief Units—tractor trailers stocked with equipment and supplies—are in position in the two locations.
Volunteers started work in both Alabama and Georgia on Sunday, Jan. 15.
SIGN UP TO VOLUNTEER: ALABAMA | GEORGIA
"On Thursday, communities across the Southeast faced deadly tornadoes that caused massive destruction," said Franklin Graham, president of Samaritan's Purse. "My heart breaks for the families who have lost loved ones and those who are faced with having to pick up the pieces of their lives. Please join me in praying for these suffering families and for our Samaritan's Purse teams who are responding in Jesus' Name."
The Jan. 12 storms produced dozens of tornadoes, including devastating twisters rated at EF-2 (at least 111 mph) and EF-3 (at least 136 mph) by the National Weather Service.
In both Alabama and Georgia, our staff members are working with local emergency management and with local church leaders as we begin to send out volunteer teams to help clean up neighborhoods. Our host in Selma is Westwood Baptist Church, and our host in the Griffin area is Oak Hill Baptist Church.
Samaritan's Purse volunteers help in Jesus' Name, clearing trees and debris from yards and homes and tarping damaged roofs. Billy Graham Rapid Response Team chaplains have also deployed to these two areas. They are working in conjunction with volunteer teams and throughout the communities to provide spiritual encouragement and emotional support to residents and homeowners.
The work we do in Alabama and Georgia will open doors for the Gospel of the Lord Jesus Christ. Please pray for the many hurting people in this region and for the many volunteers who will serve as the hands and feet of Jesus during these difficult times.
[Note: This story was published on Jan. 13 and updated on Jan. 14 and 16.]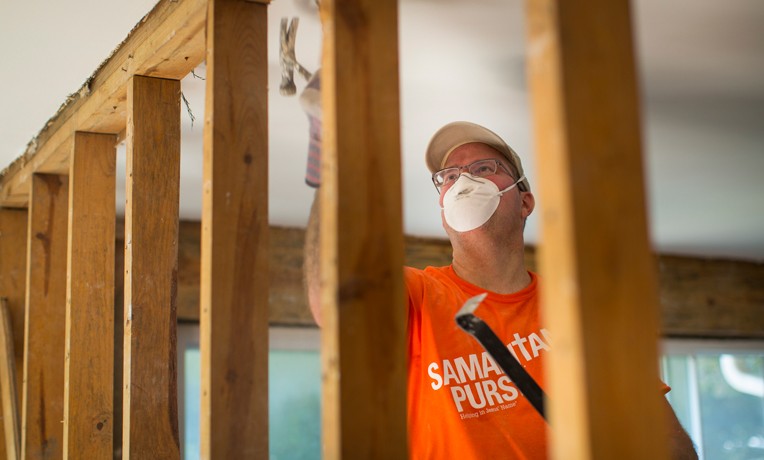 U.S. Disaster Relief
Samaritan's Purse mobilizes and equips thousands of volunteers to provide emergency aid to U.S. victims of wildfires, floods, tornadoes, hurricanes, and other natural disasters. In the aftermath of major storms, we often stay behind to rebuild houses for people with nowhere else to turn for help.
---
U.S. Disaster Relief 013622