U.S. Disaster Relief teams are in Hawaii cleaning out flooded homes in Jesus' Name.
UPDATE (May 14 and May 17): Samaritan's Purse is also now supporting relief efforts on the Big Island (Hawaii) in light of recent volcanic eruptions. We are distributing thousands of half mask respirators that filter both particulates and sulfur dioxide gas. Residents have already expressed their relief and thanks upon receiving these items. In addition, Billy Graham Rapid Response Team chaplains are ministering to the displaced.
UPDATE from the field (posted May 8): We were able to complete a tarp job today (May 7) between the rain showers. It was a great time of ministry for the team as they diligently worked to cover the home. In the process, both the husband and wife accepted Jesus as their Lord and Savior. What a blessing to be present as two more were added to the Kingdom of God today.—Shannon Daley, program manager
The tropical island of Kauai normally receives plenty of rainfall. But the mid-April storm that swept through the North Shore was unlike anything residents had ever experienced.
Up to 50 inches of rain fell in 24 hours, causing flash flooding and dangerous mudslides in the mountains. The main highway, which provides the only access to several beach communities, was rendered impassable due to mud and washouts. Hundreds of residents were cut off from the rest of this island.
Like many residents of Hawaii, Rayven Hockett is no stranger to wet weather and even flooding, but this storm was different. Thunder and lightning, a rarity on the island, rocked the town of Hanalei as rain poured down. Overcome by the force of the storm, Rayven prayed for safety and watched as her backyard turned into a raging river. It was too late to evacuate so she retreated upstairs and hoped that her house would be able to withstand it.
Finally the storm calmed and daylight broke. Rayven went downstairs to see the damage and found her favorite room—her art studio—in complete disarray. She was heartbroken.
Boxes of jewelry-making supplies floated and spilled out in the water. Tools were covered in mud, and standing water filled the room. The studio, which used to be her place of refuge, was now a visual representation of the disaster she was facing.
"I felt helpless. I had no idea what to do. There was no physical way I could deal with the damage," Rayven said. "But every time I didn't know what to do, God sent someone to help me."
Little by little, Rayven's hope began to be restored. Family members flew in from the mainland to organize her art studio, and a church member repaired her car.
A mold test confirmed her fears, however, and revealed there was even more work to do. Her walls needed to be torn out and home sprayed with mold suppressant. She was disheartened, but God again proved faithful. A team of Samaritan's Purse volunteers was on site and eager to help.
"But every time I didn't know what to do, God sent someone to help me."
"Without Samaritan's Purse, my house would have been destroyed, and I wouldn't have had money to deal with it," Rayven said. "Frankly, I wouldn't even have known it was that wet and needed to be repaired."
"I feel like God's been helping me. I just have to have faith that I'm going to somehow get to the other side of this."
Isolated on the Island
About 30 minutes from Rayven's home in Hanalei lies the town of Wainiha. In the first two weeks after the storm, the small coastal community was only accessible by water or air, due to landslides and washouts.
U.S. Disaster Relief
013622
Kauai immediately rallied together to help Wainiha: boating in food, water, medical supplies, and other necessities while evacuating those who needed medical attention. Megan Wong, who grew up on the island, quickly began organizing the logistics—identifying needs and coordinating ways to meet them.
Nevertheless, they felt overwhelmed by the number of needs and lack of resources. It was at this time that U.S. Congresswoman Tulsi Gabbard informed Samaritan's Purse President Franklin Graham of the situation. He quickly traveled to Hawaii on April 26 to see it firsthand and determine how we could help.
Not even a week later, on May 2, Samaritan's Purse airlifted tons of chainsaws, tarp, mud-out kits, and cleanup supplies on its DC-8 cargo plane.
Samaritan's Purse is linking arms with the local community—committing to not only help them with immediate disaster relief but to also repair homes and support families as they begin to recover.
Bridging the Gap
Johanna Ventura is one Wainiha homeowner benefitting from the work of Samaritan's Purse. She describes her house as being built on an island between two rivers. Although she knew it was a flood zone, she never expected the water to rise so high. Wainiha, which translates to "angry water," lived up to its name that night.
Assist Homeowners in Hawaii
Johanna was shocked to find out that an organization from North Carolina cared enough about Hawaii to not only show up, but also to airlift supplies and disaster response specialists from the mainland to help her.
As a team of Samaritan's Purse volunteers pulled out flood-soaked drywall, removed flooring, and scrubbed walls with a mold suppressant, she was humbled. "I never knew how much volunteer organizations were the first responders," she said. "You all are the first boots on the ground."
Next, Samaritan's Purse will assist Johanna with permanent repairs by reinstalling drywall and repairing her roof.
"I would never have asked Samaritan's Purse for help, but you all just showed up," Johanna said. "On the surface, there is a lot that divides us, but now I realize that there are a lot of people who are willing to look beyond differences and just help."
Megan Wong continues to coordinate relief between churches, families, and relief organizations in Wainiha. A Christian, Megan believes that the disaster has opened up her community. "It's brought our community together to share God's love," she said. "We are putting our money where our mouth is and letting God's light shine through us without even saying anything."
Please pray for Samaritan's Purse volunteers as they strive to be the hands and feet of Jesus. Together with the local church, Samaritan's Purse wants to provide physical relief while sharing the hope of the Gospel with families who are hurting.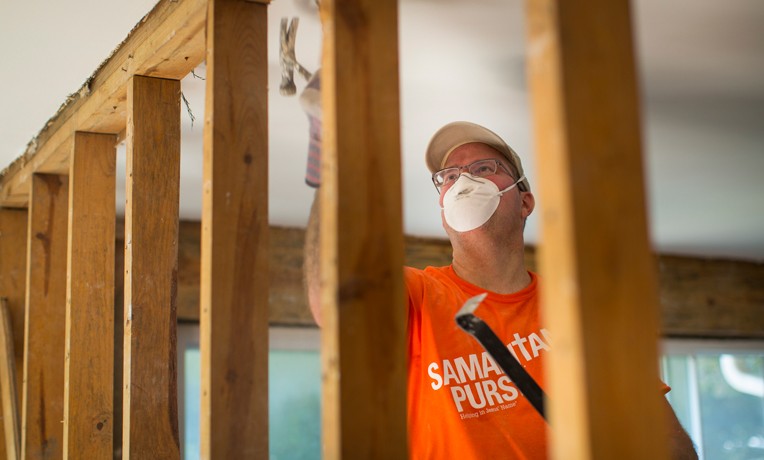 U.S. Disaster Relief
Samaritan's Purse mobilizes and equips thousands of volunteers to provide emergency aid to U.S. victims of wildfires, floods, tornadoes, hurricanes, and other natural disasters. In the aftermath of major storms, we often stay behind to rebuild houses for people with nowhere else to turn for help.
---
U.S. Disaster Relief 013622