We are responding in Jesus' Name after tornadoes ripped up northern Alabama.
Samaritan's Purse staff are in Alabama along with two specially equipped disaster relief units—tractor trailers stocked with tools and relief supplies—in response to tornadoes that hit on Monday night, March 19.
U.S. Disaster Relief
013622
One relief unit is set up at Southside Baptist Church in Southside, just south of Gadsden. Day volunteers started March 21. The second unit is based at First Baptist Church in Jacksonville. Day volunteers began working on March 23.
"We want to provide physical assistance while also reminding families that God loves them and they are not alone," said Franklin Graham, president of Samaritan's Purse.
Volunteer with Samaritan's Purse
We are mobilizing volunteers from across the country to help families start to pick up the pieces and recover from the storm. Volunteers will clear debris, remove downed trees, tarp roofs, and salvage homeowner's personal belongings.
Significant Damage
Severe storms, spawning multiple tornadoes, tore through the Southeast and left a trail of destruction in their wake—especially in northeastern Alabama.
"There has been significant damage in parts of Alabama," Governor Kay Ivey said Monday night in a statement. "We are sending state resources to those affected areas."
Fierce winds damaged hundreds of homes and other buildings throughout Alabama. Jacksonville State University in Jacksonville, which was mostly closed for spring break, took a direct hit from an EF3 tornado. There was extensive roof damage to the school's Pete Mathews Coliseum and to several apartment complexes and dormitories. Approximately 3,800 addresses were affected.
"The town looks pretty bad right now," interim fire chief Keith Kadle told news sources. "Had a lot of students been in those apartment complexes and dorms, it would've been lots worse."
Chaplains from the Billy Graham Evangelistic Association's Rapid Response Team are working alongside Samaritan's Purse to provide emotional and spiritual encouragement.
Please pray for families and individuals affected by these storms. And pray for our teams as they assess damage and determine how we can best minister to the physical and spiritual needs of homeowners.
Note: This article was originally published March 20 and has been updated through March 23.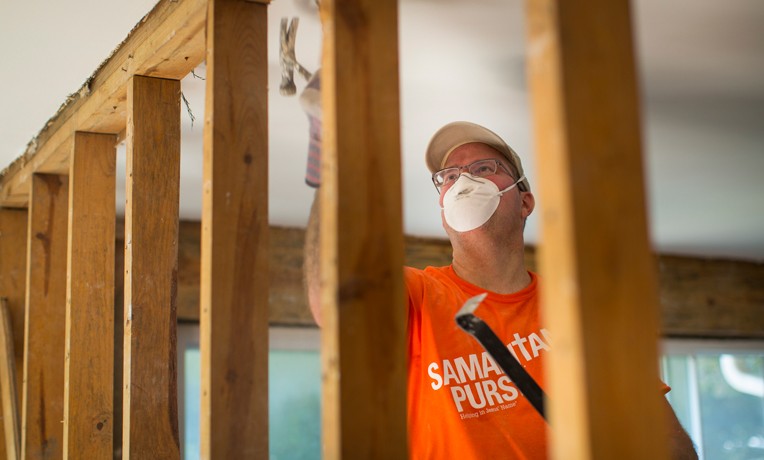 U.S. Disaster Relief
Samaritan's Purse mobilizes and equips thousands of volunteers to provide emergency aid to U.S. victims of wildfires, floods, tornadoes, hurricanes, and other natural disasters. In the aftermath of major storms, we often stay behind to rebuild houses for people with nowhere else to turn for help.
---
U.S. Disaster Relief 013622