Samaritan's Purse volunteer teams are at work in Whatcom County after terrible flooding. More volunteers are needed.
U.S. Disaster Relief
013622
Early November storm clouds rolling into northwestern Washington did little to alarm residents of Whatcom County of any danger. After all, minor flooding is fairly common for that part of the state.
By the morning of Nov. 15, though, the area had received 4.5 inches of rainfall within 36 hours, causing widespread flooding as Lake Whatcom overflowed. Hundreds of homes were damaged in Whatcom County by the powerful deluge.
Samaritan's Purse has been on the ground since mid-November, and volunteers have so far helped about 100 families clean up their homes and properties. Our teams are assisting these hurting homeowners in Jesus' Name to remove debris and salvage personal belongings while bearing witness that there is hope to be found in the Gospel of the Lord Jesus Christ—even in the midst of tragedy.
"I'm still figuring out what's next; this is new," said Tony Chunkapura, weary after a long day of working with our volunteers and searching for anything of value to salvage.
When the floodwaters began to creep toward his home, Tony was confident the protective sandbags he'd placed along the perimeter of his property would be a sufficient barrier. The waters easily overcame this emergency measure.
Around 2 a.m. he realized he was in trouble. He frantically called friends, then he evacuated while it was still possible with his dog and a few personal items. He watched floodwaters fill the house as they fled.
Where Do You Turn?
Three days later Tony returned to the soggy ruins of his home. He wasn't sure what to do next.
"I didn't know who to turn to or where to get help," Tony said.
That's when he started hearing about Samaritan's Purse helping several others in the community.
A few days later, more than two dozen Samaritan's Purse volunteers arrived on his street.
They began tearing out damaged sheetrock and flooring and removing debris from Tony's home. This included digging under his house to remove large amounts of flood-soaked insulation fallen into the crawl space.
"It was non stop. Non-stop work, non-stop asking me 'what can we do,'" Tony said, relieved at the selfless service the volunteers provided. "I feel much better today. I could not have done this one my own."
Please pray for Tony and the many hurting homeowners in Whatcom County who are picking up the pieces of their lives following the loss of their homes and so much else. Please also pray for Samaritan's Purse staff and volunteers serving them. More volunteers are needed in Washington and in other locations where North American Ministries is currently serving. Please find out more at spvolunteer.org.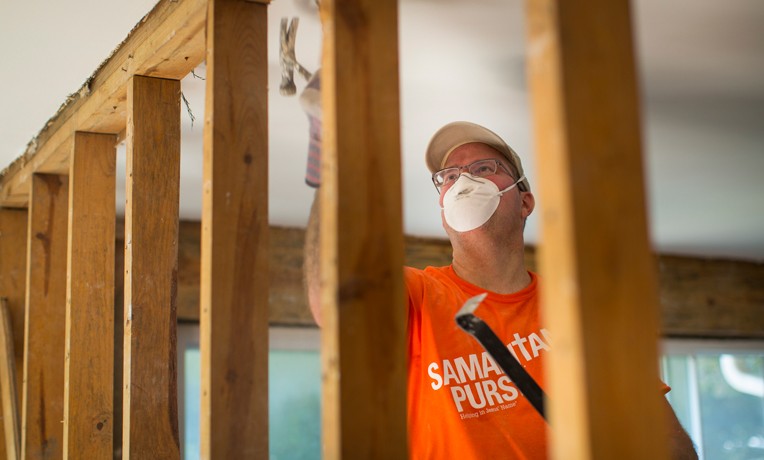 U.S. Disaster Relief
Samaritan's Purse mobilizes and equips thousands of volunteers to provide emergency aid to U.S. victims of wildfires, floods, tornadoes, hurricanes, and other natural disasters. In the aftermath of major storms, we often stay behind to rebuild houses for people with nowhere else to turn for help.
---
U.S. Disaster Relief 013622