A woman affected by flooding in Mozambique receives materials from Samaritan's Purse to help her family rebuild their lives
The water was going to reach their home. The torrential rains in southern Mozambique had overflowed the Limpopo River, and much of the region was feeling the effects. Ivone Machaiele, her husband, and her five children had just finished eating dinner when they received the message that the nearby town of Chokwe had started flooding. They ran to the canal by their small, tin roof home and saw the water was gushing over.
Give
Machaiele's family tried to stow some of their belongings in safe areas before fleeing to the nearest road. There, they waited with their livestock for transportation to Hokwe, the nearest displacement camp.
HELPING FLOOD VICTIMS: Samaritan's Purse provided clean water and other aid after heavy rains created catastrophic conditions.
Hokwe was an unofficial camp consisting of around 8,000 people spread out across eight schools. There were only three latrines and one well to serve the entire area. The Machaieles squeezed into one of the schools with hundreds of other people. For four days, they lived in close quarters as the water continued to lap around the region.
"The most difficult part was the number of people that were around us, and it just created many difficulties there as well because of the amount of people and the lack of resources," Machaiele said.
After the fourth day, the family decided to return to their home to assess the situation. When they arrived, they found standing water inside in the house. The dirt floor and the area outside was squishy with mud.
They realized their house still was not livable, but they couldn't return to the camp.
"The problem was that we brought some of our livestock with us to the camp in Hokwe, but the people of Hokwe didn't want to keep us there because our animals were destroying some of the landscape and the crops over there," Machaiele said. "So we felt very much obligated to stay in the situation where our houses were still flooded because we didn't have anywhere else to keep our livestock."
Machaiele and her family moved into a neighbor's home that was less damaged. The neighbor didn't have extra room or necessities, but she was able to provide a roof.
More than a month later, the water is still standing in the Machaieles' home. Worst of all, they have no possessions left.
"Our biggest challenge was food," Machaiele said. "We came back and we had nothing to eat, and we had nowhere to go to get food. The next challenge was that there were many mosquitoes here because of the floodwaters and nothing to cover up with. We slept at night with no covers, and our children suffered because of the situation."
Samaritan's Purse approached the leaders in Machaiele's community to get a list of people who needed help. Machaiele's family was put on the list, along with hundreds of others. The family received a tarp, blankets, and a bucket full of water treatment solution, mosquito nets, and other necessary items.
One of the Christian leaders in the area, Agostino Chipanga, was also affected by the flooding. He was excited to see Samaritan's Purse in his community, and he immediately saw that the importance of the work extended beyond physical relief.
"For me to experience firsthand the message of Samaritan's Purse and to know that there are people following what the Bible says and following the example that Jesus sets in the story of the Good Samaritan has been the biggest help for me in this situation," he said. "With the physical needs of the community being met, the Word has power, and we know that God is taking care of us because now people who had absolutely nothing, now at least they have a small tent to sleep under and a mosquito net so they don't get bit at night and we can sleep in peace."
After the distribution, Machaiele carried the bucket and tarps on her head down a narrow dirt path to her home. She met her children along the path, and they followed her home. Everyone wanted to hold the items. Although their home still has a bit of water in it, they can now sleep comfortably and begin to get back to their normal lives.
"Even these small things have helped so much and given us so much hope," she said.
As Samaritan's Purse left the community, it was obvious that the work is far from complete. Recovery will take many months. As efforts move from relief to recovery in Mozambique, our staff on the ground and people who are still displaced need prayers and support.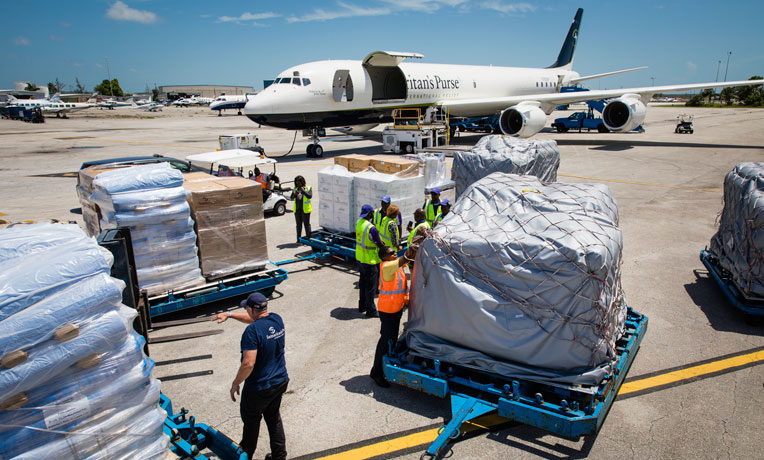 International Emergency Relief
When natural disasters strike or armed conflict causes people to flee, Samaritan's Purse responds quickly to bring relief to those in urgent need. We can provide food, clean water, and shelter, among other necessities. One way we help in disaster situations is by handing out "family survival kits" that include warm blankets, buckets with water filters, cooking utensils, soap, and other daily essentials. For just $45, we can provide a lifeline to a family that has lost everything, to help them get back on their feet.
---
International Emergency Relief 013310
Suggested Gift: $45