Students from Cornell University served with Samaritan's Purse in Tennessee to help homeowners recover from a devastating ice storm.
U.S. Disaster Relief
013622
Spring break is a college tradition that extends back to the 1930s. It's a chance for students to kick back, relax, and take a well-deserved break from their studies, typically by laying in the sand and soaking up the sun at a warm beach or by taking an adventurous road trip.
One group of 15 students from Cornell University decided on a road trip, but their destination wasn't a sunny coastline, majestic mountain range, or even a visit back home. They drove 16 hours from Cornell's campus in Ithaca, New York, to Memphis to volunteer with Samaritan's Purse.
Their goal was to help hurting homeowners recover from a brutal ice storm that swept through western Tennessee in early February. Thousands of tree limbs snapped under the weight of sheets of ice that were nearly a quarter of an inch thick. Affected residents—many of them elderly—were left with damaged roofs that needed repair and downed trees and branches strewn across their property.
Two months after the initial devastation, Hudson Tumey, a 19-year-old freshman at Cornell, found himself hauling tree limbs to the curb from Mary Newberry's backyard.
"I want to use the gifts God has given to me to help people, love people, and give them hope," Hudson said. "Jesus could have done anything, but He decided to serve and love others. You can go and have fun with your friends at the beach and those who are doing that think they're having fun, but I'm having more fun. I find it more fulfilling to serve."
Mary, 71, couldn't believe that college students would spend their spring break to help people they don't know and may never see again. "Just when I was about to give up hope, these students arrived," she said. "God put it in their hearts to help me, and they have blessed my life. I'm so grateful that they stopped and took time for me."
Bringing Comfort and Showing Compassion
When the students arrived at Claude Wirt's house, the 55-year-old Memphis native was in tears. His beloved Brindle pitbull had died the day before. Claude, who suffers from nerve damage caused by a dislocated shoulder, wanted to bury the dog in his backyard but didn't have the strength to do it. Hudson and fellow student Kaitlin Kelly volunteered to dig a grave and held a small burial service for the pet.
"I'm so thankful these students are using their time to help other people like me," Claude said. "You can't beat that. They're a blessing."
After the brief service, and after the students removed dozens of tree branches and other debris from Claude's yard, his parents and sister drove up. The students prayed for the family and gave warm hugs to Claude's 81-year-old mom, Rosie, who was grateful for the comfort they brought to her son. It was moments like this that were especially meaningful for Valerie Hu, a 21-year-old sophomore from San Francisco.
"I'm excited to be able to share the love of Christ both through the practical work we're doing and also through the conversations we're able to have with the people we're serving," Valerie said. "Connecting with the homeowners, that's the most important thing, and bringing the Good News of Jesus Christ to them."
The Right Decision to Volunteer
Carleton Perkins, a physics major, struggled with whether he should come on the trip because he has an important exam right after the break. But after serving just one day in a couple of Memphis communities and seeing the impact he and his fellow students were making, he knew he made the right decision to volunteer.

"I've seen so much joy from everyone, even after they've gone through such a tough time," he said. "It's really tugging on my heart. Jesus is the reason we're here to show these homeowners the love He shows to us."
Another student, Hannah Guan, said she came on the trip because she wanted to serve God in a place outside of her comfort zone. "I wanted to encounter Jesus through going to a different place and spreading the Gospel," she said. "And I wanted to grow closer to my brothers and sisters in Christ at Cornell, and this was a great chance to do that."
Most of the students didn't know each another before the trip, but now they are the closest of friends, having experienced not only a thousand mile car ride together but having shared something much more meaningful—being the hands and feet of Jesus to those in need.
"Through serving, we are growing closer to each other and closer to God. And we're also just having a great time," Hudson said. "We're now all best friends. This is a great way to build community."
Glenn Asuo-Asante, a recent Cornell graduate who is currently an intern with Cru, the Christ-centered college ministry that the students are part of, also made the trip and said he couldn't think of a better way to spend spring break than to share Jesus' love with people and serve them.
"Jesus calls us to go and make disciples of all nations," he said. "And the Bible assures us that the feet of those who bring the Gospel of peace are beautiful, so we go and do what Jesus has called us to do. For example, yesterday we worked at this woman's house and all she wanted was for us to help maintain her backyard like her husband did who died a few months ago. Our little acts of kindness helping her clean her yard allowed us to honor her husband and share Jesus' love with her. That's what it's all about."
Samaritan's Purse volunteers have served the Memphis community since Feb. 9, shortly after the ice storm struck the region. We praise God for allowing us to help over 600 homeowners thus far and that 35 of them have trusted Jesus Christ as their Lord and Savior.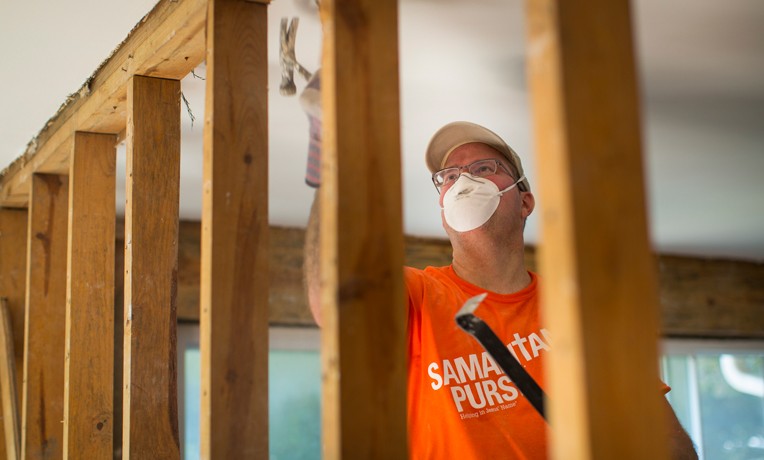 U.S. Disaster Relief
Samaritan's Purse mobilizes and equips thousands of volunteers to provide emergency aid to U.S. victims of wildfires, floods, tornadoes, hurricanes, and other natural disasters. In the aftermath of major storms, we often stay behind to rebuild houses for people with nowhere else to turn for help.
---
U.S. Disaster Relief 013622