Volunteers are helping in Jesus' Name as eastern Kentucky faces another long road to recovery after deadly storms.
U.S. Disaster Relief
013622
Ronnie and Holly Banks piled into the living room with their boys and dogs to watch a powerful storm roll across Breathitt County, Kentucky, on July 28. Streaks of lightning lit up the overgrown field of an abandoned drive-in movie theater across the way.
When they nodded off it was raining, and it was raining when they woke to a whimpering dog. Thunder rocked everything. And it continued to pour—for hours.
"Like somebody was dumping a bucket out everywhere," Ronnie said. "Just buckets and buckets."
Ronnie, a National Guardsman, received texts from his unit to meet at 0500 to prep for rescue efforts—a summons the couple were both expecting after a similar situation in last year's floods.
What they didn't expect was that Troublesome Creek, a narrow channel just down from their home, would soon rise to dangerous levels along their street. As Ronnie left, the streams he passed, including that one, were still relatively low.
"I wasn't too worried," he recalled. "They were projecting 38 feet. Last year it hit 39 feet and it didn't touch these homes. So I just loaded up like normal and went to work."
But he hadn't received the updates from the floodwater trackers or from the armory since very early that morning. With cell service out in the area, Ronnie's last message was to join up with his unit, but he saw nothing about the growing severity.
Only a couple of hours later, just before sunrise, the water started coming into the home.
By the time he heard the news—that the water had risen and rescues were happening on his side of town—he couldn't get back home. He was blocked by water and law enforcement at every point and had no way of contacting his wife.
"We thought we had more time. When I heard it was flooding near our home, there was already water up over the roads near the armory. I couldn't even call or text Holly," Ronnie said. "All I could do was pray. I had to put my family in God's hands."
By that time, a neighbor had come by and helped the family scramble to higher ground on a nearby hill. An hour after that, a former fellow Guardsman and friend of Ronnie's happened to be in their neighborhood in a canoe searching for stranded people. It was an answer to prayer as they made their way to safety.
Their home—which they had just moved into a couple months before—was under at least four feet of water.
Need Any Help?
"When we finally got back home, we couldn't even open the door," Ronnie said. "The floodwaters had thrown everything around the house. The couches and refrigerator were blocking the back door. There were 2-3 inches of mud all through everything. It was a big mess."
The couple began to find any belongings that might have survived and began cleaning up what they could, while also seeing what neighbors needed help. Within a day or so of returning, they were surprised by the vehicle coming down their road and the question from the guy inside.
"We were just doing what we could to save the house when I saw Samaritan's Purse come driving down," Ronnie recalled. "They stopped here in front of the house and said, 'Do you have anybody to help you?'"
The Bankses signed up and one of our volunteer teams soon came out to work. Their family was among those whose homes required extensive cleanout, with belongings moved to the road, walls removed ceiling to floor, and flooring thrown out as well.
Our staff and volunteers have been helping homeowners in Breathitt and Floyd counties since just after the storm. We will stay for weeks to come, offering both physical assistance and spiritual comfort in Jesus' Name.
Heartbreaking Scenes
This 2022 round of flooding in eastern Kentucky was the worst flooding in the region's recorded history. It claimed 39 lives and inundated hundreds of homes under feet of water.
Sadly, just last year, in 2021, terrible floods also devastated the area. Samaritan's Purse relief teams responded to that disaster with a weeks-long cleanup, followed by a months-long rebuild, which was just completed this summer. Our rebuild team had just departed with a final piece of heavy equipment from the still-recovering region when the new storm hit.
Now volunteers are once again acting as the hands and feet of Christ in eastern Kentucky. First time U.S. Disaster Relief volunteer Phil Miller, a retired pastor, said it's heartbreaking to see the destruction.
"It was shocking to see layers of mud in people's homes and to see their belongings, the entire insides of their homes, piled up outside," Miller recounted as he dismantled the dilapidated railing on one of the six houses that were flooded along Speedway Road.
"It was also a privilege to do something tangible to help them and serve with others. I was blessed by being able to help these hurting people and also by getting to know them and experience their faith in the midst of so much loss."
More than 700 volunteers so far have joined our effort across the two eastern Kentucky counties where hundreds of homeowners have requested assistance.
Resilient Faith
After three days of work, volunteers had cleared the Bankses' home of mud and debris. Any salvageable belongings were packed away or set to dry outside. Teams had sprayed for mold and even pressure washed any remaining mud from the home's sub-flooring.
When the Bankses saw their home for the first time after the flood, their boys were a little speechless as they walked around the bare studs where their rooms used to be.
When the storm hit, the family was still unpacking boxes from their recent move there. Now they were just glad they'd be able to rebuild now that mold and moisture weren't a threat. And they see this as an opportunity to grow in their faith and to teach their boys about trusting God and seeking God in all situations.
"We're still learning stuff through all of this," Ronnie said. "Just seeing all these volunteers, and how much they've done. It's amazing. It's going to help us keep our house. And we're learning about the calm after every storm and God showing us what He wants us to see in the storm.
"It reminds me of the story in the Bible when Jesus is asked about why a man was born blind. Was it his sins or his parents' sins? And Jesus' reply was 'Neither. This is for God's glory.' And that's the most important thing—no matter what the circumstances are, that God gets the glory."
Please pray for the hurting in Kentucky and for our teams to minister to them in many ways, all in Jesus' Name.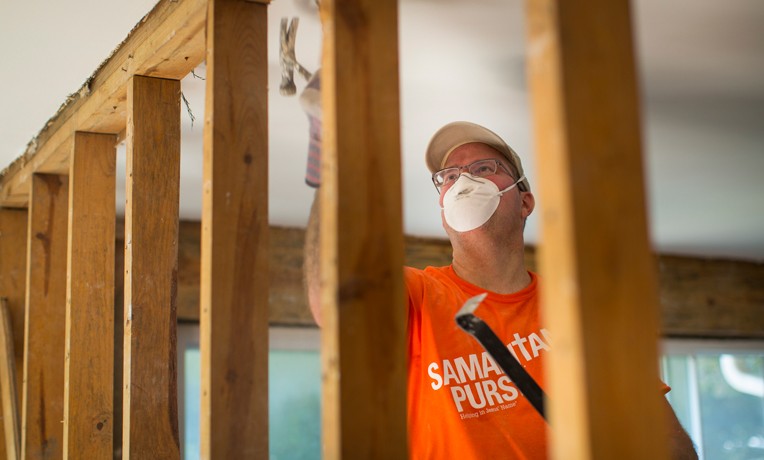 U.S. Disaster Relief
Samaritan's Purse mobilizes and equips thousands of volunteers to provide emergency aid to U.S. victims of wildfires, floods, tornadoes, hurricanes, and other natural disasters. In the aftermath of major storms, we often stay behind to rebuild houses for people with nowhere else to turn for help.
---
U.S. Disaster Relief 013622