Samaritan's Purse volunteers are at work as flood victims begin the long road to recovery in Orange County, Texas
Shane Behan loves to cook. He especially enjoys offering up mouth-watering, Texas-style barbecue. This week the 31-year-old just may have served his most unique lunchtime bunch.
On Wednesday, Shane prepared a savory mix of ribs, ribeyes, chicken, and sausage—along with Cajun dirty rice and beans—for eight Samaritan's Purse volunteers. They had worked up a hearty appetite after removing mud and waterlogged belongings and then tearing out damaged drywall, insulation, and flooring from the Orange, Texas, home of Shane's parents, Dwayne and Wilba Behan.
VOLUNTEERS NEEDED— FIND OUT MORE
Dwayne and Wilba have lived there for more than 20 years. They had never experienced such a devastating flood as the one that ravaged Orange and nearby Mauriceville and Deweyville earlier this month. The same storm system that dropped two feet of rain in Louisiana also brought torrential floodwaters to this section of Texas about 110 miles northeast of Houston. Orange, which was formed in 1836, the year Texas won its independence from Mexico, has a current population of more than 18,600 people.
Dwayne and Wilba have three grown children. Shane lives on the same property as his parents do. While his own house had been flooded by seven inches of water, Shane chose to rivet his attention on his parent's home. Even though it sits up two feet from the ground, it still sustained heavy damage when 18 inches of water rushed inside.
"I'll worry about my own house another day," Shane said. "It ain't nothing compared to this. I've got to get Mom and Dad back on track."
Samaritan's Purse Brings Helping Hands
That's where Samaritan's Purse intersected with this family. Our volunteers first worked on their home Tuesday and then an eight-person team showed up Wednesday morning, ready to help in Jesus' Name. Shane joined them, working hard alongside.
Then Shane and his parents prepared one mighty barbecue feast. "The least we could do was to cook for the volunteers and show them our appreciation," Shane said. "It was our way to say thank you."
As they served their plates, Shane told our volunteers: "Y'all are a blessing, and I can't say how grateful we are for y'all."
The Samaritan's Purse team is based at Mauriceville Assembly of God Church in Orange. Also on hand to help provide spiritual and emotional care are our Billy Graham Rapid Response Team (RRT) chaplains.
"Our assessors are really finding huge needs," said Todd Taylor, assistant manager for U.S. Disaster Relief who is overseeing this deployment. "Many folks with no insurance are at a complete loss of what to do do."
Tragedy on Tragedy
In Deweyville, the worst flooding on the Sabine River in more than 130 years inundated houses up to the rooftops. "Ninety percent of our town is lost," said Ashley Price, whose husband Brandon is a wounded Army veteran. Their home was among hundreds that were swallowed up by the record flooding.
Flooding is only the latest tragedy this couple has endured. Ashley and Brandon, who've been married four years, went to Alaska last summer with Operation Heal Our Patriots, our ministry to wounded military veterans and their spouses. Brandon was an Army sergeant who is medically retired after suffering multiple injuries during tours in Iraq and Afghanistan. While in Alaska with us, Brandon committed his life to Jesus Christ and was baptized on the 14th anniversary of the 9-11 attacks.
One week later, Ashley had extremely high-risk surgery on a brain tumor that had tormented her for years. She told her surgeon, "I just need your hands as God's instruments—He will get me out of this." Praise God, all her scans indicate that she is completely healed!
UPDATE: Our team was able to serve Brandon and Ashley over Easter weekend by working on their flooded trailer. Two RRT chaplains also worked alongside us. We hauled all of the waterlogged debris to the road for pickup.
In addition, a veteran's group has delivered a new RV trailer to them, and they also paid six months lot rent at a local campground.
"God is showing Brandon and Ashley His faithfulness," Todd Taylor said. "Brandon's smile came from deep in his heart, and the love Christ has given him really shows. It was an honor to serve this couple."
"A Blessing in Disguise"
One local resident does see a silver lining with this disaster. That's Morgan Dupuis, whose in-laws live across the street from Dwayne and Wilba Behan. Samaritan's Purse has written up a work order on the Dupuis home.
Morgan knows all too well the devastation triggered by floods. She lived in Bridge City, Texas when Hurricane Ike roared through in 2008. Because of her previous experience with flooding, she is encouraging those in Orange and Deweyville that things will get better.
"Our town is now bigger and stronger than it was before Hurricane Ike struck," Morgan said while taking a break from helping her in-laws tear out carpet and clear out ruined furniture and other personal belongings.
"Our town is busting at the seams," she added. "It's a blessing in disguise."
VOLUNTEERS NEEDED— FIND OUT MORE
Morgan said that the schools in Bridge City are asking residents there to donate school supplies to go to the schools in Deweyville and Orange. Orange and Deweyville schools donated supplies to Bridge City in 2008.
"Good comes out of tragedy, especially when all the different communities come together," Morgan said.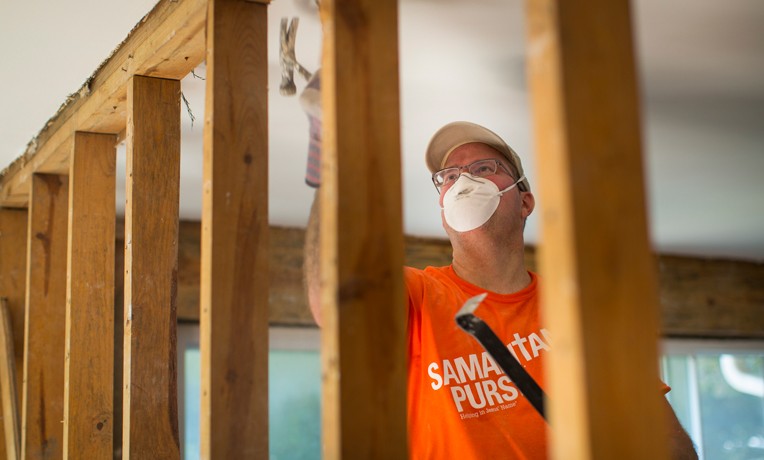 U.S. Disaster Relief
Samaritan's Purse mobilizes and equips thousands of volunteers to provide emergency aid to U.S. victims of wildfires, floods, tornadoes, hurricanes, and other natural disasters. In the aftermath of major storms, we often stay behind to rebuild houses for people with nowhere else to turn for help.
---
U.S. Disaster Relief 013622