A little boy travels back to Mongolia after having his heart repaired in Texas through Children's Heart Project
Brittany Raymer is an administrative research assistant for Samaritan's Purse.
The heart is one of the most important muscles in the body. Through the pumping of blood, it provides life. But sometimes, during fetal development, the heart doesn't develop as it should and is limited in its ability to function.
When I first started working with Samaritan's Purse, I was familiar with its international relief efforts and Operation Christmas Child, but I was unaware of this little-yet-big program called Children's Heart Project. By providing transportation to the U.S. and Canada for treatment, the project provides lifesaving and life-changing heart surgery to children from all over the world.
I volunteered to transport a child for Children's Heart Project, thinking it would be years before I got the opportunity to travel. But soon after I applied, the project needed someone to escort 3-year-old Bayangali and his mother, Syrnai, back to Mongolia with their translator. Before I knew it, I was in Texas waiting to meet the family.
When I first saw Bayangali, he was sitting in his stroller with an intense look on his face. I gave him a big smile and a hug, but he remained apprehensive. He cried when he realized that he was leaving the life he had known for the last two months, including Grandpa and Grandma, his affectionate names for his host parents. I think everyone had tears in their eyes as they said goodbye.
We were through security quickly and settled at our gate when I found myself involved in a life-or-death struggle with Bayangali over—well, to be honest, I'm not quite sure. Bayangali decided that I was an excellent ninja-fighting partner (he threw punches and I blocked), and so began the 30 minute or so imaginary struggle for power. At one point, he used my cellphone to talk with "central command" before coming back with a new strategy.
After his fight against the big, blond monster ended, a golf ball attracted his attention. He soon began rolling it around our little section of the airport seating area. At one point I was sure we had lost the ball, but a passenger magically produced it and silently returned to his spot in line. All the passengers were extremely gracious, and I think everyone was aware that this special boy needed the opportunity to enjoy his newfound health and energy.
Our flight arrived at about 5:30 a.m. in Seoul, and we had to wait for about seven hours for the flight to Ulaanbaatar. Since it was early in the morning and all of the chairs were taken, we settled in a play area on the second floor. Bayangali continued to play until we went for lunch later in the morning.
While we adults completed other tasks like showering, charging our phones, and keeping track of our next flight, Bayangali played for five hours with other children who wandered through the playroom. Though none of the children could speak the same language, they spoke the universal language of play, and Bayangali spent his time running around with a huge grin on his face.
The last leg of the flight went smoothly, and we soon landed in Mongolia where we were greeted by Syrnai's extended family. It was a bittersweet reunion as Bayangali's father was still in Kazak, and the family had a longer journey home to see him. But the extended family members were in Ulaanbaatar to greet the healed little boy. They were so excited to see Bayangali healthy, and there were many compliments about his strength and his bright future.
It was a joy and a privilege to travel with Bayangali and Syrnai and to see the beautiful country of Mongolia. I know that God will continue to strengthen Bayangali, and I pray that he can experience the fullness of life now that his heart is healed.
Please continue to pray for the salvation of Bayangali and his family, and pray that Children's Heart Project staff members will be able to successfully share the Gospel with them during follow-up visits.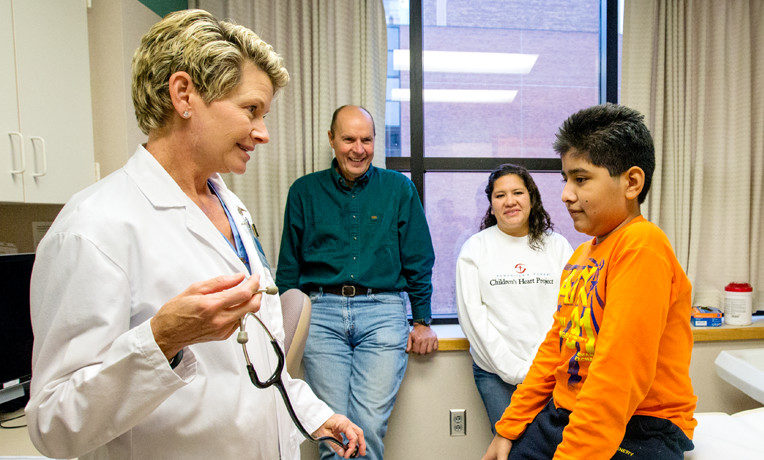 Save a Child's Life
About one out of every 100 babies has a heart defect that surgeons can routinely repair. Unfortunately, many of them are born in poor or remote places where their families cannot access the cardiac care they urgently need. Through our Children's Heart Project, Samaritan's Purse transports boys and girls from places like Bolivia, Mongolia, and Uganda to hospitals in North America. Doctors, hospitals, and host families and churches donate their time and services, but airfare is a major cost—typically $2,200 per person for international flights. For $50, you can share in this cost so that we can offer life-saving surgery and the unsurpassed hope of Jesus Christ, "the way, the truth, and the life" (John 14:6).
---
Children's Heart Project 013687
Suggested Gift: $2,200 | Share the Cost: $50