Sanitation Marketing program helps families improve their lives with proper toilets
When a natural disaster strikes, the most immediate needs that often come to mind are food and shelter. What some may not immediately consider is the need for proper sanitation to prevent illness.
Florita Abitona, 67, and her family know how quickly life can change in a natural disaster. When Super Typhoon Haiyan (known locally as "Yolanda") mercilessly battered the Philippine islands of Samar and Leyte in November 2013, the family managed to move to higher ground at a relative's home, escaping only with their lives. The storm is one of the most destructive and deadliest typhoons on record, completely destroying parts of two islands and taking thousands of lives.
When the vicious storm finally passed, Florita and her family, who all live on Samar, returned to their homes to find a scene that was played over and over to thousands of families on the islands.
Everything was gone.
"We did not have anything left, no food and no house," said Lea Alamodin, Florita's 42-year-old daughter. "We felt very sad, like there was no hope."
Lea and her husband, Israel, had their faith put to the test after the storm, but they never wavered in trusting God would see them through.
"It was a challenge, a trial," Lea said. "But God did not give us a challenge that we could not surpass."
Lea's sister, whose house they sought shelter in, provided rice for them, and they were able to salvage a few materials to build a temporary shelter in the days following the storm. Eventually, their church provided new materials to construct their current home, and Israel was able to start a local taxi business.
One of their greatest needs, though, was a proper toilet. After the storm, Florita's family constructed a latrine using wood and tarpaulin that was shared among five families. They had no choice but to build the ramshackle structure just off the banks of the river, where waste would be deposited directly into the water. The river is a favorite swimming hole for many of the children in the barangay.
For more than a year, the five families risked their health and wellbeing to use the latrine, accessible only by two precarious planks stretched across the riverbank to the structure.
Enter the Samaritan's Purse Sanitation Marketing program, part of an approach developed jointly by the Philippines government and non-governmental organizations for early recovery for Yolanda-affected areas.
The program helps improve sustainable access to low-cost latrines for all people. The Samaritan's Purse team travels to barangays with a large, flatbed truck that showcases all the latrine options available along with cost and financing options. The project becomes the livelihood of entrepreneurs by creating a source of income for their families, using skills and tools they already have. It also creates jobs for others in their communities.
The team brought their entertaining toilet show, complete with games, dancing, and a host of characters, to Barangay Canmanila, where Florita and her family learned about the dangers of poor sanitation and their options to finance construction of new, proper toilets.
Florita's family joined a savings group, learning principles for saving, stewardship, and accountability. Within weeks, they were financed, and in just three days, the families were happy to have new, proper toilets with septic tanks attached to their homes.
"With my age and health, I can use this toilet comfortably, and it is better for guests who visit my home," Florita said.
Lea, a mother of five, was concerned for her children's safety in using the river latrine. She agreed that their quality of life has improved since buying the new toilets. Her faith has strengthened through God's provision.
"It's good because it is near the house, so if we have to use it in the evening, it is just there," Lea said. "I am more thankful to God now, and my faith is much stronger."
For much of the western world, a proper toilet is considered a standard amenity inside any home. For this family, it was a dream.
"I am very thankful for Samaritan's Purse for giving us the opportunity to have our own toilet," Lea said. "It really was a dream for us to have a toilet inside our house."
The Samaritan's Purse water, sanitation, and hygiene program continues to serve thousands of people in the Philippines through projects that provide clean water, hygiene education, proper sanitation, and business opportunities.
"Entrepreneurship improves lives; toilets save lives; Jesus saves souls," said Gavin Gramstad, the water, sanitation, and hygiene program manager. "Think about all that next time you flush your toilet."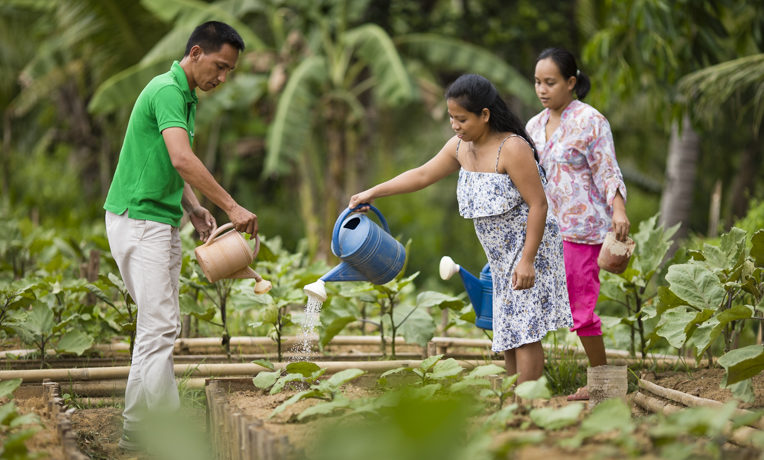 Philippines Projects
Samaritan's Purse is working to improve the quality of life for impoverished families in both rural and urban areas of the Philippines. We are training women and expectant mothers on best feeding practices for infants and young children. Our teams are providing malnutrition screening, medical care, clean water, latrines, and hygiene education. We're also supporting families through livelihood projects such as community gardening and pig raising, as well as vocational skills and microenterprise training. Most importantly, our staff are sharing the Gospel. We partner with local churches to offer evangelism and discipleship courses so that they can reach their communities with the hope of Jesus Christ.
---
Philippines Projects 013395