Coella and Manley Tate are thankful for the Samaritan's Purse volunteers who assisted them in the aftermath of the recent EF-3 twister in Bertie County.
U.S. Disaster Relief
013622
Coella and Manley Tate hid in the bathtub as a tornado hit their Bertie County home of more than 20 years. They prayed for God's protection and said 'I love you' for what they believed would be the last time.
The EF-3 tornado ravaged their home at 1:30 a.m. on Aug. 4. Though a similar storm had devastated their neighbors nearly a decade prior, the high school sweethearts had never experienced anything like it.
"You don't want to live through anything like this," Coella said. "It's traumatizing."
Their carport was demolished and a portion of the roof was violently ripped away—insulation and drywall fell directly onto the bed where they had been sleeping moments before.
"It was like a war zone," Manley said. "All I could hear was wind and then the top of the roof ripped off."
A team of Samaritan's Purse volunteers helped removed downed trees, clear debris, and tarp the roof—an unexpected blessing for Manley and Coella. So far, Samaritan's Purse volunteers have helped 24 Bertie County families like the Tates recover from the storm while reminding them that God loves them and has promised to be with them. Six people have come to faith in Jesus Christ during this response.
"There is beauty in the storm—you are beauty in the storm for us; for coming to help us. No one expected this," Coella said.
Please continue to pray for the families affected by the storm.
—
UPDATE (Aug. 20): Our response in Bertie County finished on Aug. 19. We thank God for the nearly 200 volunteers who gave their time and talents to help serve more than 50 homeowners in Jesus' Name. We praise Him that eight individuals received Jesus Christ as Lord and Savior during this deployment.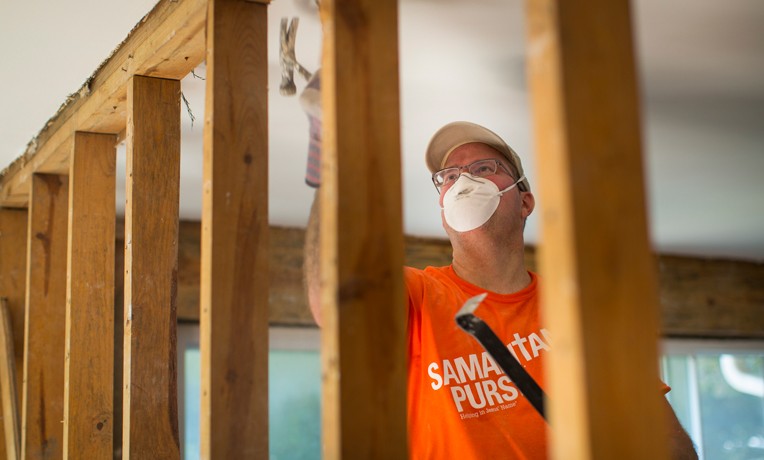 U.S. Disaster Relief
Samaritan's Purse mobilizes and equips thousands of volunteers to provide emergency aid to U.S. victims of wildfires, floods, tornadoes, hurricanes, and other natural disasters. In the aftermath of major storms, we often stay behind to rebuild houses for people with nowhere else to turn for help.
---
U.S. Disaster Relief 013622