Seven couples rededicated their marriages and eight individuals were baptized during Week 11, but numbers cannot measure the impact of the experience.
Thick fog and rain at Samaritan Lodge Alaska on Sunday, August 9, forced the 10 military couples of Week 11 to overnight in Anchorage instead of flying out that night as normally scheduled. The weather cleared by early Monday morning, though, and our guests landed at the camp soon after to begin their time of marriage enrichment training. Following handshakes by flag-waving staff and area residents, couples quickly dove into five intense days of relationship-strengthening activities and Bible-based instruction.
While the extent of the weather delay was unprecedented in the four-year span of our Operation Heal Our Patriots project, no one gave it another thought by last Friday as wounded military members and their spouses celebrated an amazing week gone by. Each couple discovered God had something special for them in Alaska.
"Every good gift and every perfect gift is from above, and comes down from the Father of lights, with whom there is no variation or shadow of turning" (James 1:17, NKJV).
Army Specialist Aaron Cardinal found healing in an emotional ceremony on Friday. With the support of other couples and our staff, Aaron nailed two honor bracelets to the posts of the lodge flagpole. The bracelets were inscribed with the names of four of his friends who were killed in Iraq in 2007.
"There's a time for pain, but there's also a time for healing," Chaplain Jim Fisher told the gathered crowd. "We give people an opportunity to leave things back in Alaska. [Aaron] is not forgetting his comrades, he's not forgetting his colleagues in arms. What he's doing is [this]: he sees there's a need to move on with his life, but also honor his fallen comrades. So, when we tack these armbands or these honor bracelets up on the pole here… it's honoring his comrades. It's also remembering that they died for the flag, they died for their country."
Later in the day, Aaron said goodbye to all at the weekly fireside farewell. He noted how glad he was that he finally got around to filling out an application for the Operation Heal Our Patriots project earlier this year.
"It's taken me about three years to type up any bit of what happened [in Iraq]," he said. "I'm so thankful that I did, because now I get to always have that [ceremony]. I thank you all so much from the bottom of my heart."
Aaron and his wife Deanna were among the seven couples who rededicated their marriages to Christ and each other last week along the shores of Lake Clark. Deanna especially appreciated the classroom teaching from our retired military chaplains. She said she and Aaron learned how to communicate better with each other.
This past weekend, she also left a message on the Samaritan's Purse Instagram account:
Eternity at Stake
In addition to the rededications last week, five individuals gave their lives to Christ. Christina Lloyd, wife of Army Specialist Justin Lloyd, was one of them.
"I gave myself to the Lord on this trip," she said before her baptism. "It opened my eyes to new beginnings, to let go of things that haunted me."
Justin, a believer already, said, "The biggest thing for us as a couple was her baptism." Speaking of Christina's salvation, he said, "It was something that I wanted for her but didn't know how to go about it. … It's where you spend eternity. I don't think there's a more important decision."
Justin's leg was severely injured when a bomb hit the hospital he was working at in Iraq. He also battles PTSD. The time in Alaska encouraged him to push himself physically and relationally.
"This has been a big personal step to come up here and be a part of a group," Justin said. "For me, it's been a realization that I'm not quite as limited as I had it in my head."
Prayer Focus:
Please pray for the next four weeks of U.S. military couples who will travel to Samaritan Lodge Alaska. Ask God to open their hearts to receive His best for them.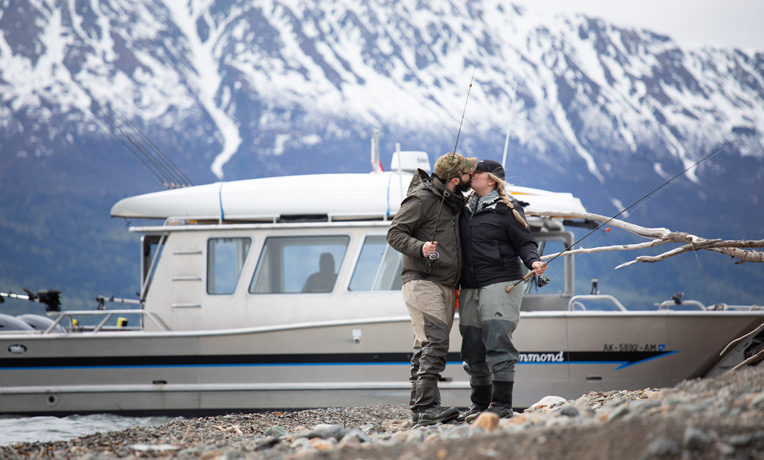 Bless the Marriage of a Military Couple
Operation Heal Our Patriots helps military couples build a strong spiritual foundation during a week of Biblically based workshops, relationship-building wilderness activities, and individual care by our retired military chaplains. We offer all this free of charge to these American heroes as a token of our appreciation for their service and sacrifice. Your gift will help us cover the costs—including transportation, lodging, activities, and long-term aftercare—so that we can help them find hope in the Lord.
---
Operation Heal Our Patriots 013960
Suggested Gift: $60