A Louisiana homeowner shares his story of God's faithfulness in the aftermath of devastating hurricanes.
U.S. Disaster Relief
013622
Mike Brignac, covered with sweat and particles from ruined sheetrock and moldy insulation, came to the end of himself. "I'd just had it. I thought, 'There's got to be a better way.'"
His home in Lake Charles, Louisiana, had taken a direct hit from both Hurricanes Laura and Delta. Portions of the ceiling collapsed, cabinets crumbled, and nearly all of the family's personal belongings were destroyed.
Every piece of sheetrock and insulation in the home needed to be ripped out. After trying to do the work on his own, Mike realized it just wasn't possible.
"I just trusted God in that moment," Mike said. "Not even five minutes later, my wife called and said Samaritan's Purse had just called her."
The Brignacs were shocked to learn that Samaritan's Purse volunteers didn't only tarp roofs—they also did much larger projects such as mud-outs. Our teams spent four days working hard in Jesus' Name at the Brignac home.
"I'm just amazed at how much water got in. Water was coming in through cracks I couldn't even see," Mike said. "Even a light sprinkle was causing a leak."
But our volunteers were not deterred by the amount of work that awaited them.
"They came in and went at it," Mike said. "We were impressed at how well they cleaned it. You wouldn't even know we had so much water."
Only One Hope
Mike saw God provide for his family in the aftermath of devastating back-to-back hurricanes. And, this isn't the only situation in Mike's life that seemed hopeless until God intervened.
Three years ago, Mike experienced a healing that doctors never thought possible. Mike had been diagnosed with generalized dystonia as a result of exposure to anhydrous ammonia that caused lesions on his brain.
"Any muscle you can control, I would lose control," Mike explained. For seven years, he suffered from body contortions, twitching, and severe cramping, and used canes, double crutches, and a wheelchair to get around.
Mike couldn't go upstairs in his home and even his mobility around the first floor was limited.
Mike said he had "lost all hope" that he would be healed. "The only thing I could hope on was a miracle."
On Thanksgiving morning in 2017, Mike experienced God's presence in a special way. "God said it was time for dystonia to go. There was nothing magical, no audible voice. I just knew it was done; I would be better," Mike said.
A few days later, Mike got up from the couch and walked right past his crutches. "I haven't had any symptoms since then," he said.
Mike shares his story of God's power, goodness, and faithfulness as often as he can. His desire is to encourage people to trust the Lord at all times and to live for His glory.
"I learned so much through all that. I have no regrets," Mike said.
Eternal Treasures
Throughout his illness, and during the ongoing process of repairing his home, Mike looks to Jesus Christ for strength and purpose.
"If your identity is in Christ, then everything that you experience is always working out for something better," he said. "Had I identified myself with the house, and the physical things, that's when you lose hope because you've lost your identity."
Mike also drew strength and encouragement from the Samaritan's Purse volunteers who worked on his home.
"We really became like a family. I enjoyed the conversations I had with the team. That mattered more than the work," Mike said. "Each one of them has a light inside them and they were shining brightly in their own beautiful way."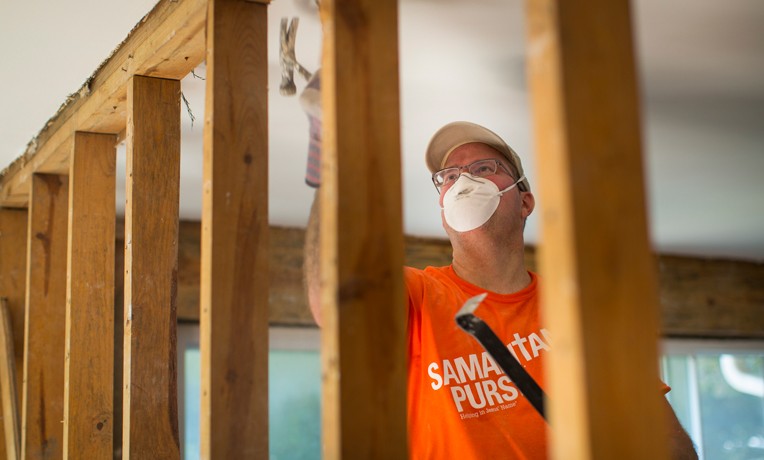 U.S. Disaster Relief
Samaritan's Purse mobilizes and equips thousands of volunteers to provide emergency aid to U.S. victims of wildfires, floods, tornadoes, hurricanes, and other natural disasters. In the aftermath of major storms, we often stay behind to rebuild houses for people with nowhere else to turn for help.
---
U.S. Disaster Relief 013622