Mike Pence and his wife, Karen, spent several days with wounded combat veterans and their spouses through Operation Heal Our Patriots.
Bless the Marriage of a Military Couple
013960
Vice President Mike Pence and his wife, Karen, joined staff and volunteers at Samaritan Lodge Alaska in ministering to wounded military veterans and their spouses from July 20-23.
Invited to Alaska by Samaritan's Purse President Franklin Graham and his wife, Jane, the Pences were a great encouragement to military couples during Week Seven of the Operation Heal Our Patriots summer season.
"Vice President Mike Pence and his wife, Karen, flew all the way up here just to come be with these veterans and just to love on them and care for them and pray with them and encourage them," Franklin Graham said. "They sat in their classes, went fishing with them. But more importantly they made themselves available to these couples and it meant so much to them to know that the former Vice President has their back. It really encouraged them. We're so grateful."
The Pences arrived at Samaritan Lodge on Tuesday afternoon and enjoyed a meal with the 10 military couples, including Army Sergeant Brandon McCormick and his wife, Jennifer. The McCormicks are from the Pences' home state of Indiana and were invited to sit at dinner with them.
"It was so unexpected. We were thrilled," Brandon said. "He's such a genuine and humble man."
On Wednesday evening, Pence spoke to couples, staff, and volunteers during a special barbecue dinner at the Lodge.
"I hope you all being in this special place proves to you that the American people love you," Pence said, addressing veterans and their spouses. "I also hope your time here among this great staff and this wonderful Graham family leaves you with a greater sense of Who also loves you.
"I had seen the work of Samaritan's Purse firsthand in Indiana, and as I traveled around the country. I had always heard of Operation Heal Our Patriots, and so we came here just to tell you that we love you and the American people love you."
The Pences have deep appreciation for veteran families and have personal family connections with combat veterans and military service members, including their son, Marine First Lieutenant Michael Pence, an aviator in the U.S. Marine Corps; and Mike Pence's late father, Army Second Lieutenant Edward Joseph Pence Jr., a veteran of the Korean War and Bronze Star recipient.
"I want you to know there's not a day gone by [since September 11, 2001] that I, and I believe every American, hasn't felt a debt of gratitude inexpressible to those of you who stepped forward and answered the call," Pence said. "You're heroes all."
In the River with Mike Pence
During their time at Samaritan Lodge Alaska, the Pences also joined couples on wilderness excursions into Lake Clark National Park and surrounding areas. This included a fly-fishing trip where Pence caught several Arctic grayling alongside our guides and two couples.
Air Force Master Sergeant Peter Stein and his wife, Tiffany, were there with him. Peter, an avid fly fisherman and trained guide, admits that at one point he was catching more fish than Pence. That's when Peter offered an invitation.
Peter told Pence "I cordially invite you, Mr. Vice President, to come down to this hole and fish." What happened next would have been gratifying to anyone.
"For him to catch fish after fish after moving down was incredible," Peter said. "He was giving me high fives. It was amazing."
Witnessing God's Work in the Lives of Warriors
On Friday, Mike and Karen Pence joined with everyone at the Lodge and townspeople as well to celebrate lives changed by God last week. Four individuals received Jesus Christ as Lord and Savior, eight individuals rededicated their lives to Him, and six were baptized in Lake Clark. Three couples also recommitted their marriage before God.
In this way, the Pences were able to witness what the former Vice President had expressed hope for during his address earlier in the week:
"I hope you leave here today with a sense that somebody else loves you even more than your family, even more than the American people," Pence said. "And He longs to know you in a personal way."
—
Since 2012, Operation Heal Our Patriots has invited more than 1,200 U.S. combat veterans and their spouses to Samaritan Lodge Alaska for a week of Biblically based marriage enrichment training and once-in-a-lifetime wilderness excursions.
After Alaska, this Samaritan's Purse ministry provides ongoing care and support for military couples through our Family Care ministry. This includes 24-hour access to regional chaplains, regional training and gatherings, an annual reunion of Operation Heal Our Patriots alumni, and our growing network of alumni who serve as support to each other.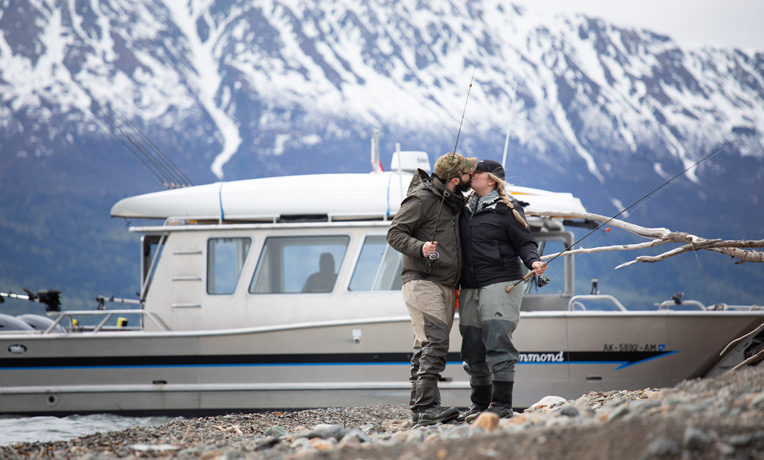 Bless the Marriage of a Military Couple
Operation Heal Our Patriots helps military couples build a strong spiritual foundation during a week of Biblically based workshops, relationship-building wilderness activities, and individual care by our retired military chaplains. We offer all this free of charge to these American heroes as a token of our appreciation for their service and sacrifice. Your gift will help us cover the costs—including transportation, lodging, activities, and long-term Family Care—so that we can help them find hope in the Lord.
---
Operation Heal Our Patriots 013960
Suggested Gift: $60