Heavy rains caused flooding across Hidalgo County, Texas. Samaritan's Purse needs volunteers to help homeowners recover in the Rio Grande Valley.
U.S. Disaster Relief
013622
Hidalgo County, Texas, located near the state's southern tip, typically receives 21 inches of rain per year. On June 20, about 15 inches of rain fell, most of that in a couple of hours—flooding thousands of homes with foul-smelling muddy gunk.
Samaritan's Purse responded quickly. We sent staff and equipment, and volunteer teams are now coming alongside hurting families, helping them recover.
New Life Baptist Church, a fairly new church plant in Weslaco with about 100 members, is hosting us during this disaster response. And though evangelical churches may be few in number in this part of the Lone Star State, they are uniting to demonstrate God's love and offer the hope of the Gospel to their communities.
"All told, we're looking at more than 5,000 homes across the Rio Grande Valley that have been inundated with water," explained Todd Taylor, assistant manager for U.S. Disaster Relief. "And this is not just a little water wetting the carpet. This is one foot, two feet, and in some cases up to three feet of water in people's homes. As a result, this is an incredible opportunity to serve people in great need."
"This is an incredible opportunity to serve people in great need."
Samaritan's Purse team members are removing ruined furniture and appliances and tearing out waterlogged flooring and walls. This mudding-out process saves the homeowner time and money by preparing the house for contractors who can come in and begin restoring it. Volunteers are desperately needed.
An Opportunity to Show God's Love to South Texas
Hidalgo County, which hugs the Mexican border, has not enjoyed the economic success some parts of Texas have recently experienced. Losses from the flooding have been especially painful to the area's struggling families.
Volunteer in South Texas
"Right now so many people feel like they have no hope because everything has been destroyed," said Pastor Jason Church of New Life Baptist. "Having a ministry like Samaritan's Purse come here and team with us and other churches conveys that we can always have hope in Jesus, no matter how big the storm we're going through."
Steve Wagenknecht, pastor of Abiding Savior Lutheran Church in Weslaco and one of our volunteers, fully agrees. "This is an opportunity to be the hands and feet of Jesus and to show His love to people in the midst of a crisis," Steve said. "Not only can we help clean out their homes, we can remind them that God is with them, loves them, and cares about them, and that they can trust Him."
Billy Graham Rapid Response Team chaplains have also been deployed to Hidalgo County and are providing spiritual and emotional care alongside us.
Tears of Thanks
One of the homeowners Samaritan's Purse assisting is Lupe Aguirre. He and his wife Mary have been living in their home for about 20 years, much of which they built themselves. It was flooded with about a foot of water.
"We've lived through torrential thunderstorms and powerful hurricanes, but this is the first time we've lived through a flood," Lupe said. "The water kept rising and rising and rising. Everything we tried couldn't stop the water from coming into our house."
Lupe heard about Samaritan's Purse through his niece. When our team arrived, he choked back his emotions. "I don't have words to express my thanks," he said. "I just have tears. Knowing there are people who are willing to volunteer and help us is just amazing. Thank God."
Though her own house in Weslaco sustained damage from the flood, Stephanie Avila was overjoyed to volunteer with Samaritan's Purse.
"So many others, like Lupe, have greater damage than our home, so I thank God I could take part," she said. "Seeing the need that's so great, I was just moved and touched and wanted to help. I love construction stuff and do a lot of handiwork around our house, so this was a God-given opportunity to serve. I praise the Lord He allows me to do this."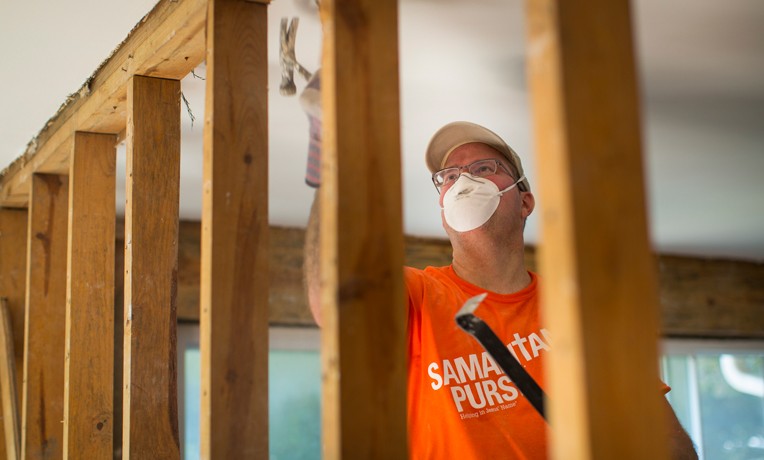 U.S. Disaster Relief
Samaritan's Purse mobilizes and equips thousands of volunteers to provide emergency aid to U.S. victims of wildfires, floods, tornadoes, hurricanes, and other natural disasters. In the aftermath of major storms, we often stay behind to rebuild houses for people with nowhere else to turn for help.
---
U.S. Disaster Relief 013622