Samaritan's Purse is in Muskogee, Oklahoma, sharing God's love and assisting with recovery efforts after terrible flooding.
Robert Atchley has spent decades helping others. For 43 years, he has tirelessly cared for veterans by performing CT scans at a VA hospital. He also served in the U.S. Navy as a medical corpsman for five years, from 1974 to 1979. An American flag sways in his front yard—a symbol of his service to his fellow veterans and his country.
But after a lifetime focusing on others, Robert and his wife Nancy found themselves in need of help after floodwaters filled their home.
Robert and Nancy have lived in their home for five years, and they paid it off last year. The house was built nearly 70 years ago and has remained dry, even when two major floods previously hit the area. Suddenly, everything changed this spring.
Catastrophic storms swept through Oklahoma in May, bringing floods that left many communities in ruins. As rain poured and the Arkansas River rose, water steadily seeped into Robert and Nancy's house. The flooding was relentless, and they were forced to gather a few belongings and escape in Robert's truck.
The next time they returned home, they had to kayak to their front door. Over five feet of water had engulfed their home.
Robert was overjoyed to find that his family Bible, which dated back to the 1700s, and a communion set had survived the storm, but most of their things were unsalvageable.
The American flag that they proudly displayed was storm-battered. Furniture and boxes of cherished belongings were sopping. Even Robert's motorcycle was covered in water and mud. All that remained was the shell of a home, memories of what used to be.
When the floodwaters receded, the task that lay ahead of them was overwhelming. Since their home wasn't in a floodplain, they didn't have flood insurance. Robert and Nancy didn't know where to turn.
"God gave me this stuff. The devil took the stuff away and thought that he would get the victory," Robert said.
Yet the flood wasn't the end of the story. God would surely get the victory. He brought Samaritan's Purse to Muskogee, Oklahoma to provide relief to people like Robert and Nancy who are suffering in the wake of spring storms.
A Blessing in Their Time of Trouble
When Nancy heard about Samaritan's Purse's work in the area, she reached out for help. Volunteers clad in orange shirts showed up, eager to serve. They put on their masks and rainboots, grabbed a shovel, and worked hard.
Robert said that the volunteers were like a swarm of locusts, plunging into the mess and mudding-out the house swiftly.
"They've done whatever is necessary to do," Robert said. "The funny thing is I haven't had to tell anybody to do a job. People just stepped up because stuff needed to be done and they just did it. You know, it's been a Godsend, a miracle basically for me."
The volunteers, who travelled from many different places to help, moved everything out of the house, pulled out wet sheetrock and insulation, and helped however they could. One volunteer had no clue how to use a crowbar at the beginning of the week, but she was a pro by the end of the week.
Robert was amazed that the volunteers, many of whom were young, were willing to sort through the debris.
"It stinks, it's smelly. I'm surprised these kids even put up with this stuff. Most kids would not have done this at all," he said.
Robert thought that cleaning up his home would take a couple of months, but Samaritan's Purse got the job done within a few days. Their help brought him to tears.
Robert and Nancy are nearing retirement, and they were making plans to travel before the flood hit. Robert said the devil was trying to shake him up, but his belief in God never wavered. God sent Samaritan's Purse at just the right time.
"All of a sudden I got tons of people showing me God's love," Robert said. "They're showing God's love. He says go and help people in time of trouble. And they have definitely helped me in my time of trouble."
Volunteers not only helped Robert and Nancy with cleanup, but Billy Graham Evangelistic Association chaplains also prayed over them and presented them with a new Bible signed by volunteers.
The flood brought an opportunity for Samaritan's Purse to return the selfless love that Robert has faithfully shown others. He and Nancy are thankful that God provided for them in the midst of the flood's devastation.
Please continue to pray for those impacted by flooding in Oklahoma and for our volunteer teams as they help people recover from the floods and share the hope found in Jesus Christ.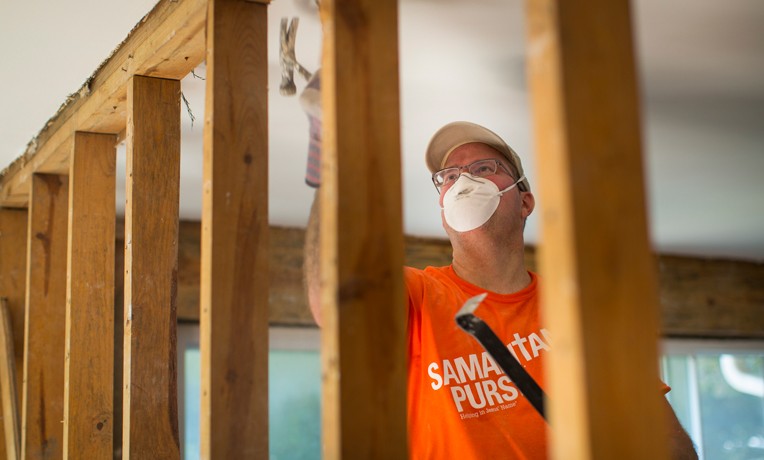 U.S. Disaster Relief
Samaritan's Purse mobilizes and equips thousands of volunteers to provide emergency aid to U.S. victims of wildfires, floods, tornadoes, hurricanes, and other natural disasters. In the aftermath of major storms, we often stay behind to rebuild houses for people with nowhere else to turn for help.
---
U.S. Disaster Relief 013622