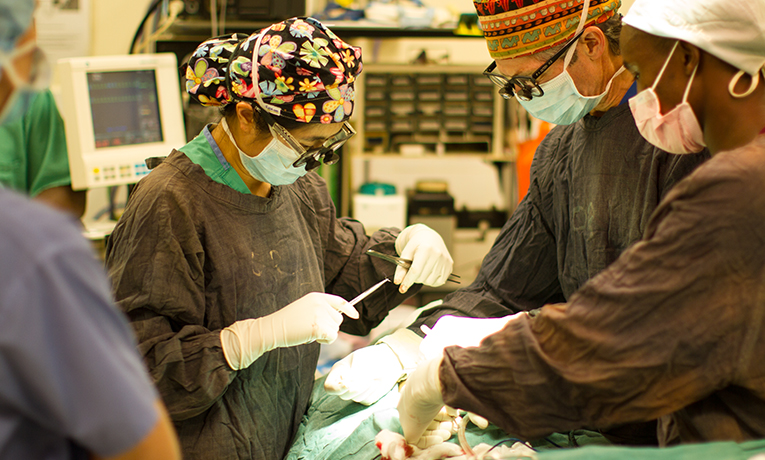 If you have questions that are not answered here, please contact us.
HOW ARE ASSIGNMENTS MADE?
All potential volunteers must complete an online World Medical Mission application and provide the required references. Applications then undergo an approval process, and final placements are based on the needs of the mission hospitals as well as the interests and availability of the volunteer. The Mission Hospital has the final approval authority.
WHERE DO YOU PLACE VOLUNTEERS?
We are actively placing volunteers in Africa, Latin America, Asia, Eastern Europe, Oceania and the Middle East. For a detailed listing of locations and specific needs please contact World Medical Mission at wmminfo@samaritan.org.
WHAT LENGTH OF TIME IS CONSIDERED SHORT-TERM?
Short-term service is generally two weeks to just under one year, based on location of service.
IS IT POSSIBLE FOR MY SPOUSE AND/OR CHILDREN TO ACCOMPANY ME?
Yes, to most areas, and we encourage families to travel and serve as a unit.
WHO MAKES THE ARRANGEMENTS?
World Medical Mission assists in arranging all details such as airline tickets, visas, in-country transportation, lodging, and medical licenses.
DO I NEED ANY IMMUNIZATIONS?
Yes, depending on the country of service certain immunizations are recommended and/or required. Please refer to the CDC website for the area you plan to travel and you will find a list of the immunizations for that specific country.
WHERE DO I LIVE WHILE SERVING? ARE RUNNING WATER AND FOOD AVAILABLE?
The majority of mission stations have their own living quarters. These are generally quite nice and have running water and electricity most of the time. Volunteers usually purchase food within the country to supplement items they take from home.
WHAT IS THE APPROXIMATE COST OF AN OVERSEAS MISSION TRIP?
Depending on the area of service, the cost for airfare and one month of living expenses may range from approximately $1,500 to $3,500 per person.
WHO IS RESPONSIBLE FOR THE EXPENSES RELATED TO THE TRIP?
The volunteer is responsible for all expenses. You will be provided with a budget worksheet detailing the approximate cost.
IS THIS TRIP TAX DEDUCTIBLE?
Yes, expenses related to your trip can be handled directly with your personal accountant or through a project account that has been set up at World Medical Mission.
IS ACCIDENT AND EMERGENCY EVACUATION INSURANCE COVERAGE REQUIRED FOR VOLUNTEERS SERVING WITH WORLD MEDICAL MISSION?
Yes, we require accident and emergency evacuation coverage to be purchased.  We provide volunteers with information on how to obtain this coverage. A few health care policies may provide coverage if you travel outside of the United States.  Proof of coverage is required by WMM.
DO I NEED MALPRACTICE INSURANCE COVERAGE TO SERVE WITH WMM?
Some areas do require malpractice and we provide volunteers with information on how to obtain this coverage if needed.
DO YOU SEND TEAMS?
We concentrate on working with individuals or families rarely sending teams due to the fact that many of the mission hospitals are unable to accommodate them with volunteer housing.
DO YOU SEND MEDICAL STUDENTS?
We do not place medical students. Most mission boards require that medical students come directly to them for placement.
DO YOU SEND OTHER ALLIED HEALTH PROFESSIONALS?
World Medical Mission's focus is primarily on medical doctors and dentists.
POST-RESIDENCY PROGRAM
WHAT IS THE POST-RESIDENCY PROGRAM?
The Post-Residency Program has been developed to offer gifted and dedicated Christian physicians and their families the opportunity to serve overseas immediately following their residencies. This two-year program is looking for doctors who feel called to a career in international medical missions. With support from Samaritan's Purse and World Medical Mission, Christian physicians will be introduced to the blessings and opportunities of a career in medical missions while gaining valuable medical experience and sharing the love and compassion of Christ with a hurting world.
HOW ARE CANDIDATES SELECTED?
A committee of World Medical Mission senior staff members will review applications and interview qualified individuals for approval for the Post-Residency Program. The committee will consider your medical specialty, testimony, references, the leading of the Lord in your life, and your long-term career goals. Second-language skills are helpful but not required.
WHO PAYS MY EXPENSES AND ARRANGES MY HOUSING?
World Medical Mission will pay a modest stipend and provide a housing and food allowance for you and your family. The Post-Residency Program also provides the airfare, insurance coverage, immunizations and all ministry-related expenses for the physician. Our office will arrange housing and travel details along with visas, country-specific licenses, and permits. Your coordinator will assist you and your family as you raise support for your family's airfare and related expenses.
WHERE COULD I BE ASSIGNED AND WHAT MIGHT I BE DOING?
Typical assignments will be in established mission hospitals in Africa, Asia, the South Pacific, and Latin America. Assignment options are discussed with candidates after they have been selected and confirmed. You will be working in hospitals where your specialty is needed. Flexibility will be essential, as you will caring for a wide variety of patients. As with all types of medical missions, you can be sure you will be challenged.
WHAT KIND OF PREPARATION AND SUPPORT WILL I RECEIVE?
World Medical Mission's Post-Residency Program Coordinator will work with you and your family throughout the entire process from the initial application until you complete your two years. We will assist you with your travel schedules and other country-specific field requirements, and you will be brought to our headquarters in North Carolina for an orientation.
You may also have the opportunity to attend one of the mission organization's orientations. As you prepare to serve we will put you in contact with medical representatives at the hospital as well as volunteers within your specialty who have served at your intended facility. Once you arrive, field staff will provide a cultural and job-specific orientation. In addition, a career medical missionary at the facility will act as your mentor.
To learn more about our Post-Residency Program, visit our page here.
Please contact us at (828) 262-1980 for additional information.