A Marine and his wife build their family's future on a firm foundation.
Bless the Marriage of a Military Couple
013960
Marine Captain Ray Penny and his wife, Maggie, carried their own fly fishing gear to Alaska. Using their rods again reminded them of the "old days"—before kids, before the military, before so many difficulties.
You could tell from his casting in the Tanalian River that Ray knew what he was doing. Maggie, his wife, was a close rival in the streams—even seven months pregnant with their sixth child.
"Maggie's the one who actually got me into fly fishing," Ray said. "She was doing it before I was."
The Pennys were clearly excited about catching Arctic grayling and trout in the pristine streams and pools of Lake Clark National Park. But fishing was not their top priority.
Ray and Maggie were at Samaritan Lodge Alaska in September through Operation Heal Our Patriots, joining nine other military couples to work on their marriages. Things had been rocky since Ray's return from Afghanistan in 2012. That 9-month deployment still weighs heavily on him and their marriage.
Fulfilling A Dream
"I had always wanted to be a Marine. Ever since I was a little kid," Ray said. "My dad was in the oil industry, and we grew up in Venezuela and Argentina and knew that if there was ever a problem, the Marines would get us out. That had an impression on me. I saw the Marines and thought 'I want to do what they're doing.'"
In high school, Ray had a recruiter call his mom to request her permission so he could enlist. She hung up the phone. In college, after 9/11, he was going to enlist but was talked out of it again. Later, he planned to join after college, but the wars had died down. Then, in 2007, several years into his marriage with Maggie, and with one child, a military surge in Afghanistan made the news. His old dream reemerged.
"I was 25 and I woke up in the middle of night and realized that this had been the only dream I'd ever had for my entire life and I hadn't made good on it," Ray said. "So, I called in sick to work the next day. I drove downtown Houston and signed on the dotted line."
By 2011, Ray was in Afghanistan as an artillery officer. "We were there to finish what we started."
Coming Back Different
Ray says the recent withdrawal from Afghanistan makes conversations about his service more difficult.
"It makes us question everything we had to do—things I don't want my children to ever hear about," Ray said, describing his struggles with post-traumatic stress. "Things that make me wake up several times a night."
As an artillery officer, he had to make life-and-death decisions to help stabilize a country in chaos. The lethal side of his job was to send explosive shells into hillsides and structures and to order drone strikes and air strikes to kill the men who were killing them. This was not a distant exercise, though, it was a gut-wrenching, up-close-and-personal ordeal.
"I think that's part of the reason why I came home from war a different person and why Maggie and I are here this week," Ray said.
Maggie says that Ray's anger would flame up from nowhere and that his mood would turn on a dime.
"It became easier to avoid conversations and just tackle things on my own. That sort of led to us not really knowing each other anymore" Maggie said. "Over time our marriage became hollow and superficial. For a long time, we've just been more like roommates with five kids."
At one point the tension in the home grew so tense that the couple briefly separated. Now, though, with their sixth child due at the end of October, the Pennys came to Alaska because they were desperate to find a path toward saving their marriage.
A Renewed Hope
Both Ray and Maggie had professed faith in Jesus Christ many years ago, but they came to Alaska with only a thin hope that God could pull them back together and mend old wounds.
During their week with Samaritan's Purse, the Pennys were thankful to catch a glimpse of what life could be for them in the future. They were strengthened through classes, counseling, and conversations.
"I don't know if we would have ever had the tools to make our marriage work," Maggie said.
Through Biblically based classes led by military chaplains, the Pennys learned more about God's power to heal marriages and His desire to provide wisdom in the midst of pain and chaos.
"This week I was reminded of the truth of God's love. It makes me feel like we can make it and our marriage can make it."
"I have been so overwhelmed this week," Ray said. "Being here has made a huge difference in my life. For the longest time I've felt unlovable and I've felt like I was the only one stuck like this. To see the struggles that Maggie and I have had and to see that others have the same struggles.
"This week I was reminded of the truth of God's love. It makes me feel like we can make it and our marriage can make it."
Please continue to pray for the Pennys and for the many other military couples whose lives and marriages have been changed by wars in Iraq and Afghanistan. Pray for healing and restoration that only God can provide through the Gospel of Jesus Christ.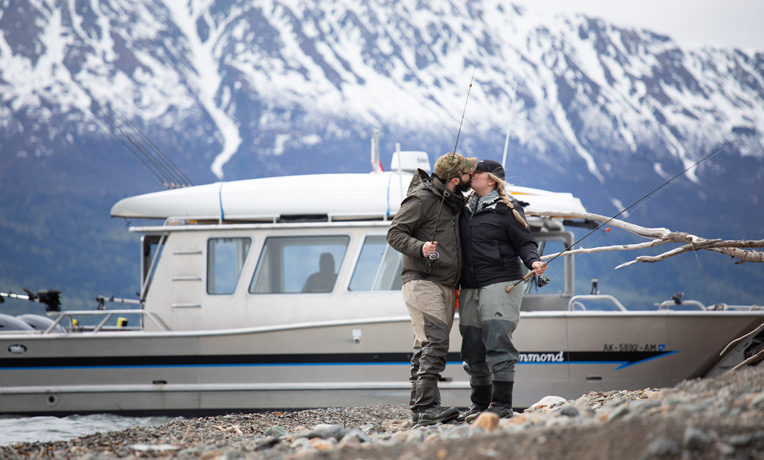 Bless the Marriage of a Military Couple
Operation Heal Our Patriots helps military couples build a strong spiritual foundation during a week of Biblically based workshops, relationship-building wilderness activities, and individual care by our retired military chaplains. We offer all this free of charge to these American heroes as a token of our appreciation for their service and sacrifice. Your gift will help us cover the costs—including transportation, lodging, activities, and long-term Family Care—so that we can help them find hope in the Lord.
---
Operation Heal Our Patriots 013960
Suggested Gift: $60