The wife of Gov. Phil Bryant pitches in to help victims of a tornado that struck her state
Deborah Bryant, wife of Mississippi governor Phil Bryant, volunteered with Samaritan's Purse on Monday to help victims of an EF-4 tornado that hit Winston County on April 28.
Mrs. Bryant donned an orange volunteer T-shirt and helped clear debris from a home site of James and Glendette Roberson. She even ventured up on the roof of a storm-damaged house and helped patch it with tarp.
"I was introduced to Samaritan's Purse in Hattiesburg last year and really enjoyed working with you all," she said. "It's a great organization, and it's run very well. I was excited to be able to come out here again and help. I love what Samaritan's Purse stands for and how they give the homeowner a Bible and pray with them. Their beliefs align with mine, and I really appreciate that. It's a really great organization."
VOLUNTEERS NEEDED: Sign up to help homeowners affected by the storms that have swept across the Midwest and Southern U.S.
Mrs. Bryant became First Lady of Mississippi when her husband was sworn in as the state's 64th governor on Jan. 10, 2012. She is active in serving the people of Mississippi through supporting Batson Children's Hospital in Jackson, serving as Honorary Chair of the Mississippi Society for Disabilities' annual "Tis the Season" 2012 Gala and Auction, serving as Honorary Chair of the 2012-13 Susan G. Komen Central Mississippi Race for the Cure, and meeting with youth, educators, political, and religious leaders throughout the state as part of Governor Bryant's Teen Pregnancy Task Force.
Samaritan's Purse responded to the tornado that hit Louisville, Mississippi, by sending a Disaster Relief Unit from our headquarters in North Carolina. Volunteers working out of our base at Friendship Baptist Church are helping homeowners throughout Winston County. We are also responding to tornadoes that struck Arkansas, Kansas, and Alabama.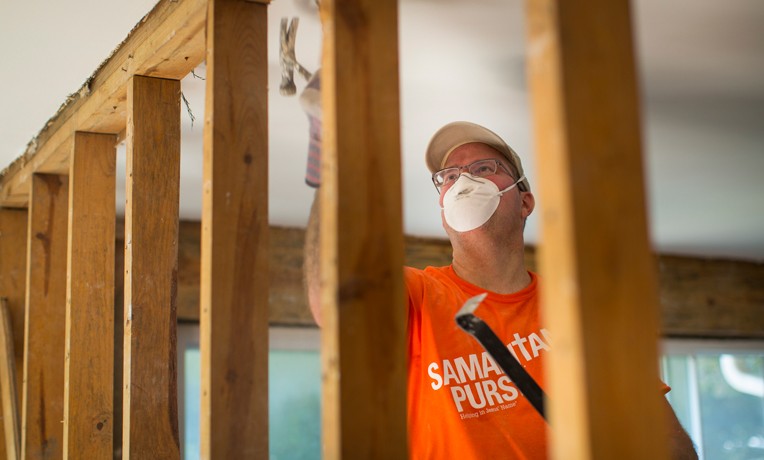 U.S. Disaster Relief
Samaritan's Purse mobilizes and equips thousands of volunteers to provide emergency aid to U.S. victims of wildfires, floods, tornadoes, hurricanes, and other natural disasters. In the aftermath of major storms, we often stay behind to rebuild houses for people with nowhere else to turn for help.
---
U.S. Disaster Relief 013622