A program in the Philippines shows people the importance of latrines
Charlotte Overton is an intern with the Samaritan's Purse water, sanitation, and hygiene program in the Philippines.
When I first arrived in the Philippines as an intern, I was appointed to the Sanitation Marketing (SanMark) program. At the time, I only had a basic understanding of what SanMark was and had no strong feelings for or against it. However, over the last couple of months, I have become a huge fan of the project.
In rural areas of the Philippines, 31 percent of people don't have access to improved sanitation. This has serious implications for health, productivity, and dignity.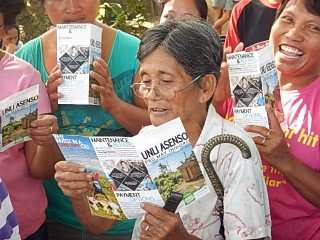 Rural Filipinos typically have to buy and transport their own materials and pay people to build their latrines. For most, these expenses are too much, and thus toilets are seen as luxury items.
In September 2014, Samaritan's Purse began a sanitation marketing project in the Eastern Visayas region. The project has taken 25 entrepreneurs and trained them in sanitation product production and marketing. It has also supported them in the process of business registration and linked them with a micro-finance institution that provides low interest loans to both the entrepreneurs and their clients.
Through this institution, customers are now able to choose between a range of products that are high quality, affordable, and convenient. Six weeks into marketing, there are already 1,500 toilet orders, and we hope that by November, all 25 entrepreneurs will be able to sustain and grow their sanitation businesses unsupported.
I have learned so much during my time with SanMark, and it's been hugely rewarding to see the impact it's having.
People empowered: There has been such a warm reception in each barangay. We visit each community with an interactive promotional show and a truck full of our products. People get excited about choosing the option that is right for them. Also, most people are choosing the most expensive, durable models, knowing that the bigger investment will be more economical in the long run.
Entrepreneurs empowered: The group of 25 men and women have received new skills, weekly Bible teaching, and support as they set out on this new venture. One entrepreneur hired a crew of masons to attend our training workshop. Afterward, one of the masons decided to instead become an entrepreneur himself.
Leaders empowered: Local district leaders are also receiving support as they seek to make their communities open-defecation free and to see every household have their own latrine.
Samaritan's Purse is leading the way for SanMark in the Philippines and it has the potential to make a sustainable large-scale contribution to sanitation across the country. It will be exciting to see how the project continues to unfold.
The Samaritan's Purse internship program is an opportunity for college students and recent graduates to use their skills to impact the world in a tangible way. Find out more here.