A community works with Samaritan's Purse to pipe clean water from a borehole to the village
Godfrey Mawaa worked with Samaritan's Purse as the water, sanitation, and hygiene program manager in Tana River, Kenya.
From a distance, birds could be heard calling deep into the forest. Crickets chirped, and the crunching of leaves became louder from our laden footsteps. The enormous canopy of indigenous trees covering the sky amazed us. The chairman said we were in the dense part of this Kenyan forest.
I was on a trip to survey the most appropriate route for the proposed Shika adabu borehole water project. It was one of the three borehole projects that we were working on. Samaritan's Purse conducted a test pumping to determine the borehole's yield. The borehole was approximately 3 kilometers from the village on a long, winding path in treacherous terrain. It's the only permanent water source that serves the village, and flooding normally cuts it off during the rainy season, forcing people to consume contaminated water.
We planned to equip the borehole with a solar submersible pump and to lay a pipeline to supply water to the village. We met with the community to come up with a design to guide us in the project.
"This project will go a long way in serving our community," the chairman said. "We expect our village to grow and more households to be set up. For now, there are only 75 households in the village, as the other households prefer residing down next to the river. This saves the time spent fetching water, but on the other hand, they live in fear of floods during the rainy season."
Once we finally arrived at the project site, I noticed that the community was working quickly to implement the project. I was deeply touched to see men and women, both old and young, working with zeal and in harmony to realize this dream. It reminded me of Psalms 133:1: "Behold, how good and how pleasant it is for brethren to dwell together in unity!" (NKJV)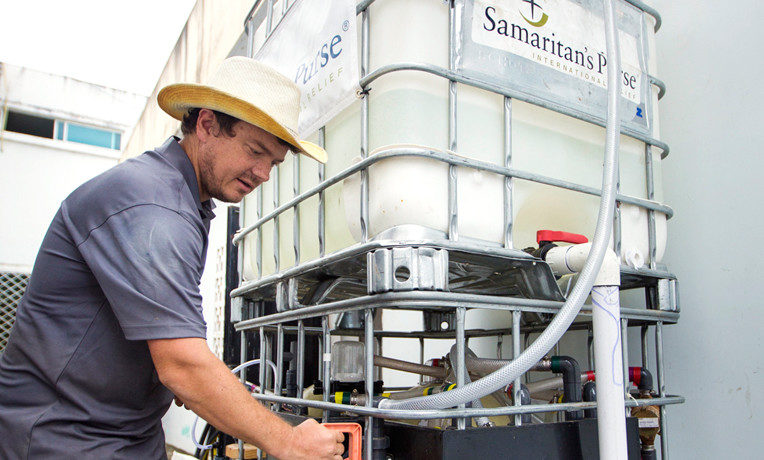 Clean Water
Your gift for clean water can provide tanks, filters, latrines, hygiene training, and other essential measures to protect water sources and prevent the spread of disease as we seek to meet physical and spiritual needs in the Name of Jesus.
---
Clean Water Projects 013659
Suggested Gift: $75