An Operation Christmas Child distribution paves the path to love in a Cambodian village
Melissa Lilley is a staff writer for Samaritan's Purse. She recently traveled to Cambodia to cover Operation Christmas Child and other projects.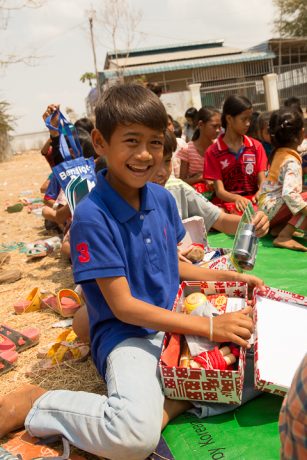 Eleven-year-old Panha was kicking a soccer ball with a few other boys in the village when I came around the corner. I watched a few minutes before I caught his attention. He ran over with a big smile. After a quick high-five, he wanted to teach me the game Rock, Paper, Scissors. (Sing a song, add a few hand motions, and you've got the Cambodian version.)
Then Panha wanted to play a game that had been going on a while but was still evoking eruptions of squeals and laughter. With hands behind their back, the children hid in one hand a pebble or small object they found in the dirt, then whipped their hands back around for our staff members to guess which hand held the treasure. Sometimes Panha gave me a turn doing the hiding, even though he really liked that part.
All afternoon our staff members played games with Panha and the other children in this poor village on the outskirts of Phnom Penh, Cambodia's capital city. It was hard to believe we'd met them only a few days ago during an Operation Christmas Child shoebox gift distribution. Panha had been polite and tried to practice English.
"How old are you?" I asked.
"I'm fine," he said. "Thank you."
I blame it more on my Southern accent than his English.
Before the children received their shoebox gifts, our national leadership team led them in worship songs and shared about Jesus. Panha sang loud and tried to follow all the hand motions. He was eager to please.
After receiving his box, he called me over, and we looked through it together. Panha held it up a few times to be sure I'd seen all his gifts. He liked the binoculars and even let his friend try them out.
A New Generation of Disciples
Panha is one of the sweetest kids I've ever met, but he faces a tough road ahead. He told me he's lonely a lot because his parents leave early and return late from work. His mom works at a garment factory in the city, and his dad is a carpenter. Despite long work hours, his parents don't earn much money.
Panha's village doesn't have electricity or clean water. Sometimes the children don't have enough food to eat. Panha rides his bicycle to school more than one hour each way along bumpy, winding dirt roads.
About 50 families live in the village, and none believe in Jesus.
But there's hope for these sweet children and their families. A national leadership team member regularly visits the village and teaches the children English and about Jesus.
God has also burdened the heart of a local pastor who wants to start a church in the village. We're praying the shoebox gifts are just what this pastor needed to help parents in the village see that Christians care about their children. We're praying they will want to know more about the God who led Christians from another country to send gifts to children they'd never met.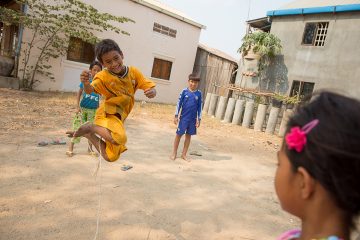 The shoebox gifts you so carefully and lovingly packed were a powerful tool that helped start the conversation. They helped introduce us to Panha and the other children and showed them that the people who packed the boxes cared about them—and we did, too.
After the excitement of opening gifts died down, I saw what comes after the shoeboxes. It's love, and it crosses language barriers and cultures.
It's love from children who let me play tug-of-war and who let me try to teach them about basketball by dribbling a soccer ball in the dirt.
The boxes were tangible expressions of love, but these children gave their love quickly as well. They welcomed us into their village, and, although thousands of miles from North Carolina, I felt at home.
If you'd have been there they would have welcomed and loved you, too. You wouldn't have stayed a foreigner for long—you'd have quickly become a friend.
Because you packed a shoebox, I got to jump rope with little girls in this remote Cambodian village. I got to watch as Panha waited his turn and then proudly jumped more than 30 times in a row.
Please pray that God will do a great work among the children and families in this village. Pray that after the shoeboxes, God will bring a church, The Greatest Journey classes, and a new generation of disciples.