Samaritan's Purse helps former refugee families begin their lives anew as they return home to the Democratic Republic of the Congo
The Democratic Republic of the Congo is the 11th largest country in the world and second largest in Africa with a population of around 80 million. It's also one of the richest countries in the world due to its natural resources.
However, a struggle for control of the nation's rich mineral wealth has resulted in prolonged armed conflict during a period of more than 20 years, halting nearly all development in the country. The conflict is considered the bloodiest since World War II, killing more than 6 million people.
Currently, 2.6 million people are displaced within the borders of Congo, and many more have been forced to flee to surrounding countries. The community of Sukadi is just one of many areas affected by the fighting.
There and Back Again
Located deep in the forest in northern Democratic Republic of the Congo, Sukadi was invaded in March 2009 by the Lord's Resistance Army, a brutal rebel group from neighboring Uganda. The attacks began just when the population was preparing to plant their crops. All the fields and surrounding forests had been burned to prepare the land, so, when trouble came, it was impossible to hide.
"We knew we couldn't stay in my village because the danger from the LRA was getting closer every minute," said Veronique Mboliondolani, a mother who lives in Sukadi. "The rebels shot at everyone, and we were like stray sheep searching for our children and husbands. The rebels were killing, looting, and taking people hostage; some girls were raped."
Those who escaped gathered in the forest and, from there, walked across the border of Central African Republic.
"We survived hunger, wild animals, malaria from mosquitoes, and sleeping sickness from tsetse flies," Veronique said of their journey.
Once the people were safely across the border at the Zemio refugee camp, they were met by Samaritan's Purse, who helped them with emergency relief. Many of these refugees were believers, and, over the years, Samaritan's Purse stayed in touch with this community through our local church partners.
"The rebels shot at everyone, and we were like stray sheep searching for our children and husbands."
"In Zemio, life was not easy at all!" Veronique said. "We survived by working as day laborers in the fields of others, along with our children. The meals were not enough and our health was still poor. Because of this situation, and our desire to return to our country, the government and UNHCR initiated our return from Zemio."
In 2015, six years after the attacks, refugees began returning to their homes in Democratic Republic of Congo. But without supplies or food, their situation was dire, and the local community was overwhelmed by the needs. Samaritan's Purse once again responded with an emergency relief project, providing household items, urgently needed food, seeds, and farming tools to help the returnees start the process of rebuilding their lives.
"More than 200 households returned [with me], but we all were served," Veronique said. "We did not expect such a welcome by our brothers in the Lord! We can cover our homes with tarps and sleep without fear. We also have enough to eat, and all this is very big for us. Blessed be the name of Yahweh."
In total, Samaritan's Purse has provided 22.3 metric tons of food, 312 kits including kitchen and household items and tools, and seeds for 312 families returning to Zemio. This assistance allowed the refugee returnees to provide for their families, rebuild their homes that had been destroyed by the war, and resettle into their communities.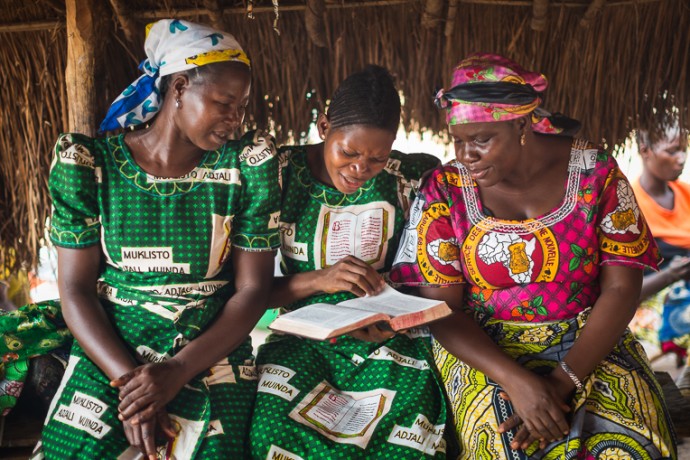 DRC Projects
La República Democrática del Congo (RDC por sus siglas en inglés), ha enfrentado una guerra civil de 20 años, dejando 5 millones de personas muertas y 2.6 millones de desplazados. Samaritan's Purse continúa ayudando a los sobrevivientes al proveerles de programad de alimentación, nutrición y agricultura, entre otros. Además, al ayudarles con sus necesidades físicas, les hemos ayudado a reconstruir sus iglesias y entrenado pastores y cristianos en la Palabra de Dios, dándoles las herramientas para amar y apoyar espiritualmente a sus prójimos mientras continúan viviendo en medio de la violencia.