Through the work of dedicated volunteers, Native villages are experiencing hope and a brighter future in remote areas of The Last Frontier. Our latest project is providing student housing for village youth as they study in Soldotna.
Robert Mobley says it's difficult to anticipate what you'll find at the edge of the world, which is where he felt like he landed several summers ago in Kipnuk, Alaska, near the Bering Sea. The beauty, remoteness, and great need were surprising at first, but that's also what has kept Robert returning to the 49th state.
"They dropped us off in a place where no roads can go," said Mobley, describing the Alaskan bush. "There was no running water. No bathrooms. No way to leave."
For the first time he saw the immense challenges facing residents and churches in these far reaches of The Last Frontier. And, he got to see the importance of the work Samaritan's Purse has been doing in rural Alaska. Since our first construction project in Alaska in 2006, North American Ministries has completed more than 30 such projects in the state.
Just a couple weeks ago, Robert took his 12th Alaska construction trip with Samaritan's Purse–this time to the more populous community of Soldotna. Though in a more developed area in the southern part of the state, the work there will serve many Alaska Native villages at once through the construction of student housing for Amundsen Educational Center (AEC).
In past years, AEC has primarily welcomed college-age students from the villages who are pursuing degrees in aviation and applied sciences.
The school now is opening new educational opportunities for high school-age students to train in aviation and construction—two skill sets that can open a world of careers to Alaska Natives. In the course of this education, students also are presented the Good News of Jesus Christ.
"So many of the young people in these villages lack a sense of worth, a sense of community, and a sense of competence," said Mike Swanson, executive director of AEC. "We want to teach them their infinite value in God's eyes, what healthy Christian community looks like, and a set of high-demand skills they can take with them everywhere.
"With this foundation they can live and thrive in their own communities, be better parents [and] spouses, and change the trajectory of their villages."
A Lifetime of Preparation for Alaska
Helping in Jesus' Name is why volunteers like Robert Mobley continue to return year after year to do the types of work that would otherwise go unfinished in remote Alaska.
God was preparing this Tennessee resident for work in Alaska through the decades that Robert owned his own construction company in the Volunteer State. Serving in Alaska with Samaritan's Purse felt like the perfect fit for him.
Since he started volunteering in Alaska, he's been a part of building churches, seminaries, and even straightening and reinforcing the foundation of a widow's home using scrap pieces of materials and lumber.
"Up here [in the bush], you learn that there's a way to do it. You can figure it out, if you trust God and stay flexible," Mobley said. "You learn how to do a lot with very little."
And, Mobley said, you learn to work as a team and you grow close to one another.
"Now I have friends all over the country because of Samaritan's Purse, and we hold each other accountable," he said. "It pumps you up when you have a whole group who has a desire for Christ. Honestly, I get more out of this than I give. And these projects have taught me not to worry, God's going to take care of it. He's in control."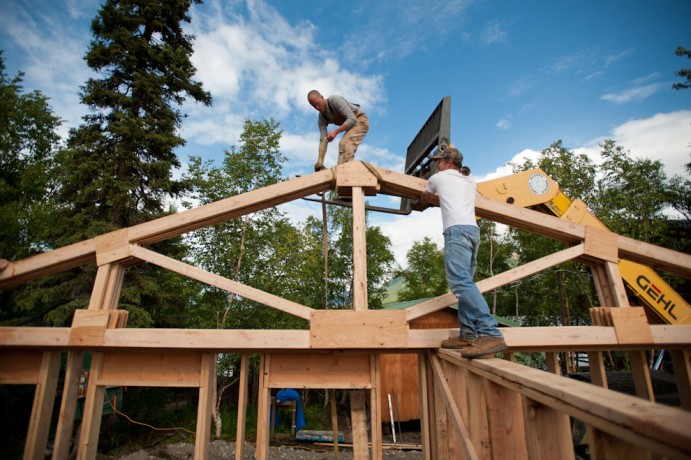 Proyectos Alaska
El personal de Samaritan's Purse y los colaboradores del ministerio trabajan para llevar ayuda práctica y las Buenas Nuevas de Jesucristo a los nativos de Alaska y las regiones adjuntas.