Samaritan's Purse volunteers are providing relief to homeowners after devastating floods hit Greenbrier and Kanawha counties in West Virginia.
Samaritan's Purse was on the ground shortly after torrential rains wreaked havoc on areas surrounding White Sulphur Springs and Charleston, West Virginia.
More than 600 U.S. Disaster Relief volunteers have responded so far to Greenbrier and Kanawha counties where hundreds of homes were devastated. Over the course of many thousands of volunteer hours, we've done mudout and other recovery work for dozens of homeowners. Chaplains report that more than 15 people have received Jesus Christ.
"I don't know what we would have done if Samaritan's Purse hadn't come here," said homeowner Amy Humen, a White Sulphur Springs resident. "This is the house I grew up in and it looked like a bomb had gone off on our street. It's our house, it's our stuff, it's our life. God bless you. We can't thank you enough."
Samaritan's Purse volunteers will address the needs of many more homeowners over the coming weeks. The needs are great and continue to grow throughout flood-affected areas.
"I love doing this,"said volunteer Phil Eckel, a retired school teacher from Philadelphia. "It's a chance to get recharged and to help be the hands and feet of Jesus."
We are receiving volunteers at our bases in Charleston and in Lewisburg. Our host church in Lewisburg is RHEMA Christian Center; our host in Charleston is Mount Calvary Baptist Church.
Please continue to pray for West Virginia residents affected by devastating floods and for Samaritan's Purse staff and volunteers responding to the needs. To learn more about volunteer opportunities, go here.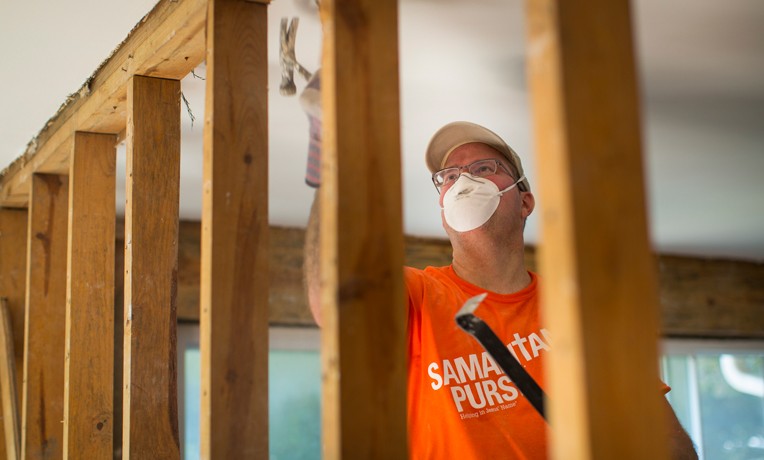 Ayuda para desastres en EE. UU.
Samaritan's Purse moviliza y equipa a miles de voluntarios cada año para ayudar a las víctimas de emergencias dentro de EE. UU. que han sufrido por fuegos forestales, inundaciones, tornados, huracanes y otros desastres naturales. Después de los daños producidos por las grandes tormentas, usualmente nos quedamos para reconstruir casas para las personas que no tienen a dónde más acudir por ayuda.
---
Ayuda para desastres en EE. UU.