Two Bolivian children receive life-saving procedures
Lisett was afraid that her son wasn't sick enough. What would she do if they didn't accept him?
From the time he was born, Ostin had coughing spells and frequently developed colds. When he turned 1 year old, Lisett took him to the doctor and he was diagnosed with a heart murmur. Lisett was advised to take her son to La Paz, the capital of Bolivia and a four-hour drive from their home.
Lisett, a young, single mother, only had enough money to pay the bus fare for herself and Ostin. She wanted her mother to come with her, but it was too expensive. When she got to La Paz, she received bad news.
Ostin needed heart surgery to repair the murmur, but the price was far more than Lisett could afford on the small salary she makes working in a furniture factory. She returned home with her sick baby and no solutions.
Nearly four years later, in February 2016, Lisett saw a campaign in the newspaper and on TV for an organization called Samaritan's Purse. The ad said it was screening children in La Paz for heart defects and would facilitate free operations.
Although Lisett had never heard of Samaritan's Purse, she bought another bus ticket for herself and Ostin and made the four-hour trip. Along the way, she worried that Ostin wouldn't be accepted.
"I was very afraid because I understood that my son only had this murmur on his heart," she said. "And I was thinking, 'Maybe they are not going to choose him because it's only a murmur. Maybe there are some children that are sicker than he is.'"
Lisett didn't know that her son was more qualified than many other children. At the screening, the doctors explained to her that Ostin didn't have a murmur—he actually had two holes in his heart, one large and another smaller one. The surgery he needed should have been performed years ago.
"They told me that he needed the surgery urgently because otherwise it was going to be irreversible," she said. "It was going to be very bad for him."
Ostin was immediately put on the Children's Heart Project waiting list. The Samaritan's Purse project brings children with heart defects to North America for surgery. Ostin's profile was sent to hospitals, and less than two months after his initial screening, he was accepted by Health City Cayman Islands and Have a Heart Cayman Islands. Children's Heart Project began the preparations for Ostin's trip. Lisett received the call while she was at work.
"I screamed, 'Woohoo! They have accepted my son!'" she said. "There was like something in my throat, and the only thing I could say was, 'Thank you, God.'"
With the help of Children's Heart Project, Lisett immediately began applying for papers, passports, and visas. She would travel to Grand Cayman with an interpreter, and another mother in Bolivia, Vicenta, and her sick daughter would meet them there.
A Second Heart in Need
Vicenta had first noticed her 1-year-old daughter, Alazne, was sick while she was sleeping. She told her husband that the baby had a faster heartbeat than her older brother. Vicenta and her husband took Alazne to the doctor, where the baby had an echo. The doctor told Vicenta that Alazne would need a $12,000 surgery. The family's only income is from Alazne's father's job as a hairdresser, so they knew that sum was an impossible amount.
Vicenta returned home, but she didn't give up. She took Alazne to clinics and other cities in search of help. Eventually, one of the places she visited passed her number to Children's Heart Project, and the coordinator called to tell her about the screening in February. Vicenta took Alazne, and, like Ostin, she was accepted for surgery within two months.
"It was hard for me to believe that everything was free because I wasn't sure that this was real," Vicenta said.
A Purpose for Their Lives
When the group arrived in Grand Cayman, they were greeted by a group of people from First Baptist Church of Grand Cayman. Among them were the group's host family, Pastor Bentley Robinson; his wife, Maureen; and their daughters, 15-year-old Amanda and 9-year-old Joanna.
"The most wonderful thing that happened here is the people that went to the airport welcoming us with open arms," Lisett said. "That was the most fabulous experience that I can remember from this island."
Six days after his arrival, Ostin had surgery.
"I was a little bit afraid because, as it was an open-heart surgery, I was thinking maybe something can happen," Lisett said. "But I left everything in the Lord's hands, and I fell asleep."
After the surgery, Lisett said that Ostin, who was already rambunctious, had two to three times more energy and gained color in his lips and fingernails. He immediately began gaining weight. A few days later, Alazne also had surgery. Vicenta noticed that her heart slowed to a normal pace and she wasn't as tired.
Ostin and Alazne recovered in the hospital and then went to stay at the Robinsons' home. At first, Ostin was a bit apprehensive of Bentley, but they soon became best friends. While not at work, Bentley spent most of his time chasing Ostin on the playground, wrestling with him at home, and taking him to the beach for the first time.
"I can tell that my son is very happy living here," Lisett said. "His dad is not very involved with him. He goes to visit, but not many times. [Ostin] is enjoying wrestling with Pastor Bentley. Here he's very, very happy."
Lisett also found happiness at the Robinson house. Each night, Maureen held a Bible study with her family and invited Lisett and Vicenta to attend. Lisett enjoyed feeling like part of the family and renewed her relationship with Christ through the experience. She hopes to continue practicing what she's learned when she returns home.
"They have no idea how much they have touched my life and how grateful I am for being here with them," Lisett said. "I don't want to just leave these beautiful things here but to practice them at home."
Ostin and Alazne are both preparing to travel home with their mothers. Although they've only been gone six weeks, when they return home, everything will have changed. Vicenta said she's relieved to not have to carry the heavy load of constantly worrying about her daughter. Lisett hopes to implement some of things she's learned at home.
"I hope everything will be different when I return home because all the things that Maureen had shared with us, I want to do that with my family, the devotional time," Lisett said. "I want to teach my son that Jesus healed his heart and that He has a purpose for his life."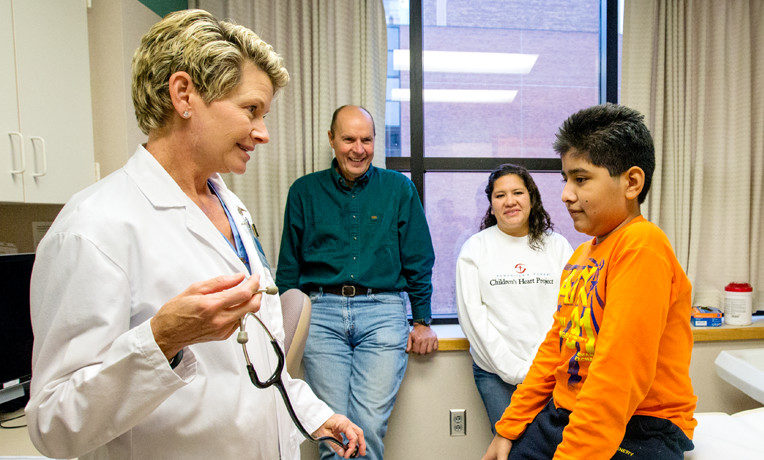 Salva la vida de un niño
Uno de cada 100 bebés tiene un defecto del corazón que los cirujanos pueden correr como algo rutinario. Desafortunadamente, mucho de estos niños han nacido en lugares pobres o muy remotos donde sus familias no tienen acceso a los servicios cardíacos que urgentemente necesitan. Por medio del programa Children's Heart Project, Samaritan's Purse transporta a niños y niñas de países como Bolivia, Mongolia y Uganda hacia hospitales en Estados Unidos. identifica niños con condiciones de corazón de vida o muerte que viven en países donde no tienen la tecnología y el entrenamiento para su enfermedad. El programa los conecta con hospitales y cirujanos de EE.UU. que donan su tiempo y servicios. Los doctores, los hospitales y las familias e iglesias que reciben a estos niños donan su tiempo y servicios, pero los costos de los vuelos aéreos son los gastos mayores usualmente de $2.200 por persona en un vuelo internacional. Con $50 de donación, puedes compartir el costo y ofrecer una cirugía que salvará la vida de alguien y la inigualable esperanza de Jesucristo "el camino, la verdad y la vida" (Juan 14:6). "el camino, la verdad y la vida". (Juan 14:6)
---
Programa Children's Heart Project 013687
Donación sugerida: $2.200 / Comparte el costo: $50