After the town of Collettsville, N.C., was struck by flash flooding, Samaritan's Purse responded to mud out homes and clear fallen trees.
Afternoon storms have been an almost daily occurrence in western North Carolina this summer, so most residents of Collettsville weren't especially alarmed when the wind started blowing a little harder than usual.
Donar
This, though, was not just an afternoon thunderstorm. On July 12, the small community was hit by a microburst. Rain and hail pounded down in force. Creeks that are normally only six inches deep rose to six feet with water spilling onto roads and into houses.
The small community is located less than an hour from Samaritan's Purse international headquarters, and we were quick to respond. We deployed a team to help mud out homes and remove fallen trees.
"They're really overwhelmed because they've never seen anything like this," said Tim Haas, the Samaritan's Purse program manager for the site.
We set up a base at Mulvale Baptist Church, and the first job was right beside it.
Spencer and Ruth McGee had just returned home from looking for blackberries when the storm hit. As they stood on the porch, they watched the garage flood.
"The noise was so loud that we couldn't hear each other, and we were standing right beside of each other," Ruth said.
After more than an hour, the storm stopped. The McGees knew there was nothing they could do that night, so they went to bed with no power. The next morning, they woke up and looked at the destruction. Everything in the garage was in disarray, and trees had fallen everywhere.
Friends and family from nearby came to help. But even with several people, the work was too much. Ruth heard about Samaritan's Purse from a neighbor, and she said she would love the extra help.
"We didn't know when you'd show up," she said. "We just thought, 'We'll do what we can.' Next think I knew, they were here and ready to go to work."
Ruth was thankful for heavy equipment and willing hands. She helped drive a tractor, and her husband drove a truck to help with hauling trees. It was a large job that took several days to complete.
"It's just been a Godsend," she said. "The Lord sent me these people. I believe that with all my heart. They have a smile on their face and if you ask anything, they'll do it for you."
God Cares for His People
Just a couple of miles from the McGee's home, two other Samaritan's Purse teams were working to help Grady Carswell and David and Amy Jones. They each received minor damage to their homes, but their yards were covered in downed trees.
"It was like 10 inches of rain," David said. "We were sitting here watching the creek. It was rising just as we were talking. It was a foot deep across the road. We really didn't know the devastation of anything. The house, the cars were plastered with leaves and pine needles."
The next morning, David realized he had a big job ahead of him. Trees covered his large yard. Other had fallen across the creek, creating a dam. If more rain fell, the flooding would be even worse. He and his neighbors started working immediately to clear the area, but they gladly accepted help from Samaritan's Purse.
We were able to bring in a grinder to help with the trees, and we cleaned the family cemetery that was close to the house. No tombstones had been broken, but trees littered the area. After finishing the work, the team presented the Joneses with a Bible.
"The witness they give is overwhelming," David said.
Grady shared a similar sentiment as he took a break from helping the team to sit on his porch in the shade.
"All my life, I've heard preachers say, 'If you trust in the Lord, He'll take care of you,'" he said with tears in his eyes. As he pointed to the group of people in orange T-shirts diligently cutting trees, he continued. "And right there it is."
Samaritan's Purse helped 18 families in Collettsville. In total, 48 volunteers responded to the cry for help, and two people accepted Christ.
Samaritan's Purse also has teams responding to wildfires in Arizona y Colorado. For more information on our disaster relief efforts or to find out how you can get involved, visit our online volunteer network.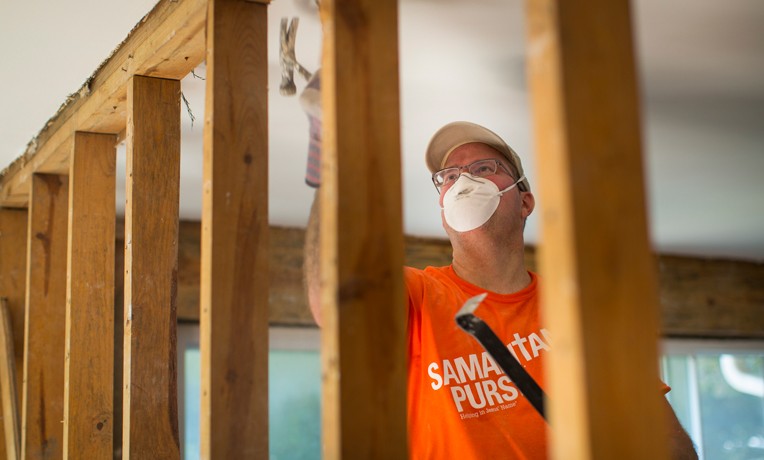 Ayuda para desastres en EE. UU
Samaritan's Purse moviliza y equipa a miles de voluntarios cada año para ayudar a las víctimas de emergencias dentro de EE. UU. que han sufrido por fuegos forestales, inundaciones, tornados, huracanes y otros desastres naturales. Después de los daños producidos por las grandes tormentas, usualmente nos quedamos para reconstruir casas para las personas que no tienen a dónde más acudir por ayuda.
---
Ayuda para desastres en EE. UU.